Students from four of the island's post-16 schools and colleges are learning more about stock markets and investing thanks to a new initiative organised by the Guernsey Investment & Funds Association.
Approximately 100 students are participating in the first annual Guernsey Investment & Funds Association (GIFA) Investment Challenge, which sees the students act as fund managers, picking winning stocks from a selection of well-known companies such as Netflix, Boeing, Nestle, Nvidia, Sony and more.
Blanchelande College, the Guernsey Grammar School Sixth Form Centre, The Guernsey Institute and The Ladies' College have fielded 23 teams, each with between three and five students. At the start of the competition in October, the teams were each given a fictional £1 million to invest. They can make one trade monthly and must share the strategy for their stock picks. The competition runs over five months, completing at the end of March.
The results for the end of February are now in, and with just one month to go, the lead established by The Ladies' College team, Lotus, has been extended. The team has grown their initial £1 million investment capital by almost 80% in just four months.
GIFA Investment Challenge leaderboard at 28 February 2023: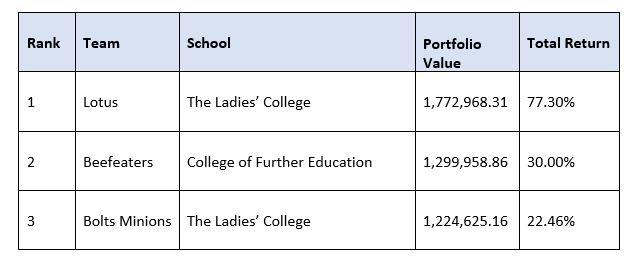 GIFA's Investment Challenge aims to increase young people's awareness and interest in investment and finance.
"We set up the challenge to encourage students from all backgrounds and subject preferences to be involved. We think it's incredibly important that the island's students get hands-on investment experience before leaving school," said Henry Freeman, Chair of GIFA's Managers' Committee, which has been driving this initiative.
"Investing is an important part of everyone's lives, as everyone will pay into pensions and invest for their futures. If they can learn about the advantages of investing at an early stage, they will be better set for the future.
"Guernsey is unique in having such a strong investment and finance industry. We believe that the industry must work with the community to demonstrate its benefits to the island and highlight the sector as a career choice.
"Given some of the stellar investment performances, the future looks very bright for most of our budding stock pickers, with 17 of the teams strongly outperforming America's S&P500 index of largest companies."
As part of the initiative, industry professionals from Butterfield, Rocq Capital and The Fund Society have presented to students and talked through specific investment themes. In addition, close Brothers Asset Management has provided the pricing data.
Due to the uptake and interest from students in the investment challenge, GIFA aims to open the competition to students across all secondary schools next academic year.
Henry added: "We're delighted the first annual investment challenge has engaged the students, and we're looking forward to expanding the competition. It's an excellent opportunity for students to learn more about investing and Guernsey's largest economic contributor."
Secondary schools are invited to express interest in participation by emailing here.
---
Pictured: Daniel Bolt, Head of Business Studies and Economics at The Ladies' College and Henry Freeman, Chair of GIFA's Managers' Committee.