Guernsey Water has announced the opening of a new accessible pathway and outdoor classroom, which have both been added to the Millennium Walk at St Saviour's Reservoir.
The Learning Area will be in Les Annevilles pine forest at the reservoir, where a natural clearing already exists on the north side of the reservoir near Rue Anneville.
The classroom is designed for visits from schools, non-profit groups, youth and adult groups. La Société Guernesiaise aims to use the classroom as a base for educational talks on birds, entomology and botany. It will also feature as a meeting place for walking groups such as Walking for Health. Groups are encouraged to book the space on water.gg.
The changes were made in collaboration with Environment Guernsey, who also maintain the Millennium Walk. Their expertise ensured that the design and construction minimised any ecological impact. Features include a viewing platform which provides a view across the reservoir, new pathways that are accessible for wheelchair users, and a learning space with seating constructed out of cut tree trunks sourced from fallen trees in the reservoir area.
Grow Limited employees have installed a huge bug hotel at the classroom, so that insects can shelter in it over winter. The bug hotel will be filled with natural resources by the first children to use the classroom, from local home education group, Living Education Guernsey, but everyone is encouraged to help keep it filled up.
The island's third Refill station has also been installed at the start of the walk. Visitors can refill their own water bottles from the drinking water station to stay hydrated more sustainably on their walk.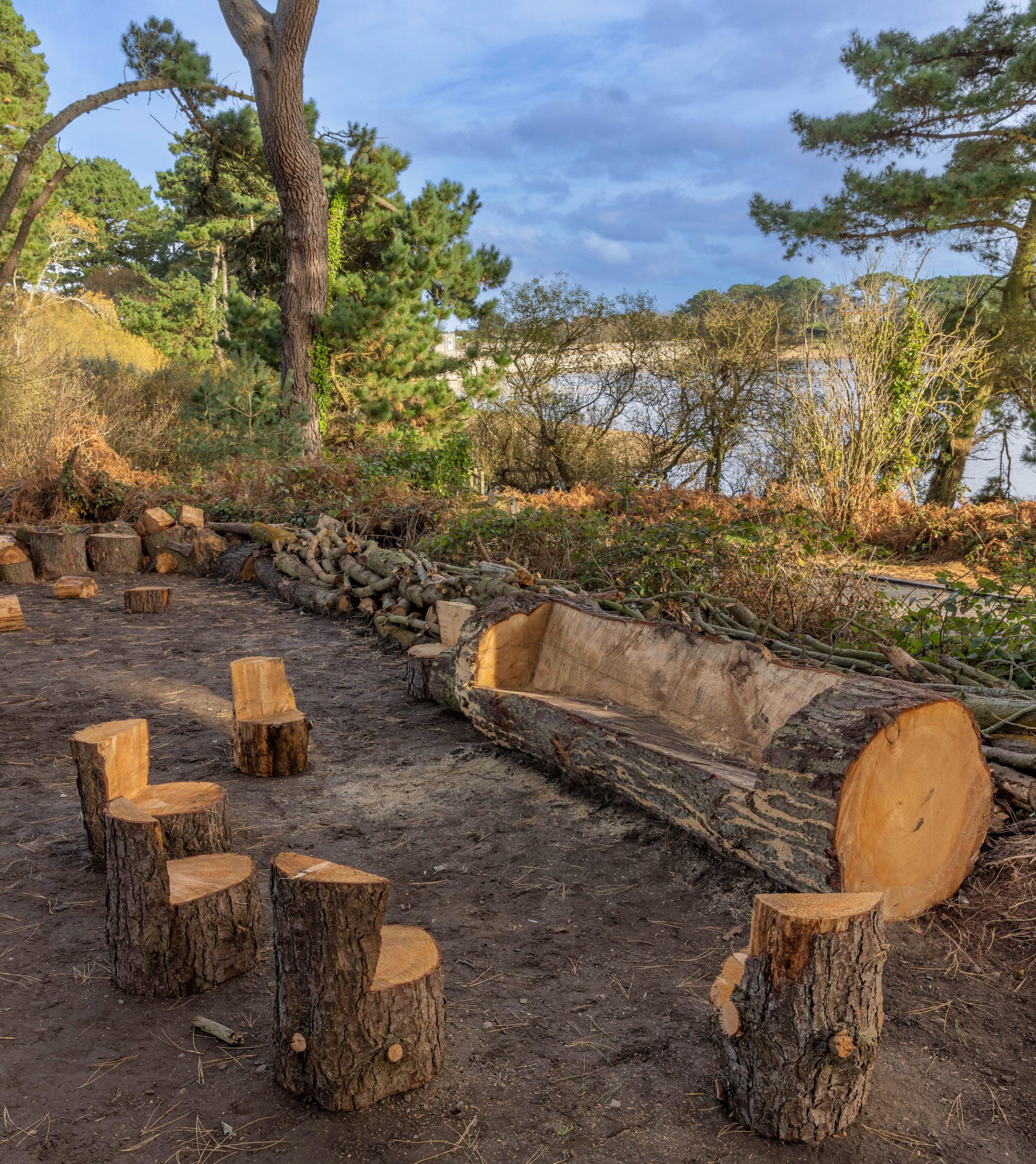 Stephen Langlois, managing director of Guernsey Water commented: "Guernsey Water regularly has school groups coming to see the Reservoir and gives educational talks there, but we want more people to learn about how special this wetland and woodland environment is. Our new outdoor learning area provides a space for people to learn about the natural resources they will be able to see all around them.
"We know that being outside and learning about nature helps people have an emotional connection with nature. We believe everyone should be able to get out and explore the reservoir as it is important for our health and wellbeing to have access to the natural environment. The improvements align with Active 8, the States' strategy which aims to encourage Islanders to incorporate regular exercise into their daily lives, as well as contributing to Guernsey's Strategy for Nature."
Mr Langlois added "We've worked with the States Disability Officer to provide access to the Millennium Walk for people who previously may not have been able to enjoy this woodland area at the St Saviour's Reservoir. We would also like to thank Environment Guernsey who helped us minimise disruption to the environment and wildlife at the Reservoir during the works."
La Societe Guernesiaise Education and Conservation Leader Becky Ogier commented: "We are delighted to be Guernsey Water's chosen educators for the launch of the Outdoor Education Area and are keen to make use of this fantastic new resource in our future activities.  The reservoir is an important asset beyond its water storage capacity, as a green space and in its biodiversity, and the outdoor classroom will be a natural focal point for anybody, young or old, who would like to learn more about the area and its wildlife".