Guernsey Water has installed its first permanent water refill station to make it easier for people to choose the public water supply and reduce single-use plastic bottle waste.
After planning permission was granted last year, the station will be unveiled and ready for use on 16th June to coincide with National Refill Day. The global public awareness campaign aims to prevent plastic pollution and help people live with less waste.
The station will be located near the Liberation Monument in St Peter Port. The area was chosen for its high pedestrian footfall with the station expected to be popular with town shoppers, visitors and as a venue for local events including Seafront Sundays.
Steve Langlois, Guernsey Water's Managing Director said: "People want to make changes to the way they live their lives to reduce their impact on the environment, this is one of many Guernsey Water refill points that makes it easy for people to do just that.
"The difference with this station is that it is permanent, and we will be measuring how much water is used so we can see the amount of plastic waste that is prevented. The stations we have installed so far have been temporary, to support some of the outdoor events that happen across the island each year."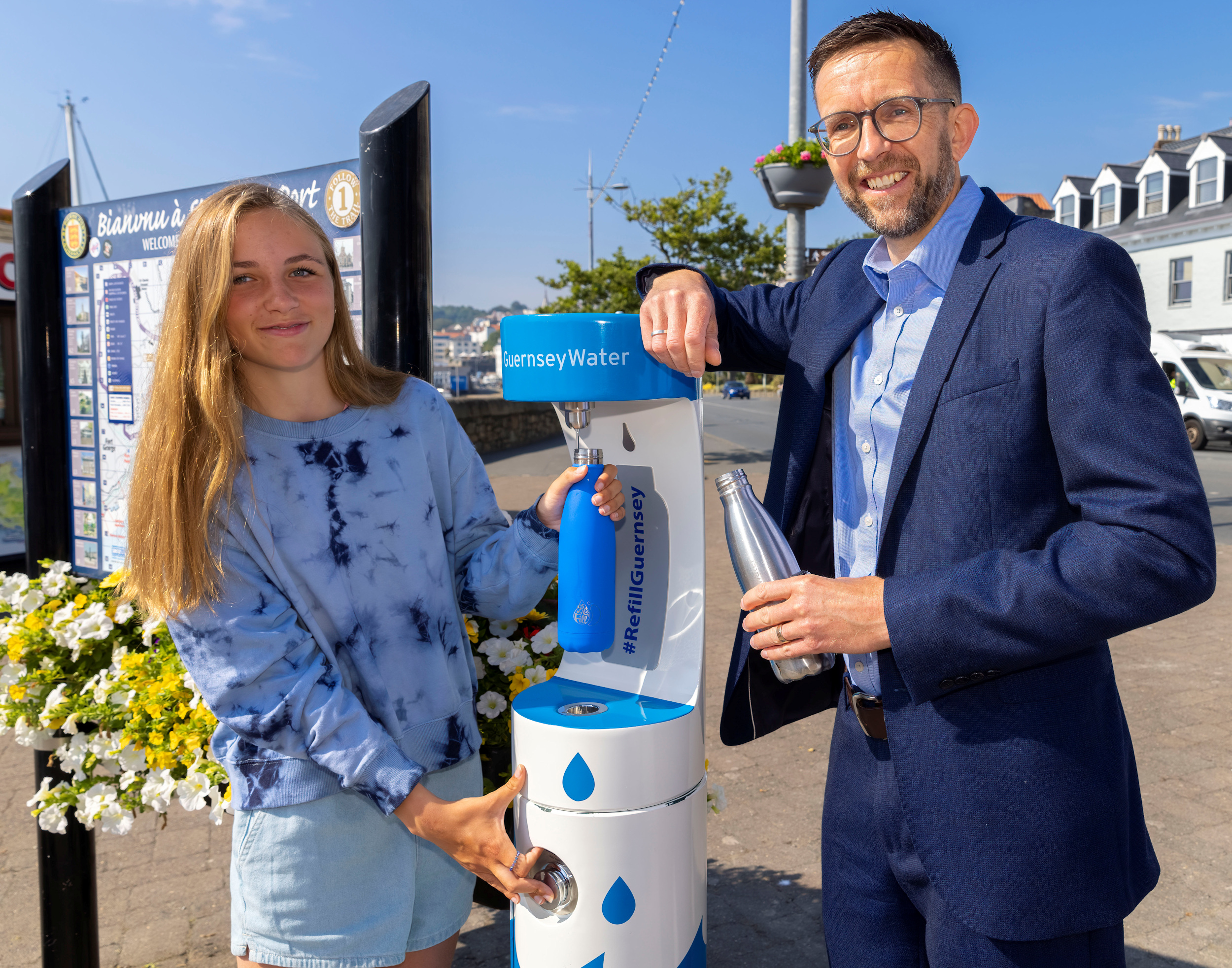 Steve continued: "Great credit must go to young Islander Destiny Hollyer-Hill, for her approach to the States of Guernsey's Environment and Infrastructure Committee in 2018. She expressed her passion for the Refill initiative and Guernsey Water committed to supporting her vision for reducing plastic waste, so it is great to see the next step of her vision come to fruition. I'd also like to take the time to thank our Refill partners, Tina Norman-Ross from Guernsey Waste and Madeleine Norman from Plastic Free Guernsey."
Mr Langlois added: "In these Covid times, we can reassure Islanders that through our close cooperation with Public Health, all necessary steps are being taken to ensure the cleanliness of the station. Our Water Quality team will be maintaining it through a schedule of routine cleaning and testing."
Madeleine Norman from Plastic Free Guernsey added: "We're proud to be part of this initiative to help reduce the use of single-use plastic bottles on the Island. Every year tons of unnecessary plastic waste is created. Proposals like this will not only help to decrease this, but also allows access to clean safe water for every member of the public at any time of the day."
Refill Guernsey was launched in 2018 and there are now 63 refill business supporters dotted across the Island. Islanders can pop in and fill up for free. The initiative is managed by volunteers from Plastic Free Guernsey and supported by both Guernsey Water and Guernsey Waste.  Businesses are invited to participate and can sign-up here.
Click here to download the app and locate your nearest refill point.
---
Main picture shows left to right:  Madeleine Norman, Plastic Free Guernsey, Tina Norman-Ross, Guernsey Waste, Margaret McGuinness, Water quality risk manager, Guernsey Water, Destiny Hollyer-Hill and Steve Langlois, Managing Director, Guernsey Water.