In August this year two former Grammar Sixth Form Centre students, Leon Russell and Tarek Pledge, spent three weeks volunteering in Senegal in West Africa.
The self-funded trip included staying in the city of Pikine, near the Capital of Senegal – Dakar, where the volunteers spent time working on the rehabilitation of a sports field, planting trees, renovating the homes of disabled people, and helping in an orthopaedic equipment repair shop. They then travelled south to the village of Faoye, situated on an estuary, where they took part in artistic workshops for children, planted shrubs, and helped renovate canoes used for fishing by the local community.
The trip was organised by Jeunesse et Developpement, a partner Charity of the Guernsey Overseas Aid & Development Commission, based in Ille et Vilaine, France.
A partnership agreement was originally signed in 2017 between the States of Guernsey and Ille et Vilaine départment which identified a number of areas of potential co-operation including education, youth mobility and sport, as well as other matters of common interest.  This then led to the Commission itself working closely with Ille et Vilaine to identify opportunities for joint sponsorship of development aid projects from 2019 onwards, in some of the poorest regions of African. Jeunesse et Developpement is one of the French charities the Commission had previously supported under this partnership.
Along with other young volunteers from Jersey and France, Leon and Tarek had a positive experience visiting Senegal. Leon and Tarek said they were able to experience life in a developing country which was a stark contrast from the Western life they are used to.
Tarek said: "We explored the city of Dakar and looked at the way people lived and the facilities they had such as schools, homes and hostels. We helped empty a container full of clothes, hospital blankets and other everyday life objects donated from French hospitals and citizens. We also held many football related events for the children, seeing as football is their national sport, they were very very keen.
"Senegal is also an Islamic Country which was a change from home. For example, the 5 prayers a day are announced from a speaker from the Mosque – it is a way of life. My favourite part of the trip was the journey to Faoye, after a  long car ride the last two miles of the journey were on bike taxis; the view combined with the warm sun and the thrill of riding a bike over the dirt roads was such a cool experience."
Tarek also observed that the culture in West Africa was not dissimilar to Kenya in East Africa, which he has visited before: "I thought East and West Africa were very different parts of the world, but it seems that the only thing separating them is geography. I was telling the other volunteers how the things we saw were no different from Kenya." However, there were challenges, Tarek said: "The speech barrier was a definite challenge, seeing as the last time I had spoken a word of French was back in Year 9 at school. But also, all three of the Channel Island volunteers who went were decently ill at one point during our stay. Heat, combined with new surroundings and everything else was hard to handle, and that was the main thing I was relieved of when I came back home, a chill in the air instead of humidity."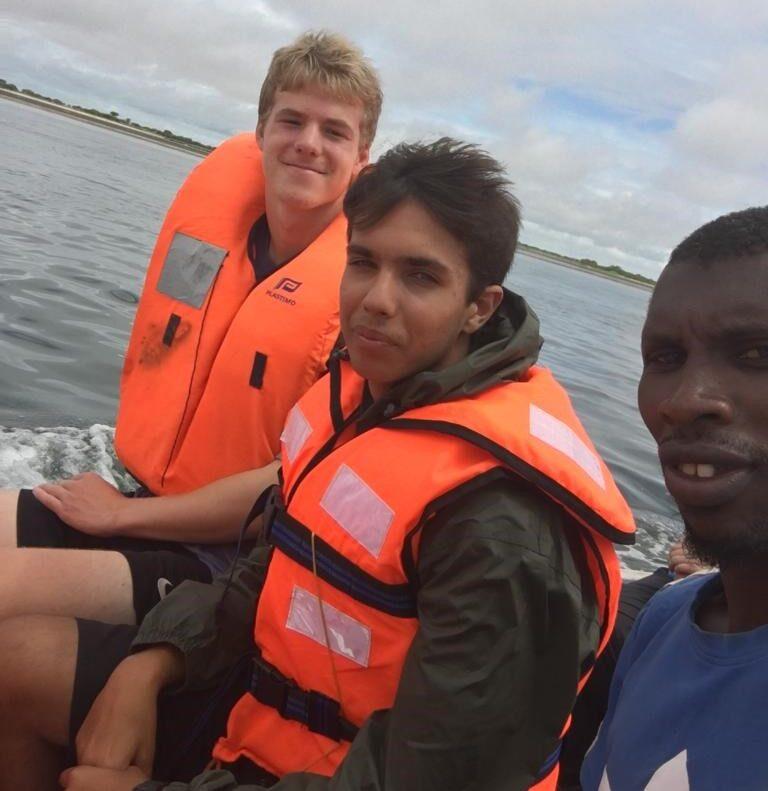 Reflecting on the time spent and the work they did in Senegal, Tarek commented: "I was pleased with the work we were able to do, although unfortunately it may only bring short term gain for the community. It was a good experience and educated us on life in a developing country, but I feel as if a donation from anyone generous enough to afford it would go much further."
Leon said: "One of the most fulfilling aspects of the project was becoming well acquainted with members of the local community and getting to know  individuals, or friends even, on a first name basis, something facilitated by the healthy duration of the visit. Our visits to the poorer areas of Pikine, urban areas built on coastal wetlands and subsequently consisting of heavily flooded homes and streets, were especially eye-opening, and we were all very grateful to be able to support these local communities.
"Whilst rainy days brought a welcome drop in temperature for us as we moved between districts, for the families of the aforementioned communities such days brought domestic flooding which caused beds and chairs to rise above polluted shin deep water. Our work primarily involved visiting disabled individuals, who had already established relationships with the Charity, and providing these individuals with fully functioning wheelchairs.
"Working within urban environments such as these, it became especially apparent how liberating the increase in mobility facilitated by a functioning wheelchair could be, something which was of course very rewarding for us.
"Experiencing the local music culture was also very enjoyable. Whilst there didn't appear to be a 'scene' as such, we occasionally chanced to meet pairs of  musicians or groups of teenagers playing a communal style of music centred around percussive instruments such as the locally manufactured Sabar drum, and accompanied by spirited vocals. Through partaking in a cross-cultural musical dialogue of sorts, we discovered that the Pikine locals did not have a whole lotta love for Led Zeppelin records, though they were in fact familiar with and fond of Dire Straits."
Deputy Chris Blin, the President of the OA&DC, said: "The Commission was very pleased to facilitate this trip for Leon and Tarek which they funded themselves. As well as the Commission, it was a joint initiative between the Ille et Vilaine department, Jeunesse et Developpement, the Bureau des Iles Anglo-Normandes, and Jersey Overseas Aid, all of whom I would like to thank, along with the volunteers.
"In particular, it was very kind of Jeunesse et Developpement to give young adults living in the Channel Islands this rare opportunity in West Africa. If it was not for the existing partnership between the Commission and the Ille et Vilaine department this would not have been possible for the Guernsey volunteers. I understand that Tarek and Leon had an enjoyable, albeit adventurous, trip and giving young adults a new perspective and understanding of the world can only be beneficial.
"I was interested to see that Tarek and Leon organised football competitions for children in Senegal, given that the England football team have matches with both Senegal and France in the World Cup!"