'Social prescribing', a free non-clinical pilot scheme has been launched in Guernsey to support islanders' health and wellbeing.
The scheme, known as Bailiwick Social Prescribing, received funding from Guernsey Community Foundation to help get it off the ground and was launched at a special event at Les Cotils on Thursday 1st July.
Bailiwick Social Prescribing is a collaboration between Guernsey's community, charities, volunteer-led groups and faith organisations, The Health Improvement Commission, IslandHealth, Guernsey Community Foundation, Health and Social Care and Public Health.
Social Prescribing is a means of enabling health professionals to refer people to a range of local, non-clinical services which aim to improve their health and well-being. The referrals generally, but not exclusively, come from professionals working in primary care settings, such as GPs or practice nurses.
"The aims of Bailiwick Social Prescribing complement the Health Improvement Commission's mission to enable, empower and encourage healthy living in Guernsey. It is critical to look at the wider causes of ill health, and social prescribing could be an important part of doing just this," said Health Improvement Commission CEO, Dr Simon Sebire.
Initially the pilot scheme will work with GPs based at IslandHealth's three surgery sites: L'Aumone Surgery, St Sampson's Medical Centre and its Town Surgery at Frances House.
"Life's problems can affect our health and wellbeing and sometimes medication alone may not be the best answer"
GPs will discuss social prescribing with patients over the age of 18 who they think it could help before referring those interested to a trained Link Worker. People who are suitable for social prescribing are likely to have unmet non-clinical needs around issues such as loneliness and social isolation, home environment, employment and lifestyle.
Dr Louise Brook, a GP at IslandHealth said; "Life's problems can affect our health and wellbeing and sometimes medication alone may not be the best answer.The Link Workers will then meet the patient in person or speak to them over the phone. giving them time to discuss issues they are facing and what matters to them. The Link Worker will then connect them with non-medical support aimed at improving their physical, mental, and emotional health and wellbeing. This may be volunteering, an art or gardening group, a physical activity or support for other practical matters around home and work.
"Social prescribing seeks to address people's needs in a holistic way. It also aims to empower and enable people to improve their health. It can also increase people's involvement in their community, help people to find new purpose and increase social connection. It plays a vital role in helping to improve an individual's health and wellbeing."
How social prescribing works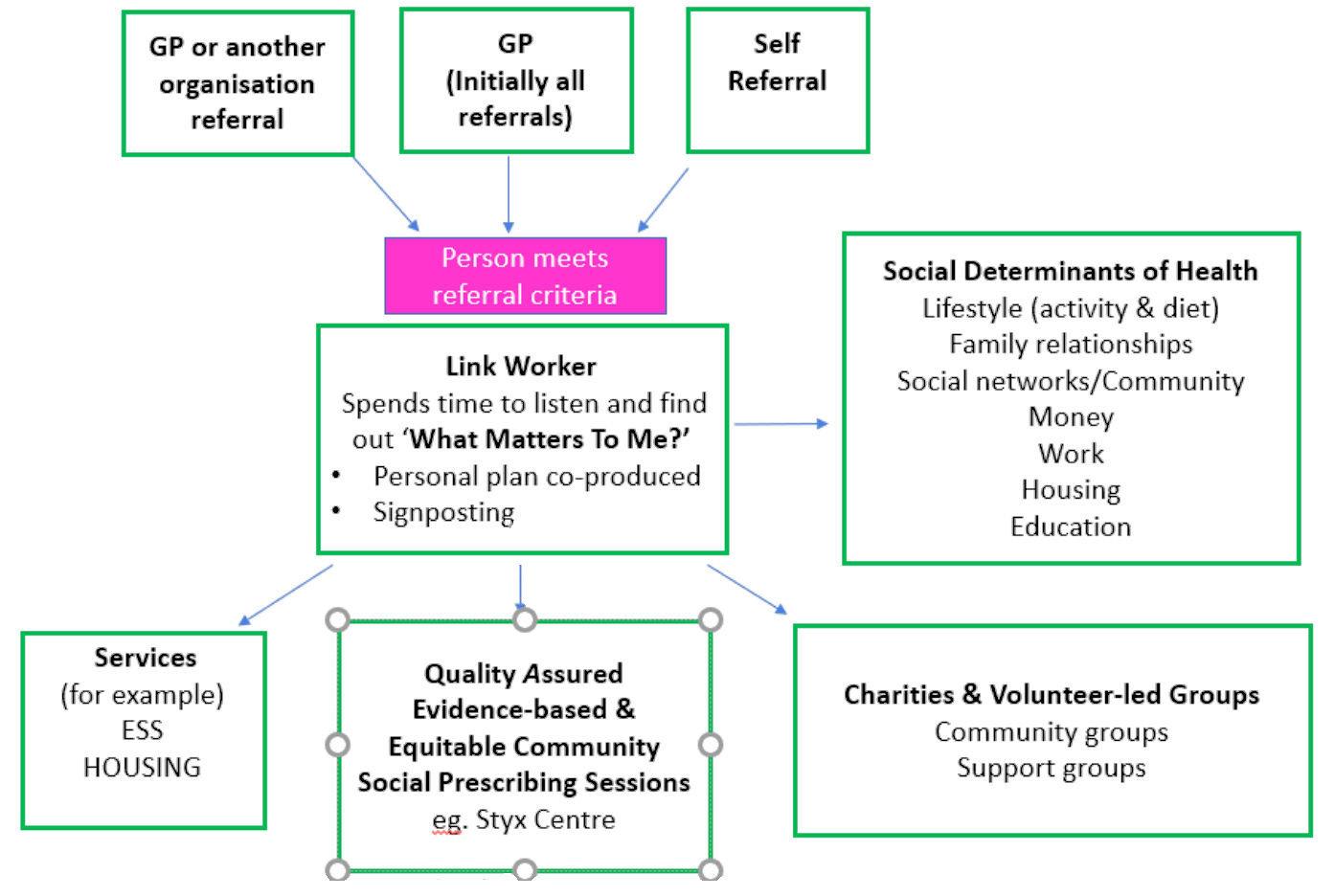 Social Prescribing features in the 'Government Workplan' as part of the Bailiwick's Covid-19 recovery plan. Dr Nicola Brink, Director of Public Health, said; "It is exciting to set out on this journey together as we all work towards the same goal to improve the health and wellbeing of islanders, this is more important than ever since the pandemic."
Melissa Mitchell, Bailiwick Social Prescribing Lead said; "The pandemic has shone a spotlight on the importance of Guernsey's third sector, who have a great understanding of the individuals and communities they serve while working to meet unmet non-medical needs and strengthen society.
"Whilst Guernsey celebrates a strong community spirit, GPs say that the pandemic has caused more people to become lonely, stressed, and isolated due to the lockdowns and social distancing. This has added to the poor mental and physical health experienced by many people in the Bailiwick before the pandemic.
"Bailiwick Social Prescribing has the potential to support individuals to manage these needs without relying solely on medication, empowering people to take greater control of their own health.
"GPs focus on the health of the whole person combining physical, psychological, and social aspects of care, but some people visit their GP for problems that are not always medical in nature, a GP may not always be best placed to help resolve these issues with medication or onward referral to other medical services. For example, an adult of any age may attend with stress caused by isolation, financial and legal difficulties, housing issues, or relationship problems.
"Social Prescribing has a role to play in addressing the global united nations sustainable goals, which include ensuring that we all have the chance to live healthy lives and that wellbeing for all is promoted at all ages."
What are the benefits of Social Prescribing Link Workers to health professionals?
BSP Link Workers can help health professionals to:
Support patients who present with issues such as stress relating to life circumstances which may be affecting their health and well-being.
Offer health professionals an option which is not a medication or a referral to health and social care services, through non-medical support that is complementary to other treatments people may be receiving. BSP is not 'anti-medication' or 'anti-doctors', rather it works alongside them. GPs, nurses, and other health professionals are expert at identifying people's need.
Identify underlying complex problems that may be the root cause of multiple contacts with health professionals including, but not restricted to: poor mental health, social isolation and loneliness, financial difficulties and housing issues. BSP Link Workers then connect people with quality non- medical support in the community for example: volunteering, an art or gardening group, a physical activity or support for other practical matters around home and work.
The intervention of a Link Worker may ultimately help to prevent crisis, reduce unnecessary hospital admissions, and support sustainable changes in the person's life.
What can a BSP Link Worker do?
Bailiwick Social Prescribing Link Workers can:
Provide personalised support to individuals, their families, and carers to be more empowered to look after their wellbeing, live independently and improve their health.
Provide individuals, their families and carers with personalised support, time, and confidence to work on underlying issues which affect their health and well-being, such as debt, poor housing, and physical inactivity.
Introduce or reconnect people to community groups and services.
Work with health professionals to ensure that the scheme is effective.
Develop trusting relationships by giving people time, listening, and focusing on 'what matters to them'.
See people in a variety of different environments, depending on what is appropriate, including GP surgery, at home and in approved community settings such as Guilles-Alles Library or a community centre.
Work with the person and support them to develop a simple personalised plan of support to improve health and wellbeing, this can include signposting to appropriate services and organisations.
Support people to access financial support with medical expenses through Victoria Hospital Incorporated.
Why are BSP link workers so important?
BSP Link Workers may improve outcomes and experiences for people, their families and carers by supporting them to unpick complex issues affecting their health and wellbeing.
---
Guernsey residents who may struggle to pay for a GP appointment can apply to Victoria Hospital Incorporated, a charity which assists with unaffordable medical expenses including GP visits relating to social prescribing. For more information click here or email admin@vhi.org.gg or call 01481 249942.
For more information about Bailiwick Social Prescribing, click here or email contactbsp@healthimprovement.gg or call on 01481 21433.