Bright Beginnings are joining the global movement Giving Tuesday this week, in appreciation of all the support received in 2020 that has allowed the organisation to give back to its community with the essential work they do supporting young families.
Bright Beginnings Children's Centre and Nursery opened in 2017 and offers free services in the Children's Centre and a combination of free and paid for services in the nursery, all of which are informed by the 1001 Critical Days Agenda ethos; for all children to receive sensitive, appropriate and responsive care from their main caregivers in the first years of life.
What started out as a simple idea in 2012, Giving Tuesday has now grown into a global generosity movement that inspires millions of people around the world to give, collaborate and celebrate generosity.
Bright Beginnings organisational model was built on providing a place for new and expecting parents to 'be free' from stigma, where they are able to seek support and friendship and where a range of activities are available to support them in ensuring their child has the best possible start.
New research, which has been marked as one of the largest UK studies ever conducted on the early years, was published last week by the Duchess of Cambridge and the Royal Foundation and highlights the importance organisations like Bright Beginnings. The report explores how difficult experiences in early childhood are often the root cause of key social challenges such as poor mental health, family breakdown, addiction and homelessness and has outlined #5BigInsights into early years.
The Children's Centre and Nursery typically see around eighty to one hundred families on a weekly basis, however when the pandemic caused the island to impose lockdown restrictions, the Centre's service offerings could not continue as normal. Aware of how the lockdown would be a difficult and anxious time for some families and in particular very new mothers and fathers, the Centre adapted their usual programme offering virtual support groups and initiatives, ensuring that the local community continued to receive their support.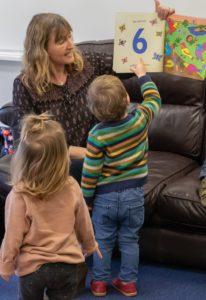 A regular program of groups was held over Zoom throughout lockdown, virtual 'stay and play' sessions arranged to provide social opportunities for the children and parents, weekly telephone check-ins from staff, and socially distanced home visits were made. In line with States of Guernsey guidelines, the Bright Beginnings Nursery remained open to support children of families with additional needs and key workers' children. The Centre also played a part in the 'Food for Families' initiative, which provided hot meals to some one hundred families.
The service is funded by donations from the public and organisations. Through a very generous donation from the Sarah Groves Foundation in summer, Bright Beginnings were able to offer extra sessions to a number of Children who attended their Nursery to continue to prepare them for school. As they move into 2021, the Centre will continue to be reliant on community support.
Rachel Copeland, director of Bright Beginnings said, "Giving Tuesday is a great opportunity to recognise and appreciate how incredibly lucky we are to receive support from our community even through uncertain times. It has allowed us to provide essential support in a challenging year when the community who benefit from our service needed it the most. We are also extremely proud of, and thankful to all our amazing staff and volunteers who put their hearts, time and energy into supporting our families."
The Impact Report 2019 is available to read here.
If you are interested in becoming a volunteer for Bright Beginnings or would like to donate, the Centre would love to hear from you.  For more information please contact Rachel Copeland on 07781 429515.