Guernsey Bailiwick children undergoing hospital treatment or care from the community nurses can now enjoy some highly-popular interactive entertainment in an effort to make their care more comfortable.
Four Guernsey charities have collectively-funded bringing the unique services of The Giggle Doctors to Guernsey's Health & Social Care (HSC). The merry band of fictitious physicians, including doctors Hip Hap, Ding Dong and Bananas, will provide a range of online-led activities to children receiving care from this month. It comes ahead of the team from Theodora's Children's Charity planning to visit the Princess Elizabeth Hospital next year, having had to postpone a trip this year due to ongoing Covid-related restrictions.
Theodora's Giggle Doctors have been visiting children in hospitals, hospices and specialist care centres nationwide for over 25 years. Combining music, play, magic and storytelling, they bring magical moments to thousands of brave children in challenging times. All undergo extensive training to prepare themselves for performing in a medical environment. Undeterred by the current UK lockdown, the charity has pulled out all the stops to provide bespoke entertainment to Guernsey children now via virtual means, before being able to visit in person.
Theodora Children's Charity co-founder André Poulie said: "I am particularly proud and honored to collaborate with the dedicated team of healthcare professionals in Guernsey".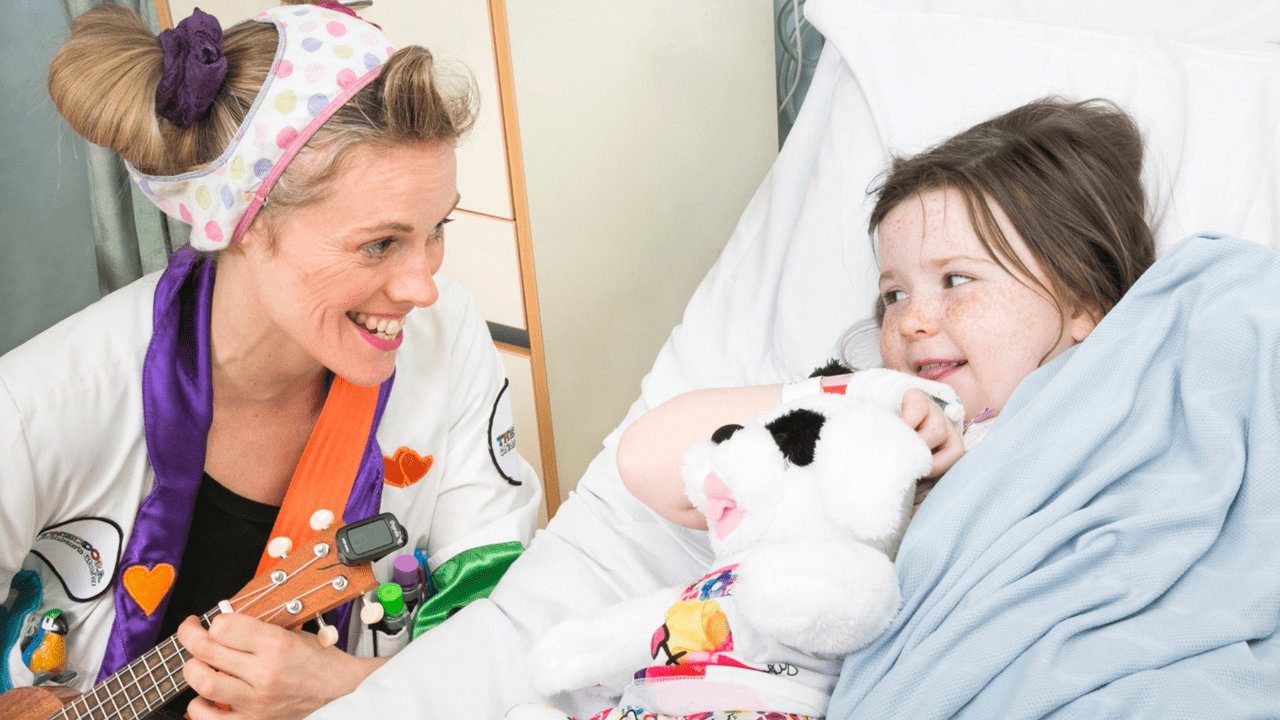 Mr Poulie and his brother Jan founded the charity in their mother Theodora's memory after she passed away in 1994. They were inspired by the lengths she went to to lift Andre's spirits while he underwent prolonged treatment in intensive care as a child following a severe accident. During her daily visits she entertained him with a world of stories and adventures. The charity in her name has since brought the same therapeutic benefits of joy and laughter to more than 500,000 children receiving care.
André added: "I am so pleased, in this period of increased isolation and anxiety, to modestly offer a world of adventures and moments of joy to children in Guernsey. We are very thankful for the generous support which has enabled this to happen. Today, we initiate a virtual program which we shall in due course expand with the real and long lasting visits of our Giggle doctors".
The partnership with the Giggle Doctors will see 100 activity packs made available to young children in the PEH and those receiving care in their own homes. The boxes are filled with lots of exciting and interactive games that the children complete with guidance from online videos featuring the Giggle Doctors. Once they have completed all the activities, children will then receive a personal video call from one of them.
President for the Committee for Health & Social Care, Deputy Al Brouard, said it was a wonderful initiative which epitomised the Partnership of Purpose approach.
Al commented: "We are lucky with the quality of healthcare we have in Guernsey, but undergoing treatment is always going have its challenges, whatever the person's age. Anything we can do to make it more comfortable is very welcomed.
"The Giggle Doctors have a fantastically-fun track record in brightening up children's healthcare with moments of joy and laughter. The Partnership of Purpose is all about the public, private and third sector working together to transform health and care services. This is one of many great examples of that in action".
The local charities which have made this possible are Ernie's Angels, Friends of Frossard Children's Ward, Dizzy Donkey and Jake's Heartfelt Fund. Kind support has also been received by Investec and Guernsey Tennis Club as well as by the family and friends of Mrs Jane Sweet.