Generous Jersey islanders have so far pledged more than £500,000 to the Bailiff's Ukraine Appeal since the fundraising drive launched earlier this month.
More than £50,000 of this amount being tax relief from the lump sum donation scheme (Jersey's equivalent to Gift Aid).
The Bailiff's Ukraine Appeal accepts donations from people in Jersey, enabling the Island to stand in solidarity with the civilian victims of Russian aggression. It focuses on supporting the Ukrainian people and provides an opportunity for people and organisations who want, and are able to, contribute financially to support the people caught up in the conflict.
Islanders have been getting creative in their fundraising efforts with many events being organised by individuals and businesses to raise extra funds for the Appeal; these events have included the Jersey Academy of Music Irish Fiddles fundraiser, a car-wash at Pentagon that Pentagon generously match-funded, Robin Smith's 100 miles for Ukraine challenge, an upcoming fundraiser at the Dolphin this weekend and Ian Rolls donating proceeds from the sale of five limited edition prints.
The Bailiff, Mr Timothy Le Cocq, said: "Once again the people of Jersey have shown how generous they can be and how creative they are in their fundraising.  We can all be proud of the way we have answered the call of this crisis and played our part in the international efforts to alleviate the suffering of the people of Ukraine."
Working in partnership with the Bailiff's Ukraine Appeal and Jersey Overseas Aid, registered charity Side by Side is coordinating and processing monetary donations for the crisis. By making a donation to the appeal through the Jersey Side by Side website (www.sidebyside.je), Islanders can be assured that their money will go further.
Donations made to Jersey Side by Side are eligible for tax relief for donations of £50 or more, meaning that every £1 donated by Jersey taxpayers can be worth £1.25 to the appeal – which has so far enabled more than £50,000 extra to be added to the total amount raised.
Michel Troquer, Chairman of Jersey Side by Side, commented: "Islanders continue to be incredibly generous – not only with their donations, but also their time, organising some fantastic fundraising events.
"By using our online giving page, we can maximise the Island's fundraising efforts as donations to Jersey Side by Side, a registered charity, are eligible for tax relief for donations of £50 or more. What this means is that every £1 donated by Jersey taxpayers can be worth £1.25 to the appeal, so Islanders' generosity will go further to help those affected by the conflict.
"If you are organising an event, please do get in touch with us and we can promote your event on our social media channels."
All donations received by the Bailiff's Ukraine Appeal and Jersey Side by Side will be distributed by Jersey Overseas Aid, ensuring the funding reaches the people and places where it is needed most. Islanders will be able to see how their donations are being used to help those impacted the crisis by clicking here.
To date, funds from Jersey have been used to send life saving equipment and supplies to Ukraine. Jersey has pledged oxygen concentrators which can be used as back up oxygen supplies for patients, ballistic vests and helmets for use by medical personnel, trauma kits, as well as sending monetary assistance to humanitarian partners UNHCR, The Red Cross, OCHA, Mercy Corps and Help & Inclusion.
Jersey's Minister for International Development and Chair of the JOA Commission, Deputy Carolyn Labey, said: "There has already been an incredible response from Islanders to the conflict in Ukraine, and I'm proud to see this generosity continues with incredibly generous monetary donations as well as the organising of community events and individuals undertaking extraordinary personal challenges to raise extra funds.  Every penny that islanders raise will be directed by Jersey Overseas Aid to where it has the most impact."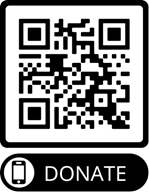 Islanders organising fundraising events should send the details of their events to info@sidebyside.je and the charity will share the details of these on their social media channels.
Islanders wishing to give to the Bailiff's Ukraine Appeal should click here where they can make a secure online donation and find out more about how to volunteer for the charity and organise fundraising activities.
Islanders can scan this QR code which will take them directly to the donation page.