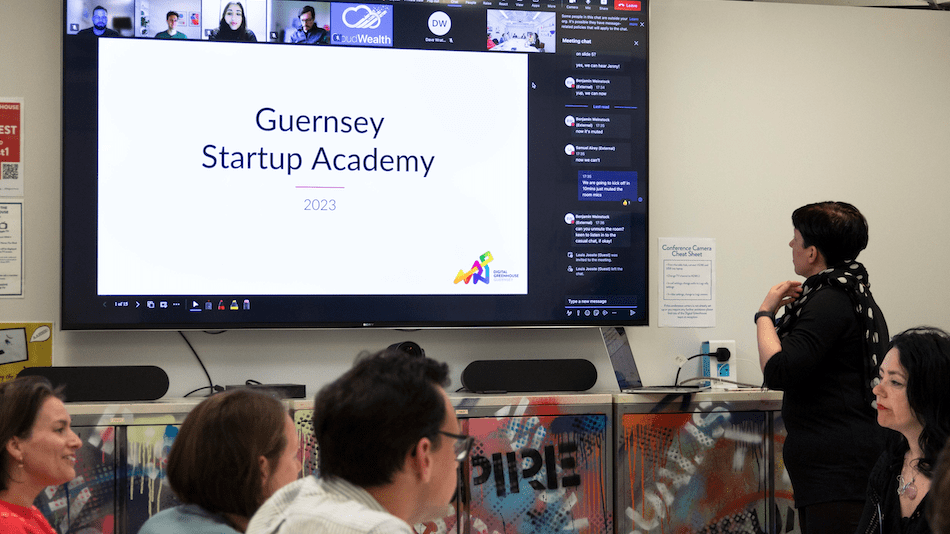 Startup Academy Presentation Evening
The Digital Greenhouse will host presentations from their first Startup Academy entrepreneur cohort, on the evening of the 6th of July.
The Academy immersed new businesses in Guernsey in a 10 week accelerated programme, providing expert knowledge and mentorship designed to give them the skills they need to go from idea to market. With expertise provided by their venture-building partners, Blenheim Chalcot, this opportunity has been powered by the SMART Guernsey Economic Development programme.
All businesses are leveraging tech to grow and the ventures span FinTech, HealthTech, EventTech, and TravelTech, showing exciting potential future growth within their sectors on the island.
Six businesses will be presenting their pitches on the evening of the 6th July, in the Digital Greenhouse. The public is invited to sign up to hear from:
Andre Duquemin, Founder of Three Brain Training
Ben & Dave Wratten, Founders of Stage Portal
Joanna Corder, Founder of The Veterinary Content Company
Louis Jooste, Founder of Cloud Wealth
Matthias Plunser, Founder of Channel Island Workation
Tammy Lodge, Founder of Leaving Toxicity
Tim Rowe Sonia Mills Vincent De Vera, Founders of Wild Wolf Wellbeing Limited
Academy facilitator Ben Weinstock of Red Team, Blenheim Chalcot, commented on the businesses journeys: "This is a group of talented entrepreneurs, who have enthusiastically embraced and applied the business-building skills we've trained on so far in the programme.
"Their progress in such a short time has been particularly impressive. It's exciting to be a small part of their entrepreneurship journey, and I'm looking forward to seeing the impact they have on Guernsey and beyond!"
Lucy Kirby, Director at the Digital Greenhouse also commented: "Innovating with technology is pivotal to all the businesses joining the Academy, covering a range of tech-powered products and services. We are also particularly pleased to be welcoming entrepreneurs from Alderney and Sark to the programme. All the participants have taken full advantage of this programme to accelerate their new ventures and we look forward to continuing to support them as their businesses grow."