She walks in beauty –exhibition by Nicola Lucas at Private & Public Gallery
In this her second exhibition at Private & Public Gallery the artist Nicola Lucas has undertaken a series of land and seascape paintings that depict her ongoing fascination with the natural beauty of the island of Jersey.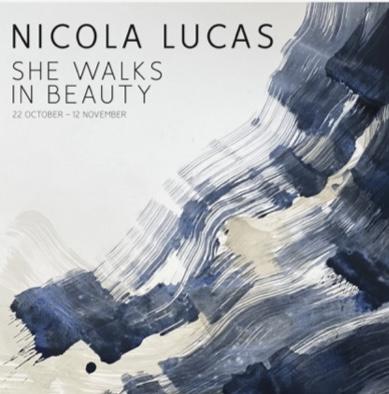 The exhibition represents the last year's studio practice and continues her exploration of the most iconic trees that elegantly adorn our countryside and coastline. Twelve paintings, one for each parish, tell us in the most magical of ways, how the artist has developed a consistently painterly language that translates into an aesthetic love poem to nature.
Painted in watercolour on paper and board these quixotic and highly collectible images float within an ethereal white space reminiscent of the calligraphy and brush painting of the Far East in which trees, rivers, mountains and waterfalls are prominent symbols of the most romantic and devout of Taoist genres.
But the artist has not stopped there. Seeking to push forward and break new boundaries Nicola has most recently produced of a series of large paintings which hover between the familiar and the abstract.
Bold in both scale and intention upon closer examination they reveal themselves as the familiar textures, rhythms and patterns of the artists hand but on a grand and gestural scale. This new found confidence provides us with ways of understanding the technical mastery of her subject and a striking set of motifs that position her work within a line of female artists such as Hilma af Klint, Helen Frankenthaler and Georgia O'Keefe.
Nicola Lucas has once again produced one of the most aesthetically calming, meditative and seductive painting exhibitions ever shown at the gallery which, in the same way Lord Byron did in 1815, express the sheer awe and beauty that she finds in the extraordinary landscape that she has chosen to call her home.
I hope you will enjoy the experience of visiting this exhibition in the same way I have enjoyed seeing these new works emerge over the last year in the studio. That period has been filled with trials and tribulations for us all but Nicola has once again delivered a body of works that can make us all feel positive about the future and remind us of the importance of connecting with and valuing the beauty of the natural world.

The exhibition is available online from Tuesday 19th October and can be viewed here.
---
The preview evening and drinks reception is on Friday 22nd October from 5pm to 8pm.
The exhibition runs until 12th November and is open weekdays 12- 6pm and on Saturdays from 10am to 2pm.