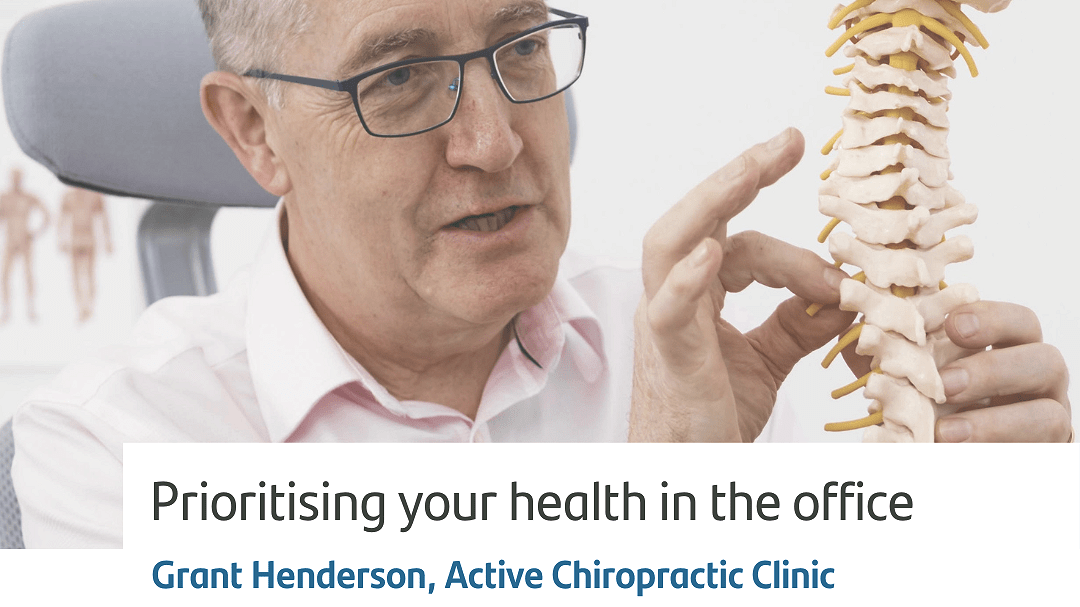 Prioritising your health in the office
Learn about the benefits of movement and ergonomics, and discover the importance of managing stress, taking breaks, and promoting a positive work culture. Don't miss this opportunity to prioritise your health and boost your productivity!
Are you tired of feeling sluggish and unmotivated at work? Do you struggle with back pain, eyestrain, or other physical ailments after a long day at the office? If so, then we have the perfect solution for you! Join us for a fun and interactive talk on physical well-being in the office. Well-known local chiropractor and workplace well-being consultant Grant Henderson will share valuable insights and practical tips on how to prioritise your health while at work. The talk will cover various topics, including ergonomics, movement, and mental wellness.
In today's fast-paced world, work has become a significant part of our lives, and we often spend long hours sitting at our desks. This sedentary lifestyle can have adverse effects on our physical and mental health, leading to back pain, eye-strain, stress, and headaches. However, with the right knowledge and tools, we can create a healthy work environment that promotes well-being and productivity.
At this talk, you will learn about the benefits of incorporating movement into your workday, whether it's through regular breaks, stretching, or simple exercises. He will also cover the importance of ergonomics, including the use of comfortable chairs, desks, and other equipment to reduce physical strain. In addition, Grant will highlight the impact of physical stress on your mood. You'll learn some easy ways to improve your working posture to reduce back pain, headaches, neck and shoulder pain and related health concerns.
So, if you're ready to prioritise your health and boost your productivity, then join us for our upcoming talk on physical well-being in the office. You won't want to miss this opportunity to learn from the best in the business and improve your overall well-being!
Background information:
Grant Henderson DC is a highly experienced Chiropractor, Acupuncturist and Workplace Well-being Consultant with over 30 years of experience in chiropractic and workplace ergonomics. He is passionate about improving workplace well-being and has provided support and assistance to many thousands of individuals and dozens of employers in Jersey. He is well known to and recommended by clients in both the private and public sectors.