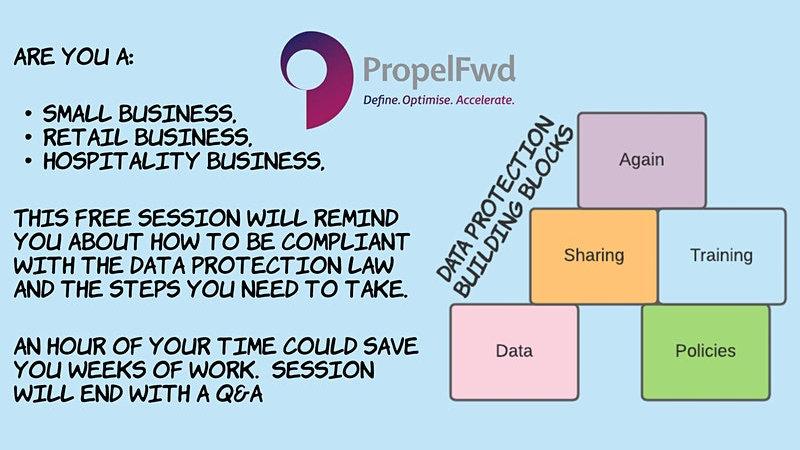 Jersey Hospitality Association – Data protection virtual event
Propelfwd is a professional, ethical company based in Jersey and has worked with many local companies in the retail and hospitality sector. Our Giving Back Program has helped nearly ten local charities with their data protection compliance for free.
We have gained experience working with these companies and charities and working in different jurisdictions with different data protection laws. We pride ourselves on the work we do because we keep it simple.
The 'Building Blocks' of data protection compliance that we have developed are simple. It is a five-step process:
Know your data. No matter how small your business is, if you collect data of another individual, whether that is a customer or an employee, you are a Data Controller. You need to Register with JOIC and list every data activity you have.
Have policies to show how you process your data and what you do with it. If you have a website, put a Privacy Notice on it, know what to do if you have a data incident or breach, what a subject access request is and how to protect the data.
Train, Train and Train yourself and your staff
Know who you share your data with and where you send it.
Do it again!
Simple isn't it!
This free talk is your chance to find out more about this process, ask as many questions as you like and see if you need to refresh your data handling processes in your business. Don't let people scare you with £10 million fines; we are all allowed to make mistakes. As long as you can show you are trying, that is key – you must be trying.