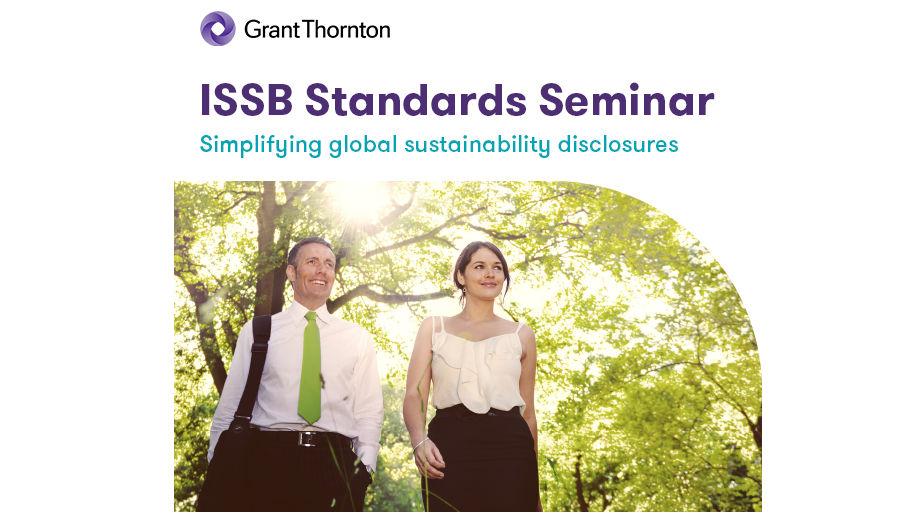 International Sustainability Standards Board Standards Seminar (Jersey)
International Sustainability Standards Board (ISSB) Standards allow companies and investors to standardise on a single, global baseline of sustainability disclosures for the capital markets.
The aim is to simplify the global sustainability disclosure landscape, reducing the complexity of having multiple sources of reporting guidance, while building on the established expertise and practice.
The standards are seen as creating a new global baseline of sustainability reporting.
Grant Thornton's in-house ESG expert, Dipak Vashi, will cover and explore the following topics:
Intro to S1
Intro to S2
Similarities between TCFD and S2, where overlaps can be found
Effective date and jurisdictional mandating of the standards
Transition reliefs
Next steps, what everyone needs to do now to report
Dipak Vashi – ESG Expert
Dipak qualified as an ACA from KPMG in London, working in the FS Audit practice, primarily at large multi-national banks. From then he moved to work for ICAEW, and looked at Sustainability issues for their technical arm, producing guidance and technical updates for those looking to increase their sustainability offerings internally and to clients. Dipak joined Grant Thornton Limited in 2022 leading their Sustainability activities.
Light refreshments will be provided