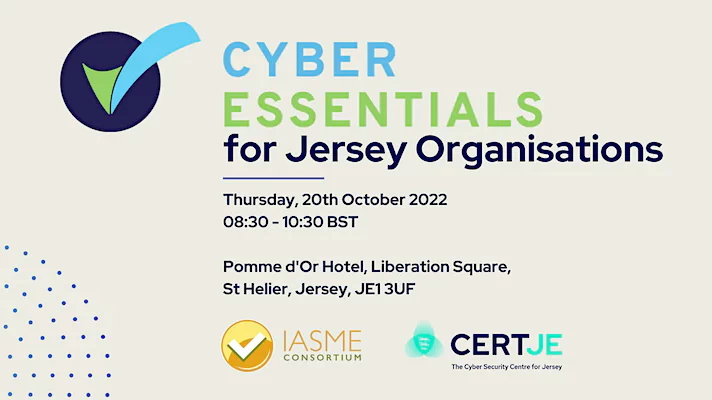 CyberEssentials for Jersey organisations
his breakfast briefing will explain how organisations in Jersey can achieve effective cyber assurance with CyberEssentials.
Cyber risks have never been higher. Whether you are a business, public body or charity a major cyber security incident can cost you trust and confidence, in many cases resulting in closure.
Delivering good security is hard, but effective cyber assurance can help you avoid sleepless nights, and give your board and customers confidence in your cyber security controls.
Find out about the options available to you and how CyberEssentials+ can give you and your customers confidence, help you respond to customer due diligence and protect you when the worst happens.
CyberEssentials is also required to supply the Government of Jersey, and can help you meet regulatory and compliance obligations.
This event is delivered by CERT.JE in conjunction with IASME who run the CyberEssentials Scheme for the UK Government, as well as accredited local certification providers. All will be available on the day to answer questions and provide support.
Should you have any comments or suggestions prior to the event, please contact hello@cert.je
---
This event is part of Cyber Security Awareness Month when CERT JE; Jersey's Cyber Emergency Response Team, have been working with a number of organisations and partners across the Jersey community to develop a month-long programme of events. We want to develop and enhance cyber security awareness in Jersey, supporting individuals and businesses to understand how best to prepare for, protect from and defend against cyber threats.
We will be providing a platform and forum for discussions surrounding cyber security, data protection and reg tech with a number of experts in their field sharing their expertise, views and experiences. We will also be working with groups to host mock cyber incident exercises to support participants develop a greater understanding of the potential challenges faced by businesses in the event of cyber emergencies. Please visit cert.je/events for more information.