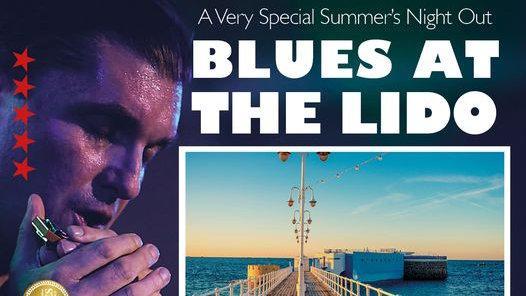 Blues at the Lido – A very special summer's night out [sold out]
Stroll or taxi down to the Lido at Havre Des Pas on Thursday July 20th for a very special night of drinks and highly acclaimed blues music with one of the world's leading blues stars Giles Robson featuring guitarist Olly Rybarczuk.
As you arrive enjoy a complimentary "Tidal Hurricane" cocktail (Tidal Rum, orange juice, pineapple juice, lime juice, Grenadine, Bitters) and take in the atmosphere and beautiful sea views and then enjoy an entertaining and musically powerful show from International Blues Star Giles Robson.
Details:
Doors and complimentary cocktail: 7:30pm
Show: 8:30 – 10:30pm
Close 11:00pm
Full seating for all customers – indoor venue
Praise For Giles Robson
There are thousands of so-called 'Blues' players out there and 99% aren't worth five minutes of serious listening. Then there is Giles Robson and his Blues is pure, natural and deep into the groove of it all. He is probably the best modern harmonica player, British, European OR American. There is so much ordinary and pedestrian Blues out there but when you come across a true maestro, it is worth cherishing." MUSIC NEWS, UK
Giles Robson Biography
Decades long commitment, respect and focus towards the art of blues music has seen Blues Music Award Winner Giles Robson build a dreamlike career. Hohner Harmonicas calls Giles Robson "One of the finest blues harmonica virtuosos in the world, an acclaimed master showman and singer".
The only UK or European artist to appear on Chicago's legendary Alligator Records who described him as "A blues giant, absolute master of the form". He is only one of THREE UK blues artists alongside Eric Clapton and Peter Green to win a coveted Blues Music Award in Memphis (The Grammys of the Blues). His albums are in the top of the world's most prestigious music magazines critics polls – Mojo Magazine, Living Blues and Downbeat.
He tours over fifteen countries a year and works with some of blues music's most legendary figures. Ex Muddy Waters and Magic Slim guitarist and celebrated blues star John Primer says "When me and Giles play the blues we put hot sauce on it so you can feel it". Emmy Award winning blues harmonica master Billy Branch calls Robson "A great Harmonica player in his own right".
He plays and sings beautiful, powerful, emotional and timeless blues with a deep groove and laden with intense feeling. He is widely considered one of the world's greatest blues harmonica virtuosos and an impressive singer. He plays harmonica in his own accomplished and distinct style that captures stunned audience's hearts and imaginations with his mixture of superb technique, rhythmic power, tonal control and sensitive emotional expressiveness. Witnessing Giles Robson live is a dazzling, and unforgettable experience as audiences from around the world constantly discover.
Artist Website: www.gilesrobson.com
Artist Video: https://www.youtube.com/watch?v=vRhCK03lPtk