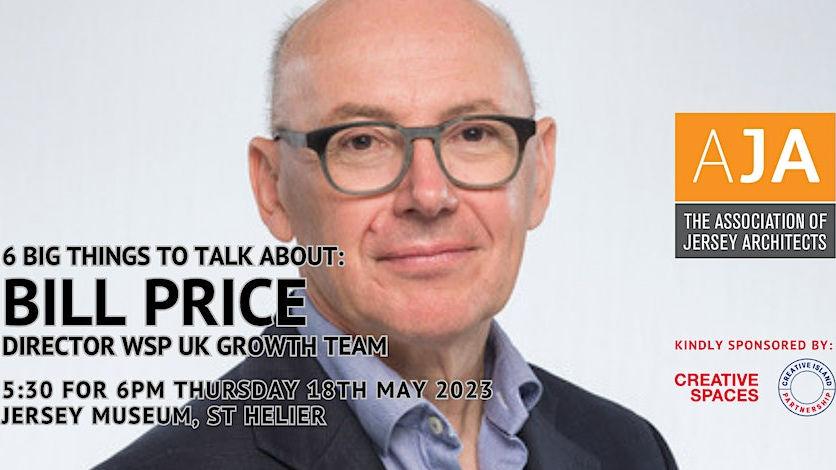 AJA Talk: Bill Price, Investing in the public realm to deliver social value
The Association of Jersey Architects are excited to announce in collaboration with the Creative Island Partnership, Bill Price is visiting Jersey to give a talk, 'Investing in the public realm to deliver social value'. This event will take place in Jersey Museum, The Weighbridge, St Helier.
Drinks will be available to purchase from the Yard from 5:30pm with the talk starting at 6pm, followed by a Q and A session.
Biography
Bill studied Civil Engineering at Newcastle University and is a Director in the UK Growth team at WSP. His career has included projects across many sectors usually delivering multidisciplinary engineering, transport, sustainability and infrastructure services. He was responsible for the early design development stages of the Shard and associated with all the projects at London Bridge helping to raise the profile of tall buildings in London especially around transport nodes.
Since 2012 Bill has been closely associated with the delivery and thought leadership around rail overbuild. Bill authored and led the production of the WSP papers 'Building our way out of a crisis', 'Out of Thin Air' and 'Out of Thin Air – one year on'. He has presented on the topic at many conferences and events in the UK, continental Europe and Australia.
In 2016 Bill co-edited 'A Strategic Design Guide to Tall Buildings' for the British Council for Offices and published by the RIBA.
Bill is now part of the WSP UK Growth team with responsibility across Property and Advisory services. He typically works at the early conceptual stages of major projects where buildings and infrastructure combine to generate property, placemaking and social value.