Private & Public Gallery are re-opening for the new Spring season of exhibitions which will, once again, be showcasing artworks from the most sought after and internationally acclaimed Jersey artists.
'Go Figure! 'Between Fiction and Autobiography' is a group figurative painting and sculpture exhibition that explores traditional themes in art in contemporary and often visually surprising ways.
Featuring masterworks from the 20th and 21st century, the exhibition opens for two public preview days on Friday 5th and Saturday 6th March and will run daily until 5th April (except Sundays).
The exhibition has been carefully designed, with less works on display then usual, to provide visitors to the gallery with the space they require to view the works in comfort and safety.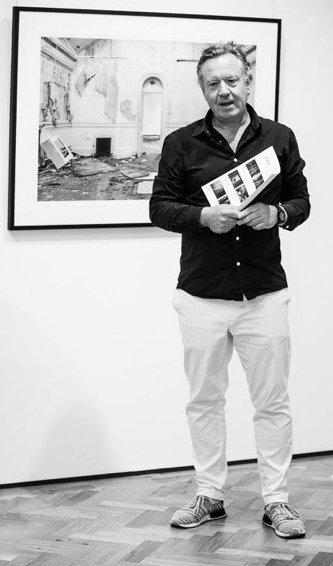 Gallery Director Chris Clifford says: "It's astounding to me how normal and uncontroversial the picturing of the emotional and psychic travails of everyday life has become through the auspices of what 20th century Modernism would have cast as retrograde.
"When I look back at the vicious culture wars between art theory and practice form the 1960's to the 1990's and the intestinal contortions needed in order to surface even the vaguest references to personal experience, it makes the current trend towards figurative painting seem almost unimaginable.
"In fact the intellectual arguments against romanticised representational painting have raged for nearly two centuries ever since the prominent French painter Paul Delaroche, upon seeing the first daguerreotype photographs in1840, was attributed with the earth shattering quote 'Painting is Dead!'.  And yet here they are in abundance, today's most sought after artists are constructing fictions that expand to accommodate socially and culturally marginalised positions whilst seeking to reset assumptions about what constitutes content.
Figurative painters such as Jules de Balincourt, Michael Borremans and Salman Toor are producing paintings that seem to have captured the zeitgeist despite accusations of 'Zombie Figuration'".
---
In this, the first exhibition of 2021, Private & Public Gallery present a group exhibition of six artists who have elegantly used figuration as a means to express their feelings about the society in which they live.
The exhibition features art by Tony Bevan RA, Sir Claude Francis Barry, John Minton, Robert Greene, Jason Butler and Mark Guest.
Exhibition Preview Day Saturday 6th March from 10am to 5pm
Exhibition then runs from Monday 8th March to Friday 5th April, Monday-Saturday.
---
Artists on display
Robert Greene
Robert was born in Jersey in 1976 and went on to study at the Royal College of Art in London where his figurative illustrations were described as 'Victorian Punk Revivalism'. Noted as one of the founders of the hugely influential Le Gun magazine Greene has produced largely autobiographical works across a range of different mediums such as film, posters, typography, drawings and paintings and rose to prominence as part of the semi-fictitious artist duo 'The Rubbishmen' who inhabited the salubrious drinking dens and sleazy underworld of London's Soho.
His new works, inspired by his time in Paris during lockdown continue to explore his fascination with bohemian intellectualism using great humour and wit. His new works form part of 'Spiritus Paris' series which are said to provide 'a dérive' though the time and space fabric of Paris.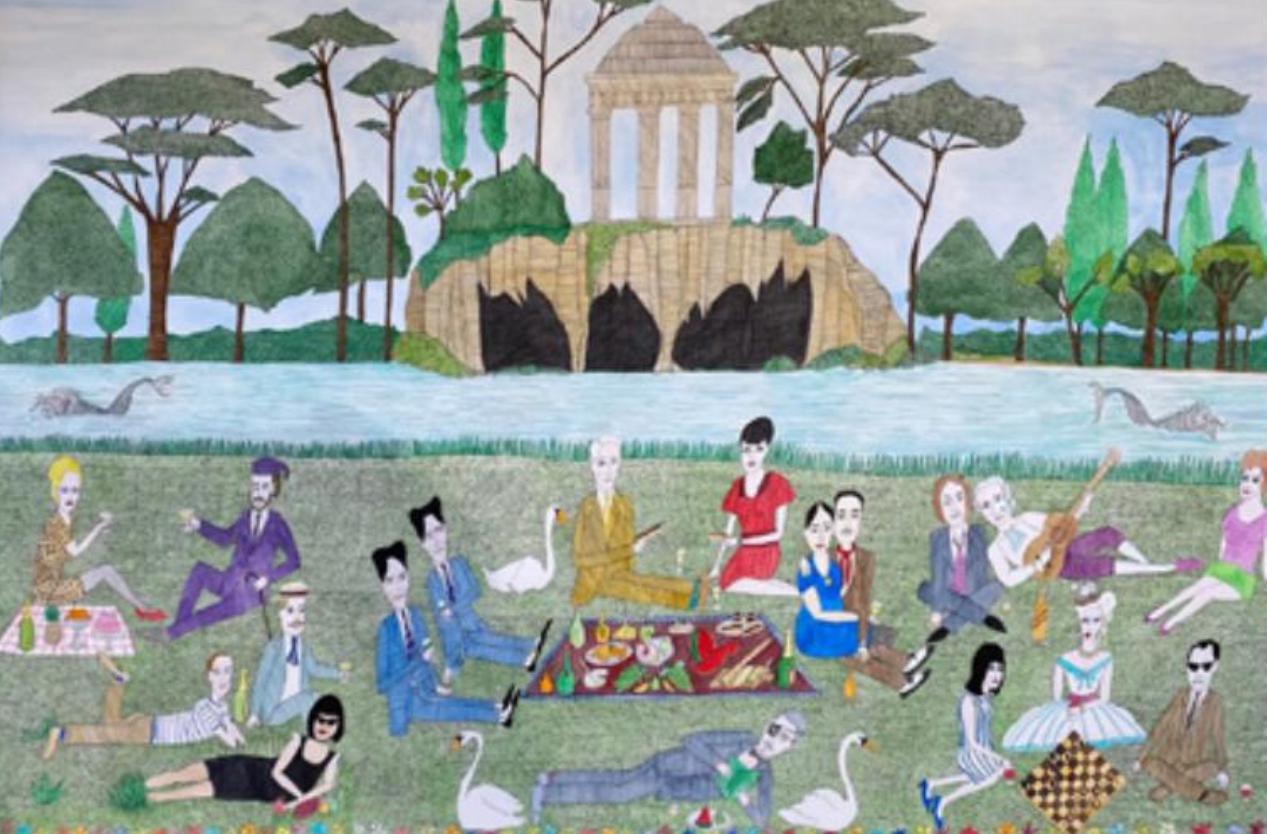 ---
Jason Butler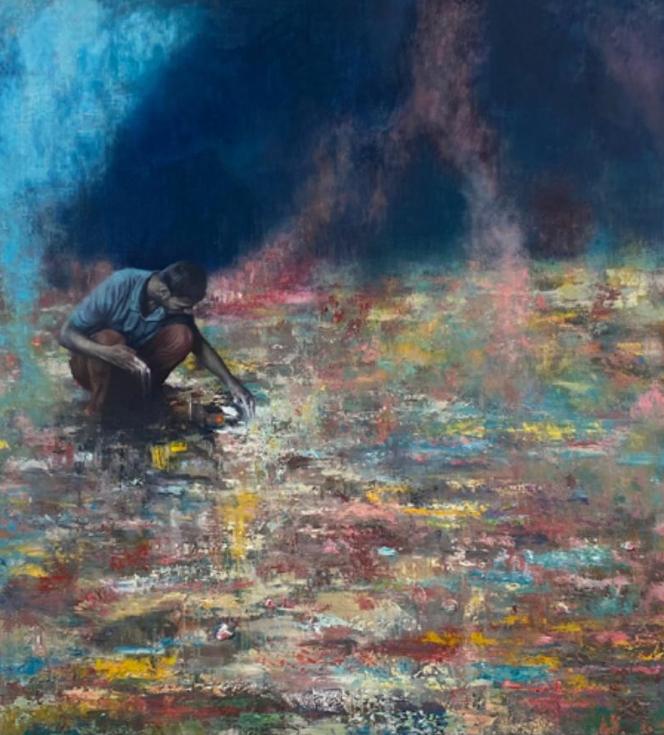 Jason was born in Nottingham in 1970. He studied at Bristol University for his Art Foundation Course and Cheltenham Art College for his degree in Fine Art.
Jason has had his work accepted for various exhibitions in the UK including The BP Award at the National Portrait Gallery, London in 2002, 2004 & 2010. He was shortlisted for the BP Travel Award in 2010 and he has twice been commissioned by the States of Jersey to make paintings commemorating Royal visits and also painted Colin Powell OBE for Jersey Heritage in 2009.
Of his work Jason has said "I am fascinated by the idea of Utopias and the kind of rituals we carry out.  Trying to get the work to say something that I could never articulate verbally is the main goal. The process of allowing the work to go through many stages is key".
---
Tony Bevan RA
Tony (born 1951) is a preeminent British painter, known for his psychologically charged images of people at the edge of respectable society. Bevan came to prominence as an artist in the 1980s, taking part in the ICA show 'Before it hits the Floor' in 1982, Problems of Picturing, curated by Sarah Kent and held at the Serpentine Gallery in London in 1982-83, and The British Art Show, a touring exhibition of contemporary art, in 1984.
Bevan has work in many major art collections around the world, including Arts Council England, the Israel Museum, Jerusalem, the British Museum, the Louisiana Museum in Denmark, Museum of Contemporary Art, Los Angeles, the Museum of Modern Art, New York and the Tate.
The main picture of this article is a self-portrait by Tony Bevan, 2012.
---
Sir Claude Francis Barry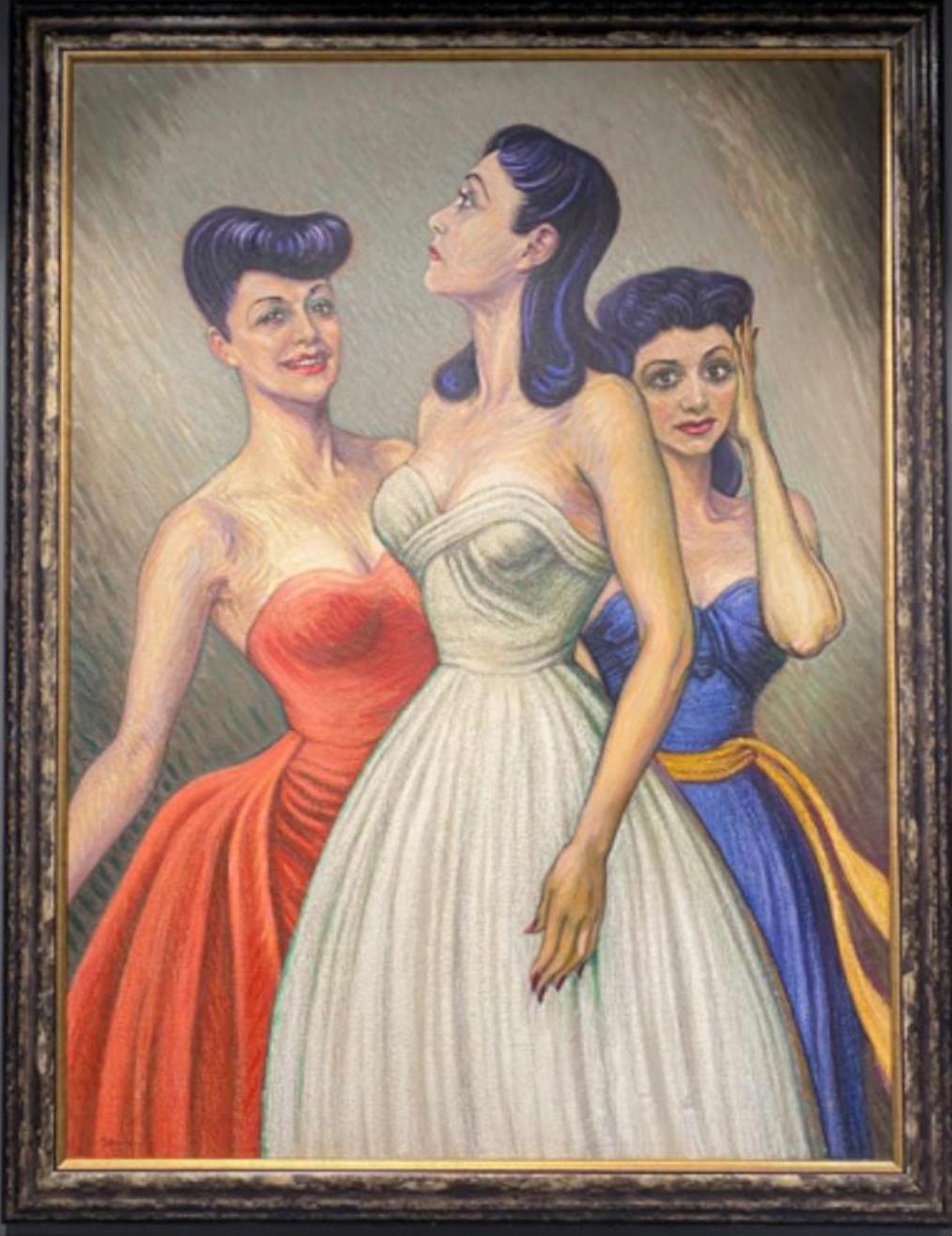 He was born into an aristocratic family in 1883 and spent the last 20 years of his life in Jersey until his passing in 1970. He made representational paintings that have an aesthetic sensibility that is perhaps more French than British.
The symbolism of the Pont Aven School, the decorative distortions of the Nabis and the colourful exuberance of the Fauves all find echoes in his extraordinary and highly collectable portraiture.
---
John Minton
John (1917 –1957) was an English painter, illustrator, stage designer and teacher. After studying in France, he became a teacher in London, and at the same time maintained a consistently large output of works. In addition to landscapes, portraits and other paintings, some of them on an unusually large scale, he built up a reputation as an illustrator of books.
In the mid-1950s, Minton found himself out of sympathy with the abstract trend that was then becoming fashionable, and felt increasingly sidelined. He suffered psychological problems, self-medicated with alcohol, and in 1957 died by suicide. His portrait, by Lucien Freud, is one of the great 20th century masterpieces.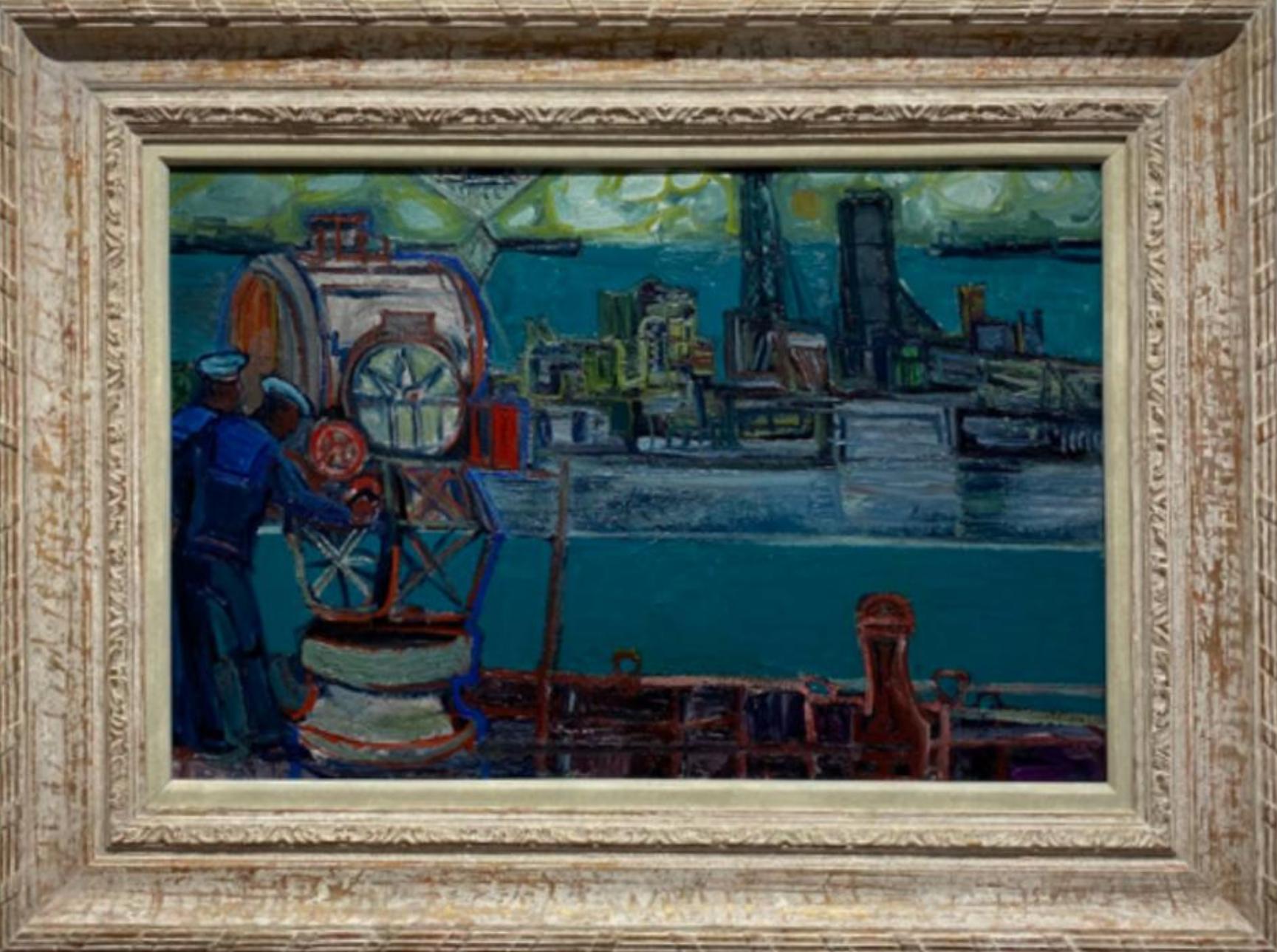 ---
Mark Guest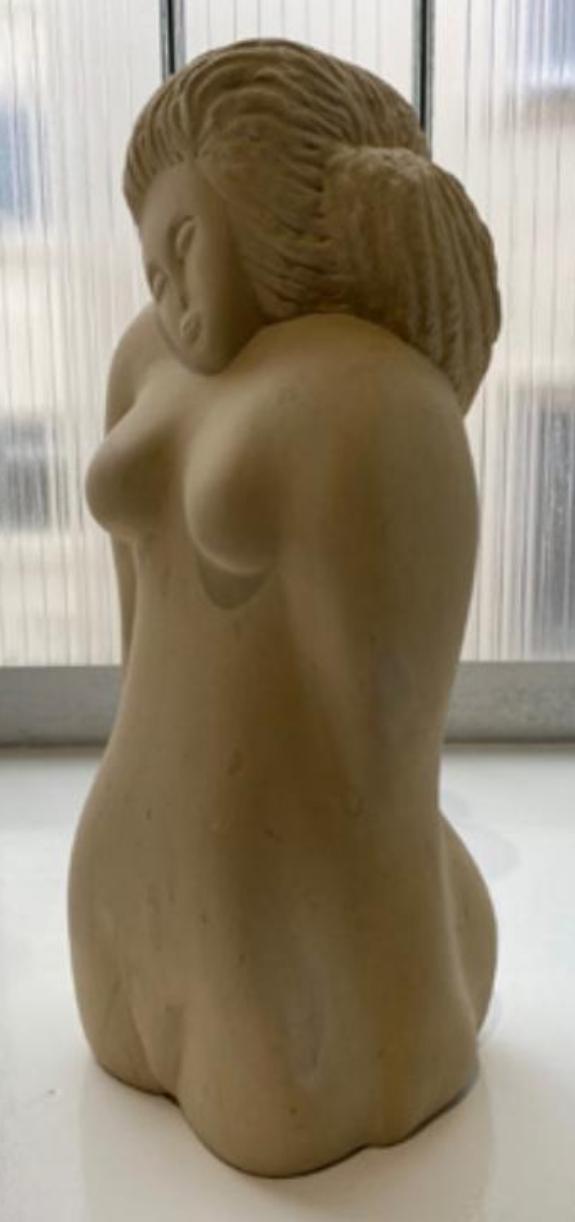 Mark was born in Jersey in 1971 and is a contemporary stone carver and artist delivering public and private sculptural projects.  He has an extensive portfolio of sculpture and keeps a working studio in Jersey.
Mark has undertaken many public commissions in Jersey including a 'Granite Ring' sculpture for the Millennium Town Park, granite seating for Jersey Tourism and was lead artist on the way-marking project 'Gorselands Jersey' which was a Planning & Environment initiative.
Of his work Mark says, "My sculpture finds expression in the carving process; cutting stone so fine that it has luminosity or splitting forms into boundless visual riddles".