RampArts have collaborated with the Grouville located agricultural space called 'The Arc'.
ARC (Art. Remedies. Community) ties two of life's greatest healing components – nature and creativity. For a limited time this summer, RampArts have redesigned an abandoned polythene tunnel in Grouville, once used to grow Jersey Royals, to host creative and holistic workshops and events.
The ARC was first created when Jersey actor and dancer, Jonny Labey was trying to organise fitness classes on St Aubin's beach with personal trainer Angel Elliot.
Jonny explained: "I grew up on a farm in Grouville and like many other small independent farms, saw no future going into growing. Whilst organising outside fitness classes in February (a bold choice!), I realised by extending the fitness idea to offer creative workshops and events and by using the tunnels, not only can we restore and re-love heritage spaces, but in premise we have something that can grow organically each year for other farms and turn into a real asset for the island, we already have spaces lined up for next year which is crazy exciting!
"Our heritage and roots as an island amongst many things is agriculture. Our mission is to reconnect the way islanders think about sustainability, localisation and the arts. Starting with this years ARC Project, we've developed a safe outdoor space where you can enjoy an incredible line up of events and workshops in this beautifully unique setting."
To find out more about the ARC, check-out their Instagram and Facebook pages.
RampArts Jersey are hosting a series of summer workshops, all lead by local RampArtists. Starting on Friday 6th August with a pebble painting session with Anita Rive, followed by a photography session on Friday 13th August with Barney de la Cloche.
---
Pebble painting with Anita Rive
Friday 6th August 6pm – 8pm
Attendees will be taught painting techniques to recreate a dolmen or castle scene on pebbles. Anita Rive has a lot of experience in this form of artwork, having painted a series of Jersey Heritage sites onto pebbles as well as commissioned works.
Reference images will be provided by the artist who will share her process and guide the session enabling each attendee to take home a completed pebble of their own making.
Click here to book your place. Tickets cost £22 each.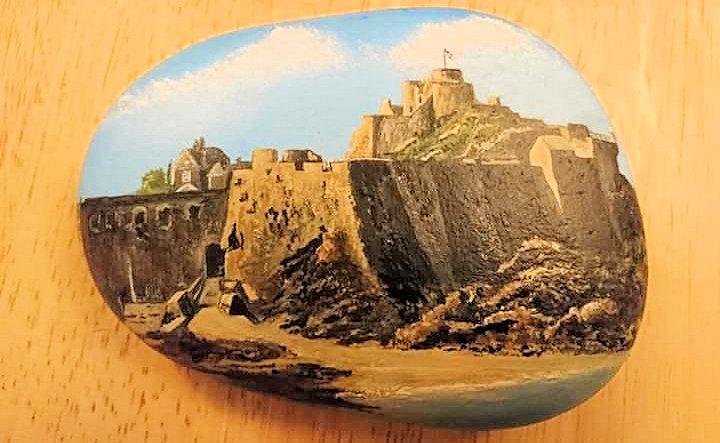 ---
Photography with Barney de la Cloche
Friday 13th August 6pm – 8pm.
Barney will talk through an introduction and cover manual shooting, natural light and long exposure techniques.
Using the unique space The Arc provides at 'golden hour', attendees will work through a series of settings and approaches utilising the areas natural surroundings. Capturing Jersey with the know how of a professional photographer, be proud of the pictures you take or get to know the DSLR you bought last Christmas and couldn't figure out how to work!
Click here to book your place. Tickets cost £16.76 each.