The winners of Resolution IT's inaugural 'Design a Gadget' competition were announced at a special prizegiving ceremony.
To celebrate its 15th birthday, Resolution IT teamed up with the Digital Greenhouse to launch the competition to find Guernsey's most innovative young inventors. Schoolchildren from years 3 to 6 were tasked with designing a gadget that showed ingenuity and flair, with hundreds of students submitting entries.
Jane Van Der Watt, a Year 6 pupil at Hautes Capelles, was awarded the first prize of a Nintendo Switch Lite for her original 'Well on Wheels' design, comprising solar panels and all-terrain wheels.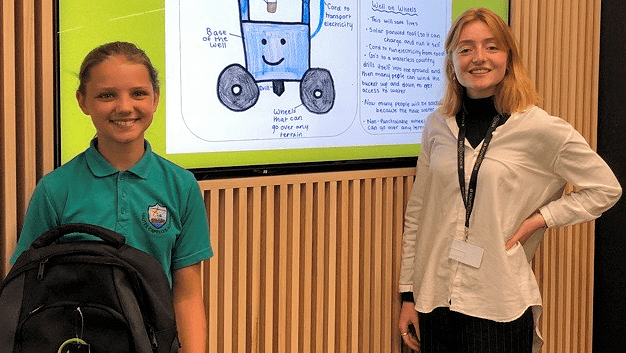 The second prize of a Samsung Galaxy Tab A7 Lite was awarded to Lily Farrell, Year 6 at Forest School, for her 'Portable Sausage Roll Maker' and Holly Sebire, Year 4 at Hautes Capelles, won third place and a Sphero Robot for her 'Comfort Robot' design.
Every winner also received a Resolution IT backpack full of art supplies to inspire their ongoing creativity.
Prizes of a 3D printing pen were also awarded to each year group favourite, including Noah Le Noury, Year 3 at Blanchelande; Evan Babbe, Year 4 at Forest school; Emile Cavignac–Taylor, Year 5 at Notre Dame and Thomas Troalic, Year 6 at Hautes Capelles.
Haute Capelles was awarded the prize for the school with the most entries receiving £500 for submitting an impressive 140 designs.
Tove Barnes, Marketing Executive at Resolution IT, said: "We were absolutely blown away by the number of entries we received and it was so difficult to judge the winners – there were so many fantastic inventions to choose from!"
Joe Wilkinson, Resolution IT Client Executive, added: "Each of our winners should feel incredibly proud, their gadgets were innovative, thoughtful and unique and we were so impressed with the concepts behind each one."
---
The main image shows:
Back row (left to right): Steve Brehaut – Managing Director Resolution IT, Mrs Sue Coughlin – Headteacher, Hautes Capelles, Joe Wilkinson – Client Executive, Tove Barnes – Marketing Executive, James Le Gallez – Marketing and Client Services Manager

Front row: Noah Le Noury – Blanchelande, Holly Sebire – Hautes Capelles, Lily Farrel – Forest, Emile Cavignac-Taylor – Notre Dame, Evan Babbe – Forest