Deloitte has welcomed 38 new recruits to its offices in the Crown Dependencies, with eleven new members joining the Guernsey team, eighteen joining the Jersey team and nine in the Isle of Man.
This news follows Deloitte UK's announcement this month of its plans to hire more than 6,000 new employees into the firm's UK audit and assurance practice over the next five years. The trainee's varied academic backgrounds reflect Deloitte's diverse approach to recruitment and new members of staff are joining from the Channel Islands, the UK and further afield.
Joining the Guernsey Audit & Assurance team are graduates Alec Mitchell, who studied Law at Exeter University; Harry Youles who studied Accounting and Finance at the University of Winchester, and Richard Tooher who studied Business and Financial Management at the University of Hull.
Further additions to the Guernsey Audit & Assurance team include graduate Harry Nimmo who studied Mechanical Engineering at the University of Edinburgh and Thao Huynh, who has been working at Deloitte for six months after achieving a Bachelor's degree in Economics at the University of Da Nang in Vietnam. Jake House previously joined Deloitte on an industrial placement in 2020 and 2021. He attended the London Institute of Banking and Finance where he studied BSc (Hons) Finance, Investment and Risk Management and has now joined the team full-time.
Guernsey graduates joining the Tax department include Shay Neal, who studied Economics and Politics at the University of East Anglia and Mark McCarthy who attended the University of Birmingham for his undergraduate degree and continued his studies at the Queen Mary University of London for his Master's degree.
Alima Iqbal will also be joining Deloitte for one year as a part of the Audit Industrial Placement. Alima is studying Accounting & Finance at Sheffield Hallam University.
Joining the Jersey Audit & Assurance team are graduates Benjamin Rabet, who studied Business Management at Swansea University; Leo Waddington who read Economics BSc at the University of York; Caitlin Atherton previously joined Deloitte on an industrial placement in 2020 and 2021 alongside Stefan Sindie. Caitlin graduated from the University of Surrey with a degree in Business Management and Stefan has a Bachelor of Commerce with Global Experience from the National University of Ireland, Galway (NUIG).
Shivan Sehdev, graduated in Accounting and Finance from Keele University and Mika'il Mahmood who studied Chemical Engineering from the University of Leeds are also new additions to the Audit & Assurance team along with Sophie McMillian.
New additions to the Jersey Tax department include graduates Lewis Johnstone who studied Scots and English Law (dual qualifying) at the University of Dundee, Caitlin Kavanagh who studied Law at the University of York and Edward Price, a Business and Management graduate from Bath Spa University.
Deloitte's BrightStart programme offers young individuals the opportunity to start their professional career without spending three years at university. Those joining the programme in Guernsey include Thomas Chapman, who achieved A-Levels in Economics, Business and Biology at Lutterworth College in Leicestershire and Nichola McHugh who has been working in Sark and has already completed her initial ACCA exams.
Jersey joiners for the Audit BrightStart programme are Mia Carnegie who completed her A-Levels in English Literature, Mathematics and Business, and Frederick Heaven who studied A-Level History, Geography and Psychology at Victoria College.
The following students are further additions to the Audit BrightStart programme, all of which have completed their studies at Hautlieu School through our market-leading International Baccalaureate Careers Programme partnership. Alex Moniz studied Economics, Finance, Spanish (Ab initio), Psychology and ACA, and James Parry studied Economics, Philosophy and ACA. Hugo Guilherme studied Spanish, Economics, Psychology and ACA, Olivia Nastaly studied Finance, Economics, Art, Spanish and IB core. Eric Roworth studied, Economics, Psychology and ACA. Andrew Cunningham will also be joining the team at the end of August. He achieved a certificate in Finance and Business alongside Economics, Psychology, Spanish and ACA.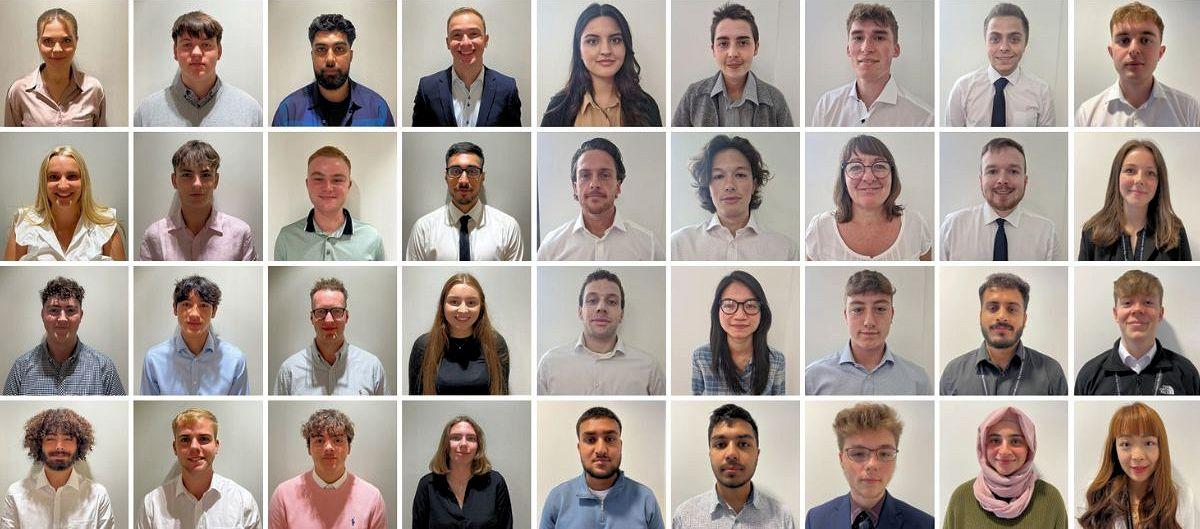 Partner at Deloitte, Theo Brennand, said: "We are delighted to see continued growth within the company, and we are confident our new additions will gain the experience and knowledge they need as they begin their career here at Deloitte.
"Our Bright-Start scheme is attracting more young people than ever before. It's an opportunity to earn while you learn and dive straight into an exciting career. Students can see the advantages of gaining professional, degree-level qualifications whilst helping to solve some of our client's most complex problems right from the start. We are pleased to welcome our new recruits and we look forward to watching them reach their full potential within their new roles."