With Comic Relief's Red Nose day coming-up this Friday 18th March, Channel Eye has got together with the Comic Relief team to understand how some of the raised funds are used.
"I am at work, I am earning some money ­– I am confident that I will thrive in the future."
Softly spoken Axella is 23 years old and lives with her husband Leopold, their two-year-old daughter, Arlene, and her brother in Mahama Refugee Camp, Rwanda.
Axella and her little brother fled the conflict in Burundi in 2015, and in 2019 they were moved to Mahama Refugee Camp, which currently hosts more than 60,000 Burundian and Congolese refugees.
Axella's health deteriorated without the money to pay for nutritious food, so she finished school early to work and care for her brother. And later met Leopold in Mahama camp who became her husband. They now live and work together and have a two-year-old daughter.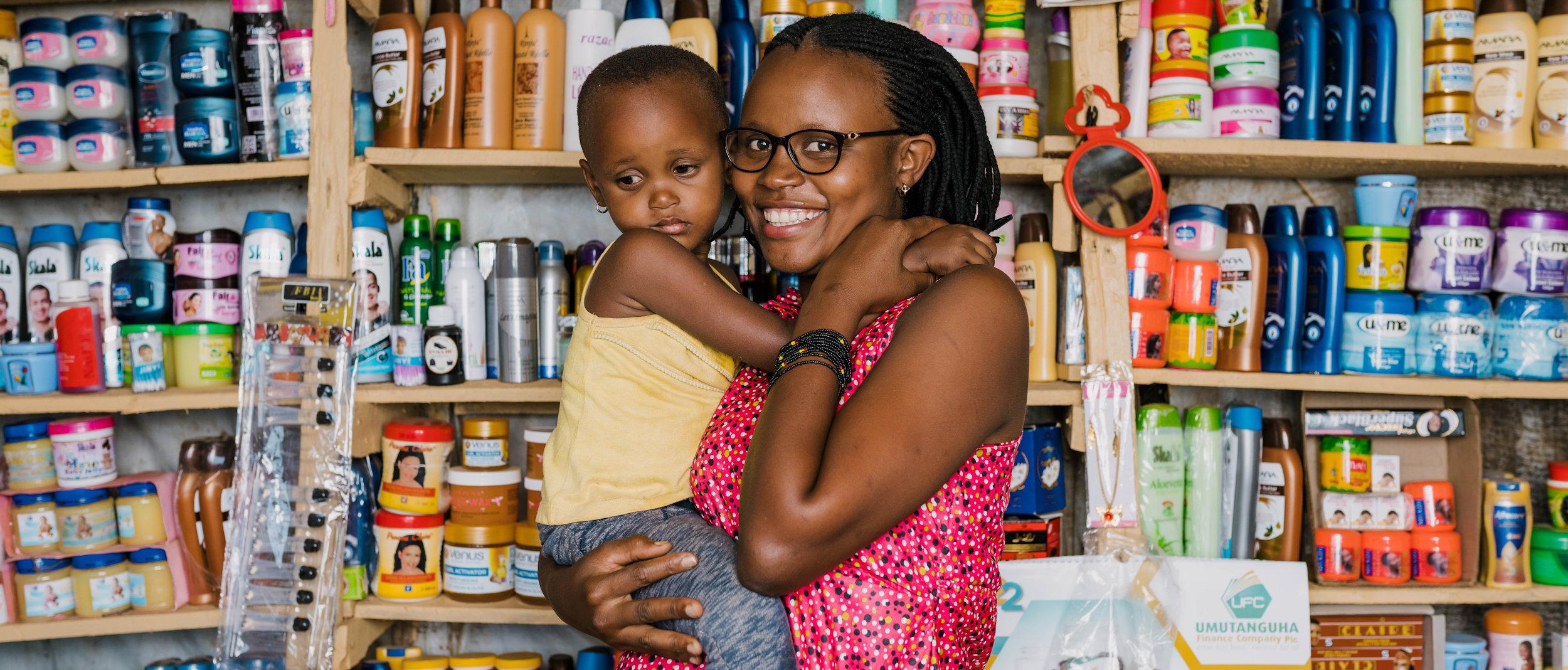 In 2019, UNCDF introduced a financial inclusion programme in Mahama refugee Camp and Axella and her husband were among the refugees who have been involved since the beginning.
Their business selling bananas and tomatoes was on the verge of bankruptcy, so Axella received training on financial literacy and business management. They received their first loan in 2021 and immediately started to see the change. Within six months, they'd already paid it back with interest. So they took out a second, bigger loan, and their already thriving business continued to grow. They now have a shop from which they sell all kinds of everyday goods, mostly cosmetics, that are delivered to the camp for her to sell. Axella's husband likes to help her in the shop, particularly at the moment, because she's pregnant!
Axella says that if she's not working, they won't have essentials like food, soap and education for their daughter. And that her husband respects her for the businesswoman she is. She believes that in problems, you must also find solutions.
The effects of Covid-19 and the return of many refugees to Burundi in 2020 put their businesses at risk of a significant loss. But with the skills learned and the security of the savings group, to which they now contribute Rwf 1000 each day, Axella has managed to grow her business. Now, instead of worrying about the basics, she's confident she will thrive, and planning with optimism for her family's future.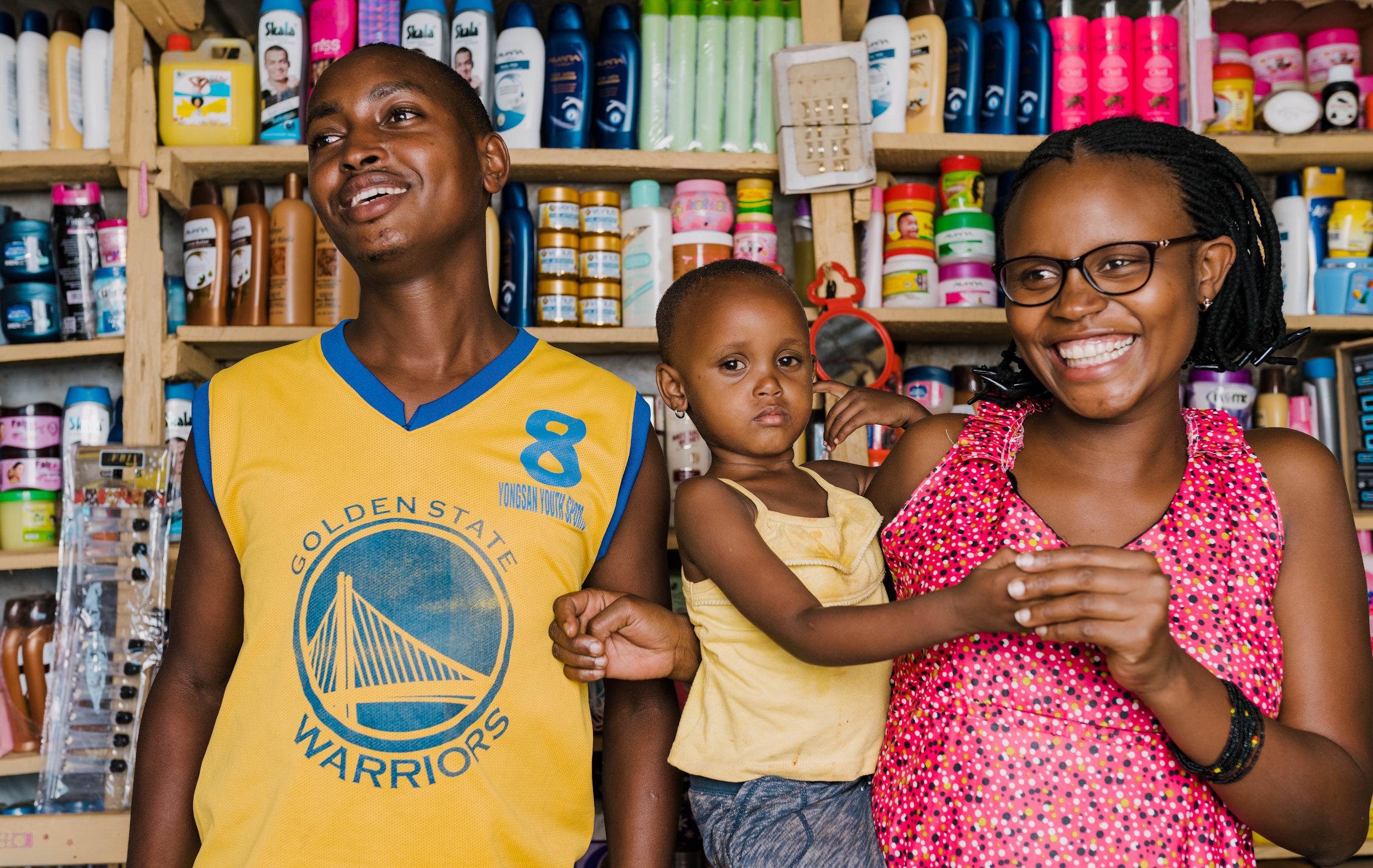 Axella tells us her story in her own words
"My name is Axella, I am 23. I left Burundi in 2015. I am married and have one child.
As we fled, there were riots in Burundi and many people were killed. I left Burundi at the age of 15. We fled alone as children; we lived in misery. When we arrived in Rwanda, they welcomed us and helped us as much as possible. This year is my seventh as a refugee.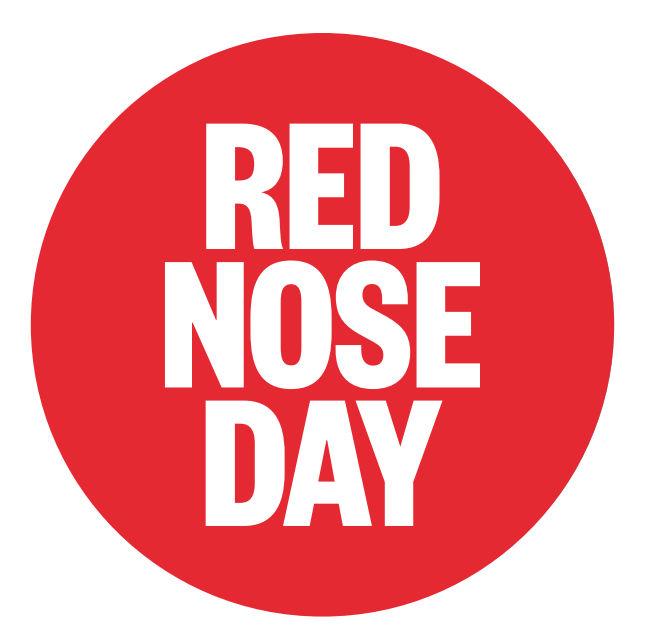 I live with my husband and two-year-old daughter. My younger brother, who is now 20 years old, stays with us too.
I've had to take care of my brother since we got here. When you are a child with parents, you come home from school and receive food, but now it's all about us, we are in charge of our lives. When you are sick, you take care of yourself. This is really a difficult life.
Today I have a baby girl and my little brother is now 20 years old.
Others went back to school [in the camp], but I stopped school because of life's challenges.
I started getting sick very often when I got here. I was suffering from stomach-ache and eye infection, so I decided to stop school and went to sell bananas so that I could get vegetables and milk to feed myself and my young brother.
Life is still difficult, but my husband and I work together to take care of our family while still supporting my bother to meet his basic needs.
At first, I had to stay at our shop while he was also outside the camp working. After a few months, the coronavirus arrived but I just kept working. As coronavirus worsened the situation, we were forced to close the business that my husband was doing outside the camp.
Our business was shaken due to Covid-19 and the repatriation of refugees to Burundi. There were some clients who didn't pay us before they left – like someone came and asked us for a sack of rice in the morning and later in the evening you hear that they have returned to Burundi, and we didn't have any documents that proved the unsettled debt. Another came and took about two litres of oil and didn't settle, so we went bankrupt.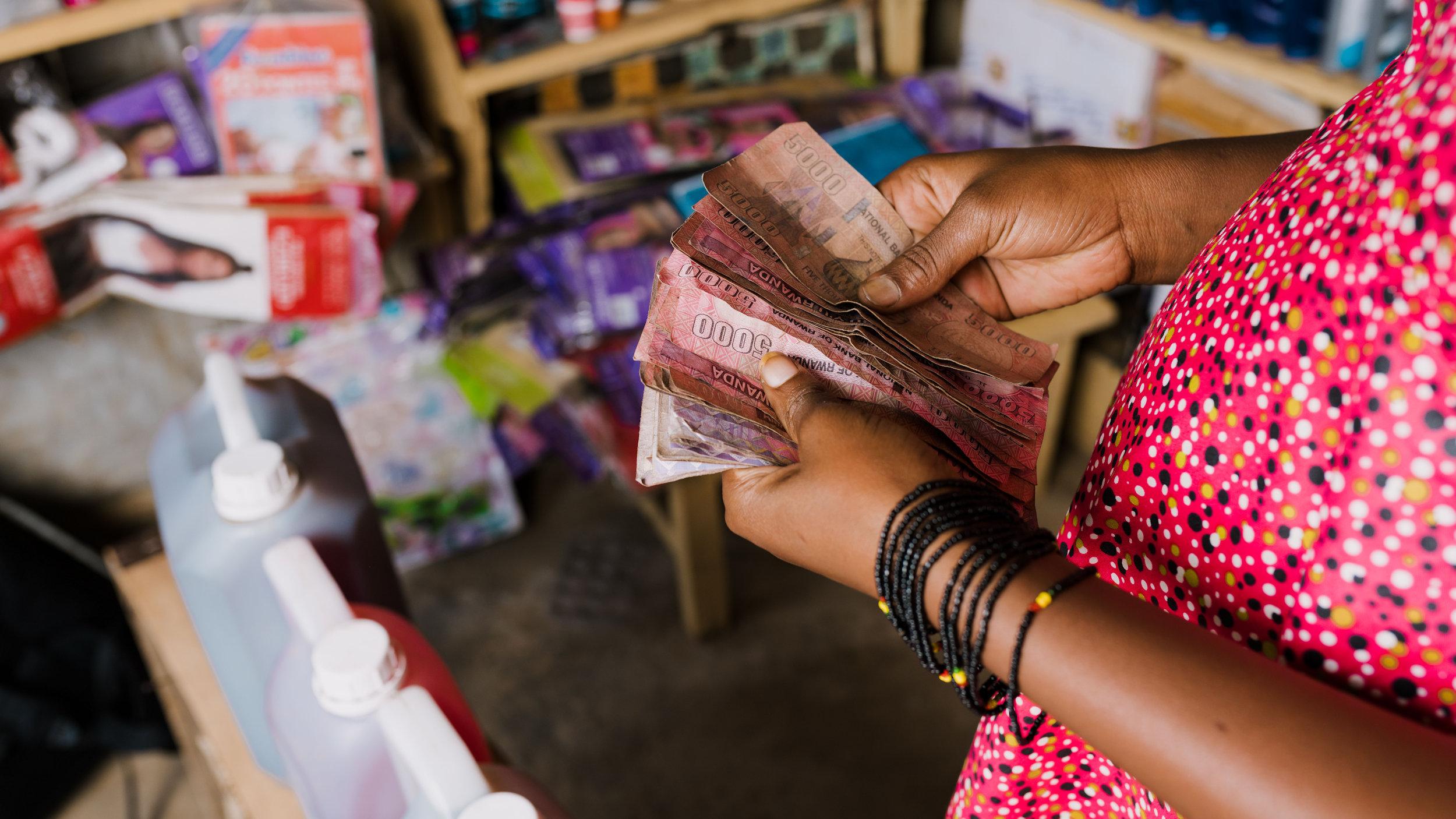 We first thought of working with a bank at the end of 2020 because we could see that we were definitely losing money.
We got the first loan in 2021 and since then we have started to see the change. We applied for a loan and they accepted our request. We started to add more items in our camp-based cosmetics shop. We worked hard to pay the loan back 100% with the interest.
Clients were coming in and we found that our business was thriving. So, we wondered what would happen if we went back to take another loan. We then took a new loan of Rwf 700,000 that we are using and we are still paying for it.
Rwf is the Rwandan Franc currency. As of 16th May, 2022, Rwf 1000 ~ £0.75 (GBP)
We also try to save some of our income through saving groups. "We now contribute Rwf 10,000 per day in our savings group.
The advantage of joining loan groups is that you get a big amount of money at once when it is your turn. Let's assume that a group has 30 people or 25, if everyone contributes Rwf 10,000, that makes a lot of money to use for a business minded person.
Let's just say [if] I'm not working… I don't have food, the child doesn't get soap, she can't have basics to go to school… What a miserable life! But now, I am at work and I'm doing my best to get those things done.
Being in business also helps boosting my confidence as a woman. When a woman stays idle the whole day, sometimes her husband disrespects her… but when he sees that you are doing something benefiting the family, he respects you because you are playing a role in the development of your family.
My hope is that in the future I will thrive and I am confident – because I am at work, I am earning some money ­– I am confident that I will thrive in the future.
My goal is to increase investment more than what I started with. I feel like I in my future I can see a house that is bigger. That is my idea ­– to buy a house and then I can do business from there."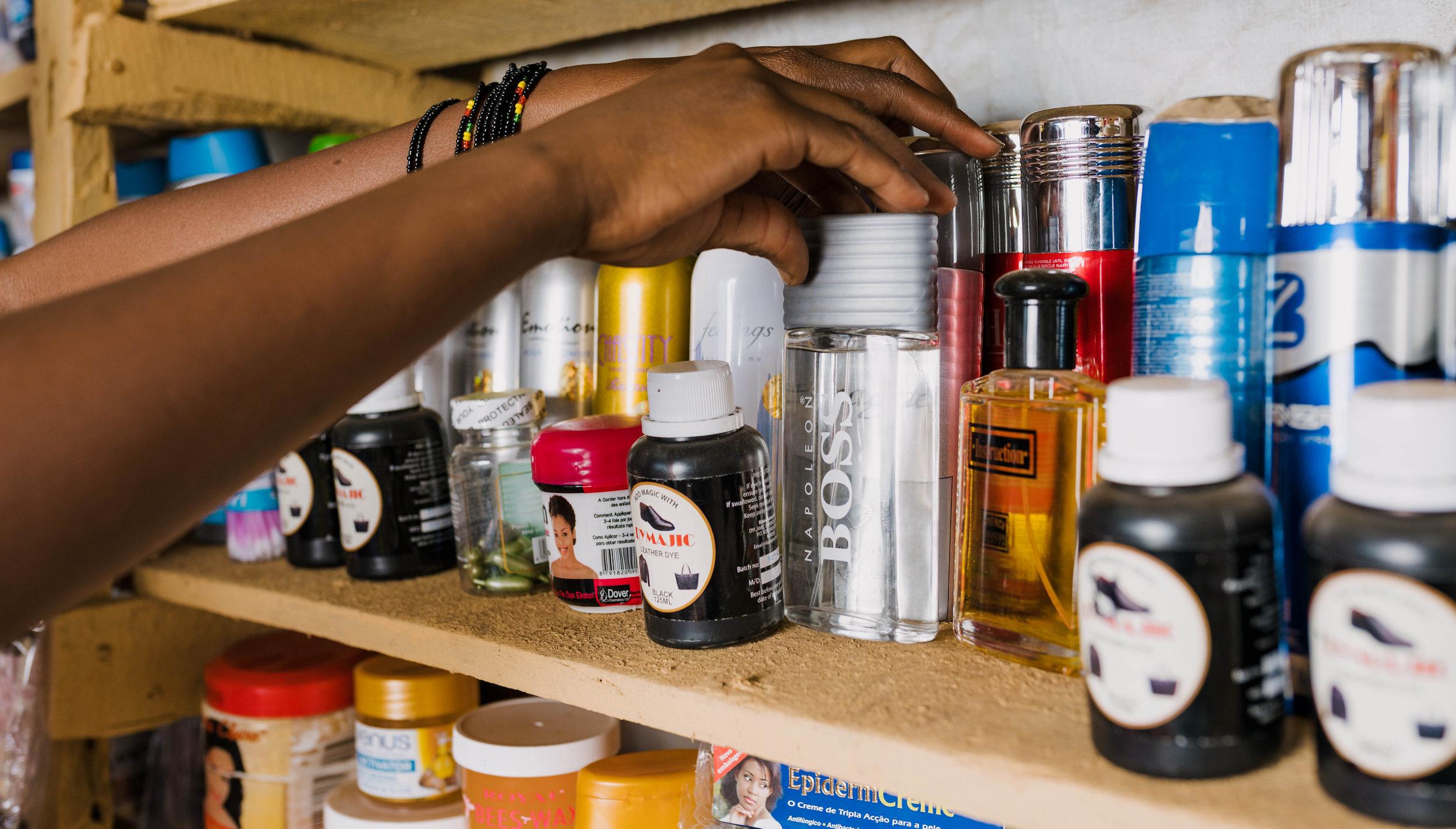 Emmanuel, 38, project manager
Emmanuel's role
"I am in charge of coordinating activities of Umutanguha Finance in Mahama refugee camp and Kirehe district.
We started to work with the UNCDF program in July 2019. UNCDF is partnering with Umutanguha Finance Company Ltd to help refugees and their neighbours access financial services.
Through the UNCDF project, I am a loan officer, but I also do branch management. In the Mahama branch, my job is to provide loans and follow up on repayments. I am in charge of daily monitoring, mobilisation, clients, project management, advising them in case of failure and all the work related to the support is in my hands.
The project
First of all, because refugees have little or no means, some lack the basic skills in creating and managing financial resources. So, we start by offering them a financial literacy training. This training is available to all of our clients in refugee and host communities.
After training them, we show them the different banking services that are customised for their needs and make them feel there is a way to save, invest, and run a business that would lift them out of poverty. The bigger banks are reluctant to allow them to open accounts due to the lack of identification papers, so we have helped them to open accounts with only refugee registration proof.
We also introduce them to the different loan products that are tailored to their means. They are our customers and as a development focused financial institution, we do not want our client to be poor. We teach them about loan access and its management and when someone needs a loan, we approach them and help them to learn the basics, give them a small loan related to their capacity and even monitor them, from the beginning to the end of the loan to see if the loan is well used and repaid.
We started a digital banking (push and pull mobile banking) system to help our clients connect their mobile phones with their bank accounts, enabling them to use their mobile phones to save, withdraw, and transfer money without leaving their businesses or homes.
Withdrawing money from the account is free and saving money is free.
With the technology that we use, people can save, withdraw, and get a message on their phone, whether it's from the action they've done right at the moment, whether it's from their accounts.
We use the PUSH AND PULL Mobile banking system so that when someone has a phone they can withdraw money from their account and do it all with camp based agents instead of going to the branch."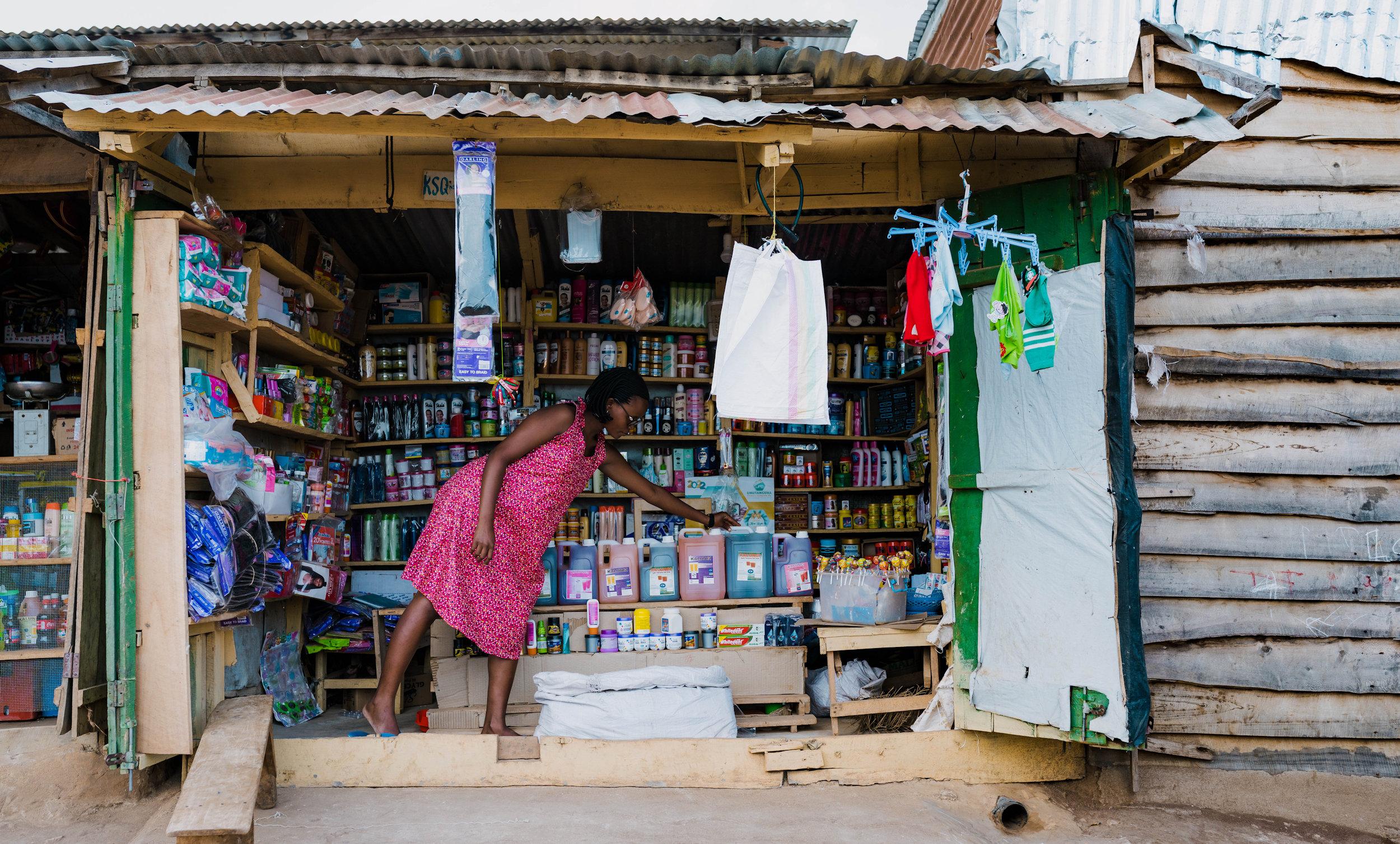 The impact
"The services of Umutanguha Finance Company Ltd are appreciated: we have solved a lot of problems in this camp. Refugees have always had problems with the law enforcements in the camp due to stolen money and cases of destroyed banknotes due to lack of bank saving facilities – in addition to a lot of cash mismanagement and wastage. Such problems have declined thanks to our financial services among these refugee communities.
We have had more than 3,000 customers in a year and a half".
Challenges and changes
"In the beginning, people outside the camp claimed that the bank was a refugee bank, but citizens were not denied access to the services we provided, and as soon as we realised that there could be a conflict, we immediately set up a branch outside the camp – refugees were allowed to come to the branch and local citizens as well.
But for sure the poor Telecom networks sometimes affect our services"
Some refugees are not using mobile banking because many people in this camp do not have a refugee ID, only proof papers. To get a sim card for the mobile phones they should get a refugee ID.
So, you can see that this is a challenge – for telecommunications companies and licensors to face – so we can offer everyone all services."
Jersey Overseas Aid and United Nations Capital Development Fund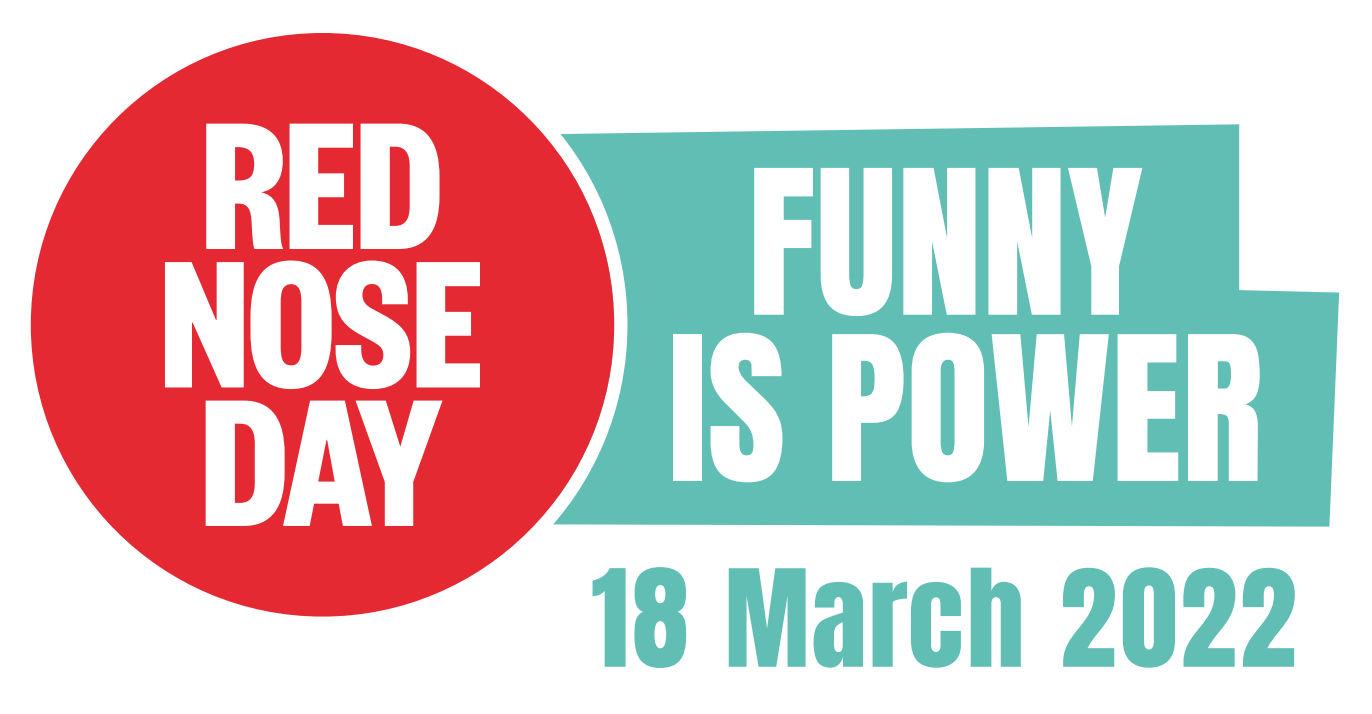 One of the areas United Nations Capital Development Fund (UNCDF) focuses on is achieving promoting inclusive digital economies.
Through the partnership with Jersey Overseas Aid, funding has been provided to UNCDF under the Branching Out: Financial Inclusion at the Margins programme to deliver basic financial services and provide financial and digital education to displaced people in refugee camps in Rwanda like Mahama, the largest refugee camp in the country. Men are also invited to participate but the particular focus is on empowering women and young people through this work.
Comic Relief and Jersey Overseas Aid, Jersey's official, publicly funded relief and development agency, joined forces in 2017 to address financial exclusion in Sub-Sharan Africa through a multi-year programme, 'Branching Out'. The partnership committed to driving forward frontline financial inclusion which aims to bank the unbanked, invest in digital financial services that reach last-mile communities without access to financial services, and to increase the capacity of the regulatory authorities responsible for overseeing financial services. This partnership operates in three countries; Rwanda, Sierra Leone and Zambia.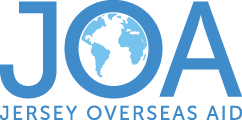 "Roughly 1.7billion people around the world are 'unbanked' and do not have access to financial services. They cannot easily save for their children's education, take out a loan to buy seeds and fertilisers or buy insurance to protect them from medical or natural hazards.  Greater financial inclusion means that people save more, spend more on healthcare and education, start to invest in enterprises, and insure themselves against unexpected financial difficulties that have potentially devastating consequences.
"We are pleased to have been able to provide funding to support this incredibly important programme, providing essential services to people in some of the world's poorest countries," said Deputy Carolyn Labey, Jersey's Minister for International Development and Chair of the JOA Commission.
UNCDF introduce refugees to standardised practices for saving groups in humanitarian contexts, and empowers them to use digital saving platforms to improve their financial management activities. Through four implementing partners, they also provide business and entrepreneurship training to refugees.
The aim of this programme is to increase access to and usage of safe, affordable and convenient financial services by refugees in these camps. By increasing refugees digital and financial literacy, the project aims to increase confidence in using digital financial services and ultimately works towards reducing poverty, supporting local economic development and increasing financial inclusion.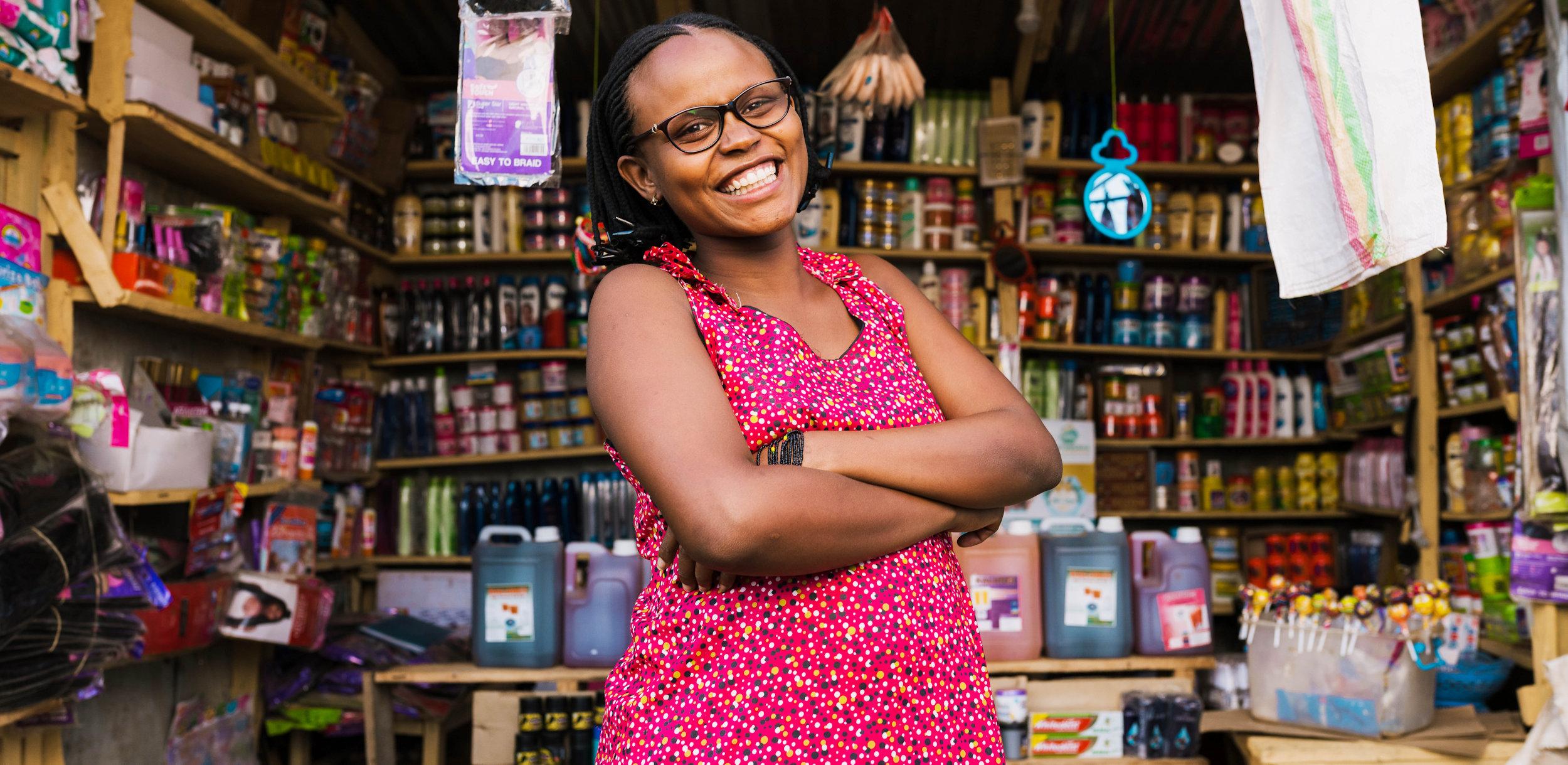 Images credit Serrah Galos, Comic Relief.
---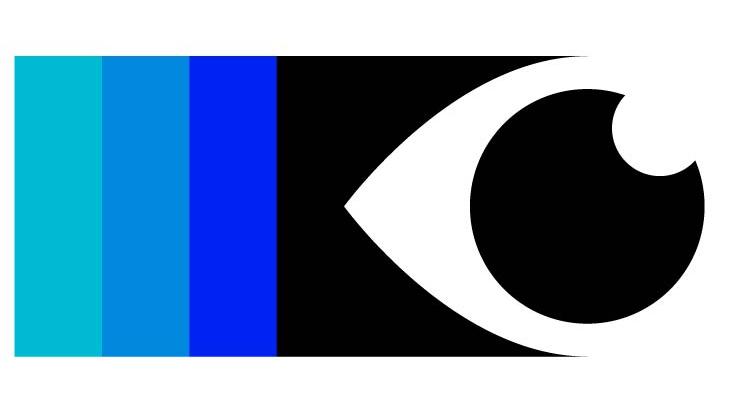 Are you a Channel Islands or Isle of Man charity who would like to be featured in Channel Eye?  If so, please drop an email to newsroom@channeleye.media