Carey Olsen has secured its third year as the leading legal adviser to Jersey-domiciled funds, according to the latest edition of the Monterey Insight Jersey Fund Report.
The firm's third year atop the annual rankings follows five years of standout growth, during which time Carey Olsen has increased the number of Jersey-domiciled funds it advises to 484 at the end of June 2021, up 77% compared to the same stage in 2016.
The 484 funds represent 34% of the current Jersey-domiciled market by number of funds and is an 11% increase in market share for Carey Olsen over the past five years. The firm now advises more Jersey funds than its third, fourth and fifth-placed competitors put together.
Overall, the independent industry research group found that the total value of fund assets serviced in Jersey had increased to US$605.4 billion at the end of June 2021, up 22.8% from US$493 billion in 2020. The number of serviced schemes increased to 1,672 (up 11.8%) and the total number of sub-funds recorded increased to 2,192 (up 10.7%), from 1,495 and 1,981 respectively.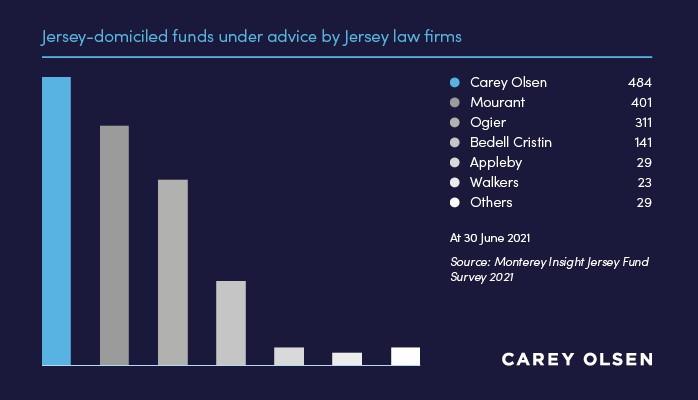 Robert Milner (pictured), a partner in Carey Olsen's Jersey investment funds team, said: "We're delighted to see confirmation from Monterey Insight that 2021 was another year where we were the number one legal adviser to Jersey funds. Clients vote with their feet and I'd like to thank all the fund managers we work with for their instructions. The best part of our job is working for interesting people on a wide variety of projects and I hope that the enjoyment we get from this shines through.
"Our sustained growth over recent years is a positive reflection of our team's commitment to client service, the calibre and strength in depth of our investment funds practice. I'd hope each member of our team that reads this realises that our success is down to their hard work and that we really appreciate their efforts."
---
Monterey Insight is a leading independent fund research company that provides the only comprehensive statistical analysis of service providers for all funds serviced in Jersey, Guernsey, Ireland, Luxembourg and the UK. The company's research covers around 37,000 funds and its annual reports are considered the reference point for the entire funds industry in each of these five jurisdictions.