The Liberation Celebration Parcel Project aims to deliver 600 parcels to Occupation Veterans on the morning of Liberation Day this year.
This lovely initiative that delivers liberation themed parcels to Occupation veterans returns for its second year.
With only six weeks to go until the big day, Aaron Labey of Labey Limited, who sponsors the project is asking members of the public to nominate a 'Liberation Legend' in time for Liberation Day 2021. Anyone who lived in Jersey throughout the Occupation is eligible for a parcel. Members of the public can either nominate themselves or are encouraged to ask their children, grandchildren or other family member to do so on their behalf.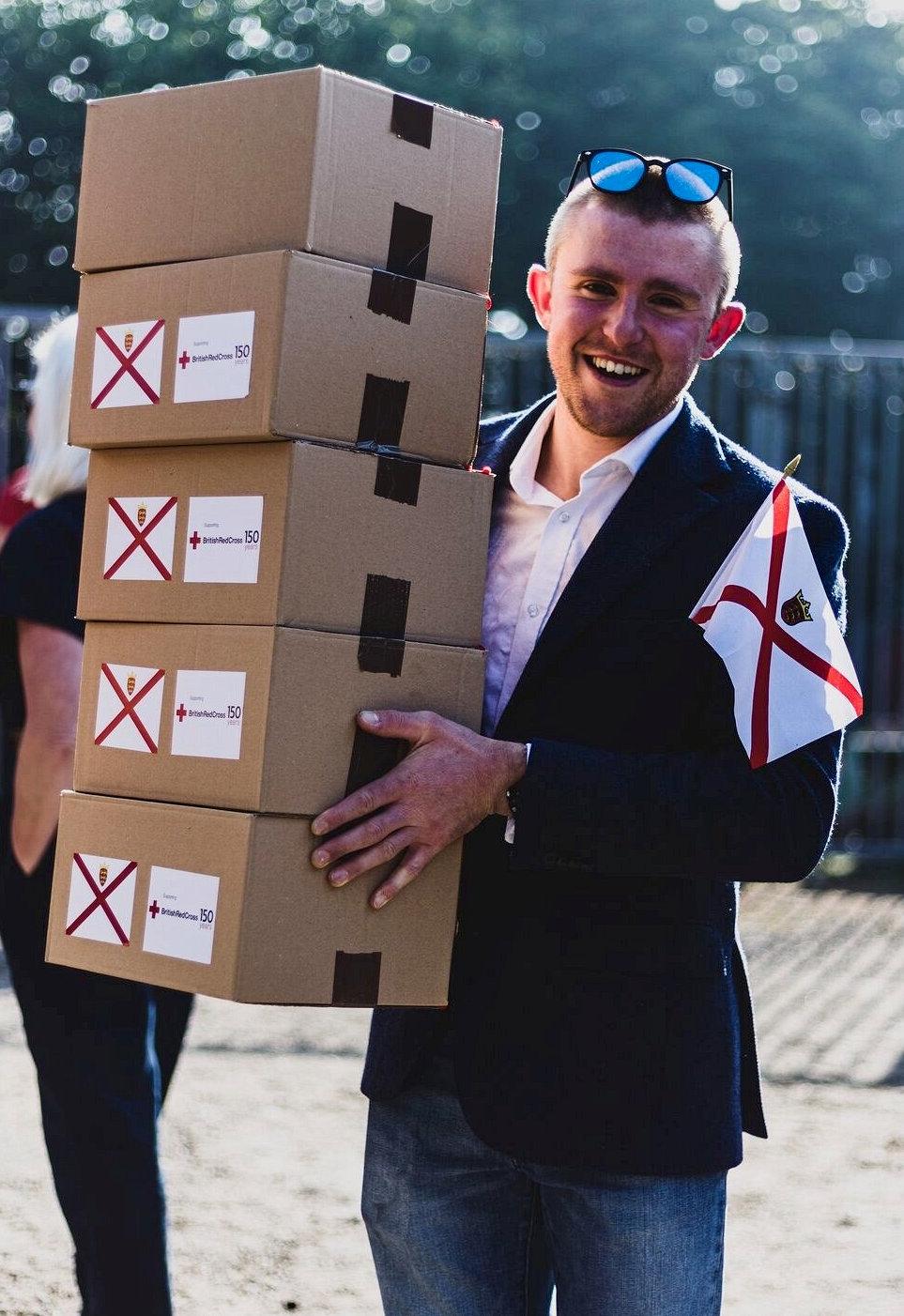 The project was founded and is coordinated by local businessman and Managing Director of Labey Limited, Aaron Labey.  Aaron told Channel Eye: "Whilst our Island returns to some normality after lockdown, I am mindful that many of our Occupation Veterans will remain shielding inside.  All my grandparents lived through the Occupation, so Liberation Day has always been a very special occasion for me. It is fair to say that our older population is often forgotten so I felt compelled to do something for our Veterans on what is their day, bringing Liberation to the legends once again."
In 2020, Aaron and his team of volunteers delivered 506 parcels to Occupation Veterans, with an overwhelmingly positive response. The number of parcels delivered this year has been increased to 600 so everyone who lived through the Occupation can receive one.
The concept of the parcels is based on the red cross parcels delivered to Islanders during the Occupation, filled with items, which for most were luxuries.
This year, the project is also working with local schools to involve Jersey's youth in playing their part. Aaron says: "This project now goes beyond simply delivering parcels, but engages young people to play their part in making Liberation Day special for our Occupation Veterans.
Each student at Jersey College for Girls will be decorating a box to add that personal touch. In addition, students at St. Michael's Preparatory School will also be playing their part – with students across the school putting together cards, letters and posters to add to the box. Moreover, I will be working with the school's Shell students on an enrichment programme which will see them volunteer their time over the next month as part of their Duke of Edinburgh scheme".
So far, the list of project partners and those donating items for the parcel is as follows:
Maillards Funeral Directors, Seymour Hotels of Jersey, The Jersey Wonderer, Stuart the Ice Cream Man, Jersey Post, Magic Touch, Randalls, The Channel Islands Cooperative Society, The Jersey Evening Post, Jersey Dairy, Ransoms, The Jersey Battle of Flowers Association, Curwoods Limousines, Easynmyne and the British Red Cross. With a few more to confirm in the coming week.
---
To nominate someone to receive a parcel, please click here.  The deadline for nominations is midnight on Sunday 2nd May.  Any questions should be directed to Aaron Labey, Project Director by email or by phone 07797 836845.