New book bags are being given to every baby on the Princess Elizabeth Hospital Neonatal Unit in collaboration with the Priaulx Premature Baby Foundation, Guille-Alles Library and A7 Design Ltd.
These unique bags have been put together especially for families of premature or seriously poorly babies. They contain specially chosen picture books and rhyme sheets for families to enjoy together.
Emily Pailing, Early Years Lead at Guille-Alles Library explained: "Reading and rhyming with babies and young children is a crucial part of developing their communication and language skills. It's a fantastic opportunity to build emotional connections with your little one. This bonding is especially important for the parents of premature babies, who can't cuddle their baby in the usual way. We hope the book bags will be cherished by all the children who receive them."
Neonatal Nursery Nurse, Emma Mckane commented: "Our families will love these book bags which are provided by the PPBF.  By reading to babies in the Neonatal Unit it helps with bonding and voice recognition, no matter how old the babies are.  It is also nice for the siblings to read the books with their families and even read to the baby as it makes the siblings feel like they are being helpful and involved. Once the baby has been discharged from the Neonatal Unit they can take the book bag home with them to keep."
The PPBF approached Andre Bisson, Founder and Director of A7 Design Ltd, for sponsorship of the book bags for a special reason. He said: "Like the little ones that decide to make an early entry into the world, it is said that the best things in life come in small packages. We are proud to support these small book bags and hope they will help the charity to support families in 2023 and beyond.
"For the last seven years A7 have offered unconditional support to the PPBF in whatever capacity we can. The reason being, in July 2015 whilst trying to navigate the corridors of Southampton NICU, I received a call out of the blue from Jo Priaulx offering the charity's unconditional assistance and support. This included the use of a PPBF flat next to the hospital. That was at the time, without doubt, the most generous and kind offer I had ever experienced. A7 will continue to support the PPBF so they can continue their fantastic work in helping more and more local families going through what can be a very traumatic experience."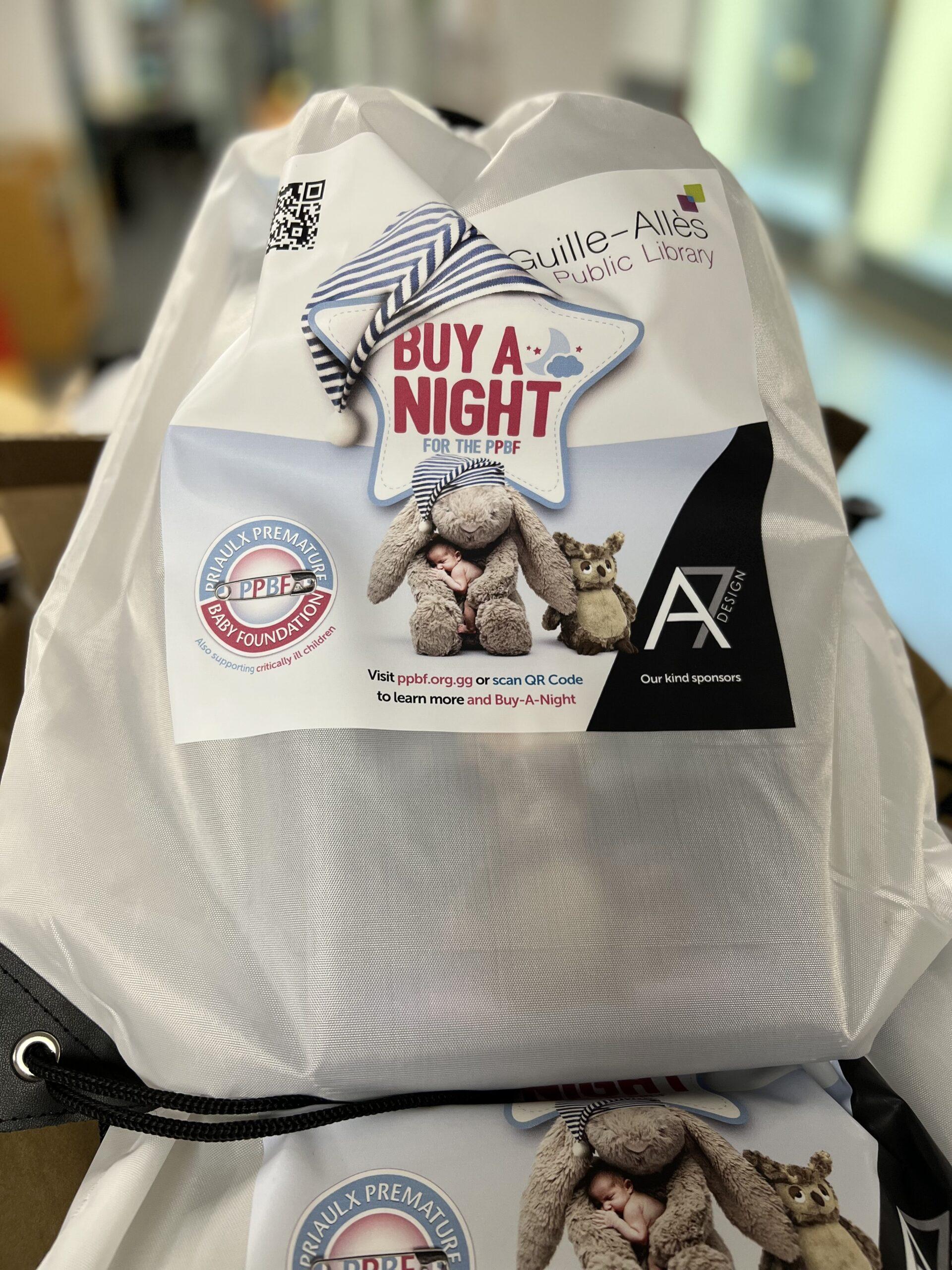 The charity has also included in the book bags a brochure about the foundation and their new 'Buy-A-Night' campaign. Sammy  Meerveld from the PPBF explained: "We've launched this campaign to help support families using our two vital compassionate housing flats, Isaac's Pad and Aggie's Burrow. They're right on the doorstep of Southampton's Princess Anne Hospital and Southampton's General Hospital.
"These safe and cosy flats are a lifeline for Guernsey families whose premature baby or critically poorly child require specialist care there. The new campaign encourages our community to support a family staying in the PPBF flats for a night from just £5 a month or £60 a year. That's 730 nights every year, for both flats, that the PPBF is asking for to help families going through the most difficult of times."
Jo Priaulx, Co-Founder of the PPBF said; "We're pleased to be able to offer these book bags free to families on the neonatal unit going through immensely difficult times. We hope that they help the families have special bonding time together and create some good memories to share."
More information about the PPBF's 'Buy-A-Night', can be found here.
---
Pictured: Left to right – Emily Pailing, Lynn Naylor, Andre Bisson, Emma Mckane, Jo Priaulx and Sammy Meerveld