ArtHouse Jersey announces the official launch of 'Roaming Soundtrack', today (Monday 29th March 2021).
7 Jersey locations
7 Bespoke soundtracks
1 Star curator
The audio-visual Jersey-based project has been expertly curated by the eclectic purveyor of outstanding music, Camp Bestival & Worldwide FM's Rob da Bank.
ArtHouse Jersey is inviting you to enjoy the Island's local landscape by exploring selected locations in the great outdoors whilst listening to music that has been expertly paired to each spot. At each of the locations, which have now been confirmed as St Ouen, Seymour Tower, Les Platons, Plemont, Faldouet Dolmen, Grosnez and Crack Ankle Lane.
Islanders can find a listening post with a QR code that will bring the related piece of music directly into their ears, while in-situ.
ArtHouse Jersey is also inviting people to enjoy the marriage of music and nature, accompanied by stunning imagery taken by seven local, skilled photographers through the home of the project, its website here.
The music
Rob da Bank has commissioned seven renowned music artists or acts to produce seven pieces of bespoke music in direct response to the above mentioned locations across the Island.
The musicians include the already announced electronic music duo Groove Armada who have written a track inspired by the Seymour Tower area entitled 'Langsame Marmelade' and world-class producer, songwriter, DJ, multi-instrumentalist & orchestral composer Nitin Sawhney CBE whose track 'The Unnoticed Void' is in response to Les Platons on a starry night.
Other acts include folk artist Sam Lee who writes with Grosnez in mind, This Is the Kit's Kate Stables responds to the folklore legends of Crack Ankle Lane and Italian drummer and composer Andrea Belfi's track brings to life Faloudet Dolmen.
Finally, electro-acoustic composer Sarah Keirle constructs a beautiful piece inspired by Plemont and it's caves, and British-Iranian music producer Hiatus (Cyrus Shahrad) responds to St Ouen's Bay at sunset, a location he has visited and surfed at in recent years.
The locations
The seven locations have been captured by skilled local photographers, all of whom have been commissioned by ArtHouse Jersey. They include Danny Evans, Rebecca Coley, Will Lakeman, Danny Richardson, Natalie Mayer, Lucy Le Leivre and finally Danny Booth, the latter creating the project's only VR image.
Musicians were invited to respond specifically to the various locations, but were offered these photographs as inspiring visual prompts. People can visit the site map here to discover the exact coordinates of each location's listening post while also viewing the images.
Each post displays a QR code unique to that setting that when scanned will automatically play the unique piece of music assigned to that setting.
Send in your 'Roaming Soundtrack' photos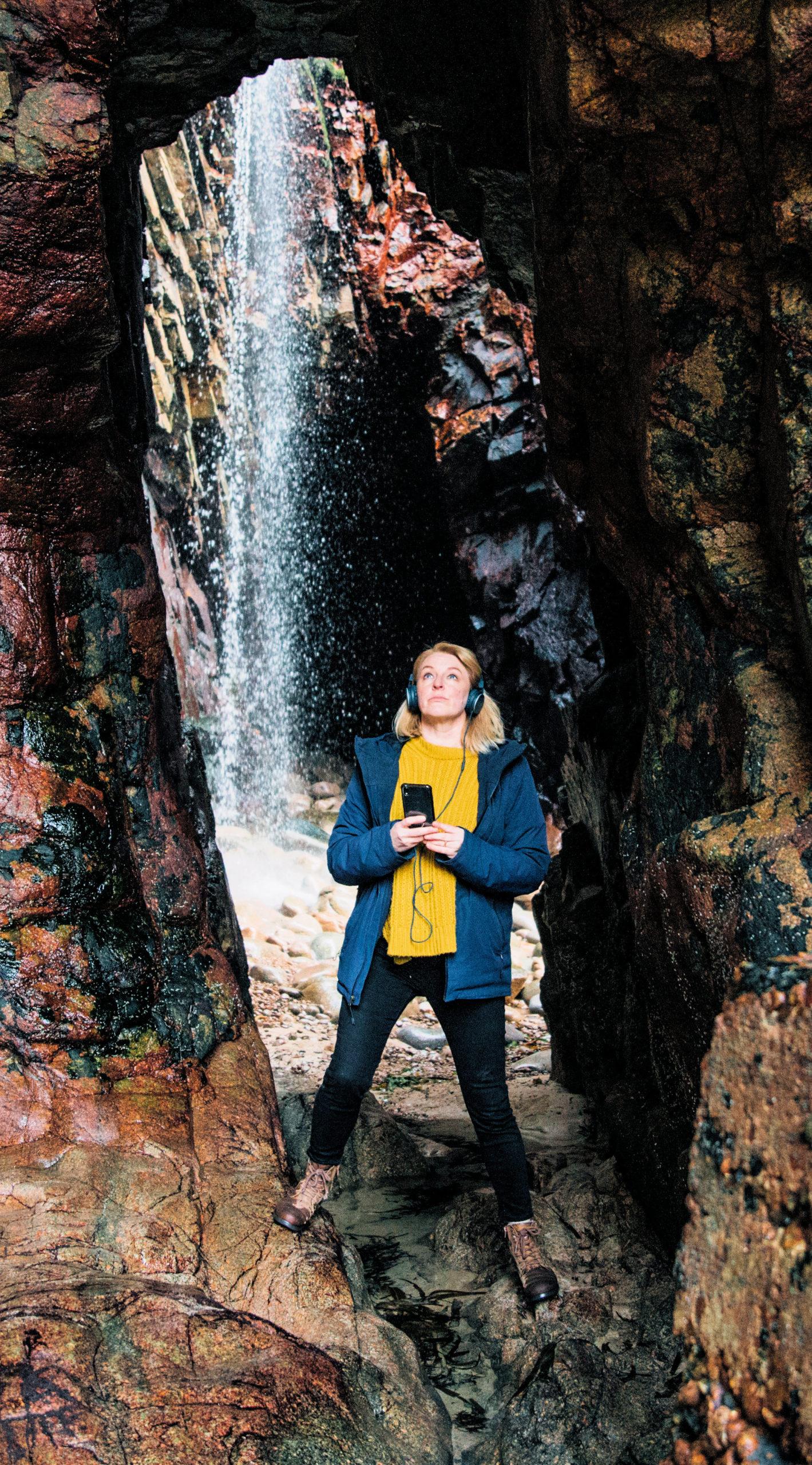 Every time we visit an outdoor space, the weather is different, the atmosphere is different, our moods are different, therefore each person's experience is unique.  this is a theme ArtHouse Jersey is inviting Islanders and visitors to consider when engaging with the project.
They are asking people in Jersey to take a picture of their unique, personal moment in any of the seven locations while enjoying Roaming Soundtrack. It could be a selfie, a close up of nature, or the landscape generally – capturing the mood of the location in that moment.
You're asked to share your photos on Facebook, Instagram and Twitter by using the hashtag #roamingsoundtrack and by tagging in @AtHouseJersey across any or all platforms. The best of these images will be selected and celebrated at the end of each week throughout April.
Roaming Soundtrack producer, ArtHouse Jersey's Natasha Dettman told Channel Eye: "We're delighted to be able to deliver this project for both the people of Jersey and music lovers from further afield.
"Rob (da Bank) and I have worked together a lot creatively over the years, and when I suggested this idea of bringing new music to people's ears in the absence of gigs and festivals he was quick to say yes.  The calibre of musicians he has secured for this and the enthusiasm from each and every one to be involved in an experimental art project which has never been done before feels really quite special.
"It's our hope that people in Jersey will feel a real sense of pride when listening to the tracks while looking at these familiar locations, knowing that world class musicians have taken the time to really consider them, musically. I would also like to thank our specially commissioned local photographers who rose to the challenge with such ease and skill.
"Great music, great imagery, great nature. What else is there, really?"