Over the last six months, Yvonne Corbin, Chief Executive Officer at Caring Cooks of Jersey has been swapping wine for orange juice and undertaking a six month sobriety challenge to raise money for charity.
Yvonne has been keeping Channel Eye updated with her progress and now, as the challenge comes to an end, she gives us her thoughts on being alcohol-free, the benefits and challenges she's experienced, and what comes next.
I find myself reflecting on the incredible journey I've embarked on for the past 182 days—the six-month charity challenge to stay alcohol-free. As I ponder over my experiences, I am filled with awe at the profound changes I've witnessed.
My mind has become clearer, my anxieties have diminished, my relationships have deepened, and I've gained a newfound appreciation for life. However, it hasn't been without its share of unexpected challenges and uncertainties, which became evident during my recent trip to Paris and my battle with the allure of Glastonbury.
A Whistle-Stop Tour of My Dalliance with Sobriety
The first few weeks of my sober charity challenge were undeniably difficult. Breaking free from alcohol's grip demanded immense determination and willpower, yet, supporting a charitable cause fuelled my motivation, keeping me accountable and driven. It reminded me that this journey wasn't just about personal growth; it was an opportunity to make a positive impact on the lives of others.
If you're considering a break from alcohol, trust me, doing it for a charitable cause adds an extra dose of determination and purpose!
Also, try not to do it alone, over 50 people signed up to this challenge, taking on sobriety from anything from one to six months, which really inspired me and kept me accountable.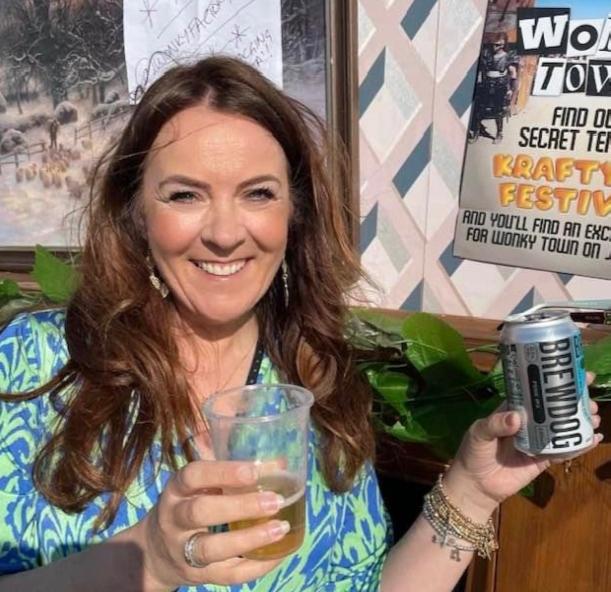 Unleashing the Power of My Mind
Embracing sobriety has sparked a remarkable transformation of my mental faculties.
The absence of alcohol has given my brain an extra boost! I've become more focused, productive, and efficient in my work. This newfound clarity allows me to tackle challenges with a calm demeanour and heightened problem-solving ability.
Banishing Anxiety and Improving Health
One of the most incredible revelations on my sober journey has been the disappearance of anxiety from my life.
By bidding farewell to alcohol, I inadvertently bid farewell to anxiety's grip, experiencing a newfound sense of calm. And that's not all, my long-time companion, asthma, has decided to disappear too!
Consistent Energy Levels and Weight Considerations
It's a common belief that giving up alcohol leads to increased energy levels but I personally haven't experienced a significant change in mine.
Additionally, it's worth mentioning that when individuals stop consuming alcohol, they often observe weight loss due to the reduced intake of sugar.
However, in my case, my weight and energy levels have remained stable, primarily due to an underlying health issue that I'm currently managing. This serves as a reminder that sobriety alone is not a universal solution for all health concerns, but it does lay a strong foundation for overall well-being and personal growth as I continue on my journey.
Embracing a Restful Sleep and Clearer Skin
One of the delightful surprises along my journey has been the improvement in my sleep patterns.
I now enjoy deeper, more rejuvenating sleep and I wake up refreshed and ready to conquer the day. Sobriety has also gifted me with clearer, healthier-looking skin. It's like my whole body is saying "Thank you!"
A Renewed Outlook and Appreciation for Life
It sounds really cheesy but since I started this sober stint, life has become about relishing simple pleasures, embracing every moment in its fullness, and showing gratitude for all the experiences along the way.
Central to my transformation has been Jo Ferbrache (Sober Jo). Her invaluable insights and support have been pivotal, providing direction throughout my journey towards sobriety. If you are thinking about giving sobriety a go and need some help, Jo is your woman.
Socialising with Confidence
One of the most liberating aspects of my sober journey has been discovering the joy of socialising without alcohol. It turns out, it's not only possible but immensely enjoyable!
I've connected with others on a deeper level, engaged in meaningful conversations, and genuinely savoured the company of friends and loved ones.
I've connected with others on a deeper level, engaged in meaningful conversations, and genuinely savoured the company of friends and loved ones. Without the alcohol-induced haze, I've been more present, attentive, and authentically engaged in social interactions.
Dodging the Glastonbury Temptation
This year, the annual Glastonbury Festival beckoned, as usual. It's an event I typically mark on my calendar, but this time, I made a different choice.
Doubtful of my ability to resist the pervasive alcohol offerings, I opted not to attend, although when June arrived, I felt more robust in my commitment to sobriety and thought I could in fact have weathered the festival's pressures, sober. However, the moment had passed, and I booked a low-key trip to Paris instead.
Looking back, I am immensely grateful for the decision I made to forgo Glastonbury. It was a testament to my unwavering commitment to my sobriety journey, and it taught me invaluable lessons in self-awareness and understanding my own boundaries.
However, my trip to Paris, served as a stark reminder of the power of temptation. Despite the infectious music and vibrant atmosphere, I found myself locked in a battle with the allure of alcohol. It was a glimpse into what may have transpired at Glastonbury—a situation where I could have easily succumbed, leaving me with feelings of regret and disappointment for abandoning my challenge, with only a week to go.
Facing the Paris Challenge: A New Test for My Sobriety
France is, of course, a country renowned for its wine and in Paris I was faced with a unique test. Surrounded by the allure of a sparkling glass of wine by the riverside, I felt a surge of frustration, slight anger and a huge sense of deprivation, for the first time during my sobriety journey.
I took a moment to reflect on this unexpected emotion. Having visited Paris on multiple occasions before, this was my first experience there without alcohol. I questioned whether this frustration stemmed from a genuine longing for a drink or if it was a result of my past experiences in Paris, where wine had become intertwined with the overall enjoyment.
This trip to Paris, though challenging, provided valuable insights into my relationship with alcohol. It also brought forth the inevitable question as I approach the end of my challenge: Can I truly exercise control over my drinking, or is it safer to maintain my commitment to sobriety?
The Next Step: Reflecting on the Journey and Looking Ahead
I may not have all the answers yet, but my Paris experience has certainly deepened my understanding of my relationship with alcohol.
Whether I decide to reintroduce alcohol in moderation or continue with my sobriety, I'm confident that the lessons from the past six months will guide my decision. My top priority remains my well-being, balance, and happiness.
What is clear is that this experience has fundamentally altered my outlook on alcohol and life in the most profound way.
It has been a remarkable journey of self-discovery, personal growth, and transformation, and for that, I am truly grateful. I also know that my sister Joanne, to whom this challenge is dedicated, would be incredibly proud of me for the strides I've made in my sobriety and the positive changes I've embraced.
---
Yvonne Corbin is Chief Executive Officer at Caring Cooks of Jersey, a Jersey charity and registered NPO, that specifically supports families with children of school age. The charity strongly believes that good food and nutrition from the weaning stage, right through a child's life is of crucial importance and supports parents in making healthy food a part of daily life. All services are free of charge to families and are funded by charitable donations.
If you wish to support Yvonne with her challenge, her Just Giving page can be found here.
---
Click here to go to our Wellbeing section
…
… and click here to subscribe to our daily newsletter – meaning you will never miss a thing.