Back again for 2022, its eight year, Prosperity 24/7 has recruited 15 corporate teams to vent their fury by hitting the saddle and pedal furiously to raise money for two local charities – Durrell and RNLI Jersey.
Prosperity Day has helped to raise more that £118,000 for local charities and making a difference to the local community is an important part of Prosperity 24/7's business ethos.
Taking place on Friday 15th July from 9am to 4pm in Broad Street, St Helier, each team of three will compete in a fast paced 30 minute race using 3D race technology and turbo bike trainers to take on a gruelling virtual stage of the Tour De France.
Joining Prosperity 24/7 on the day will be Stormy Stan from the RNLI, Kit Chamier of True Sport Nutrition giving insights into how cyclists train for the Tour de France and Helen Papworth from Aurora Lifestyle, who will be on hand to massage weary legs after the race.  We may even be visited by a special guest from Durrell.
The race schedule for the day is:
9:00-10:00 – Durrell vs RNLI vs Prosperity 24/7
10:00-11:00 – Brooks Macdonald Team 1 vs Brooks Macdonald Team 2 vs Islands Insurance
11:00-12:00 – Style Interiors vs Colin Smith Partnership vs Axis Mason (Axis Awesome)
12:00-13:00 – Ogier vs Bedell Cristin vs Mourant
13:00-14:00 – Barclays vs PwC (Eaton Mess) vs KPMG
14:30 Final
There are two ways to gain points and make it to the podium – race day performance and charity fundraising, so it's not just about speed, the more money raised, the higher up the leader board each team goes.   The final three teams will go 'head-to-head-to-head' to see who takes first place and win the coveted Prosperity Day trophy to display with pride in their place of work.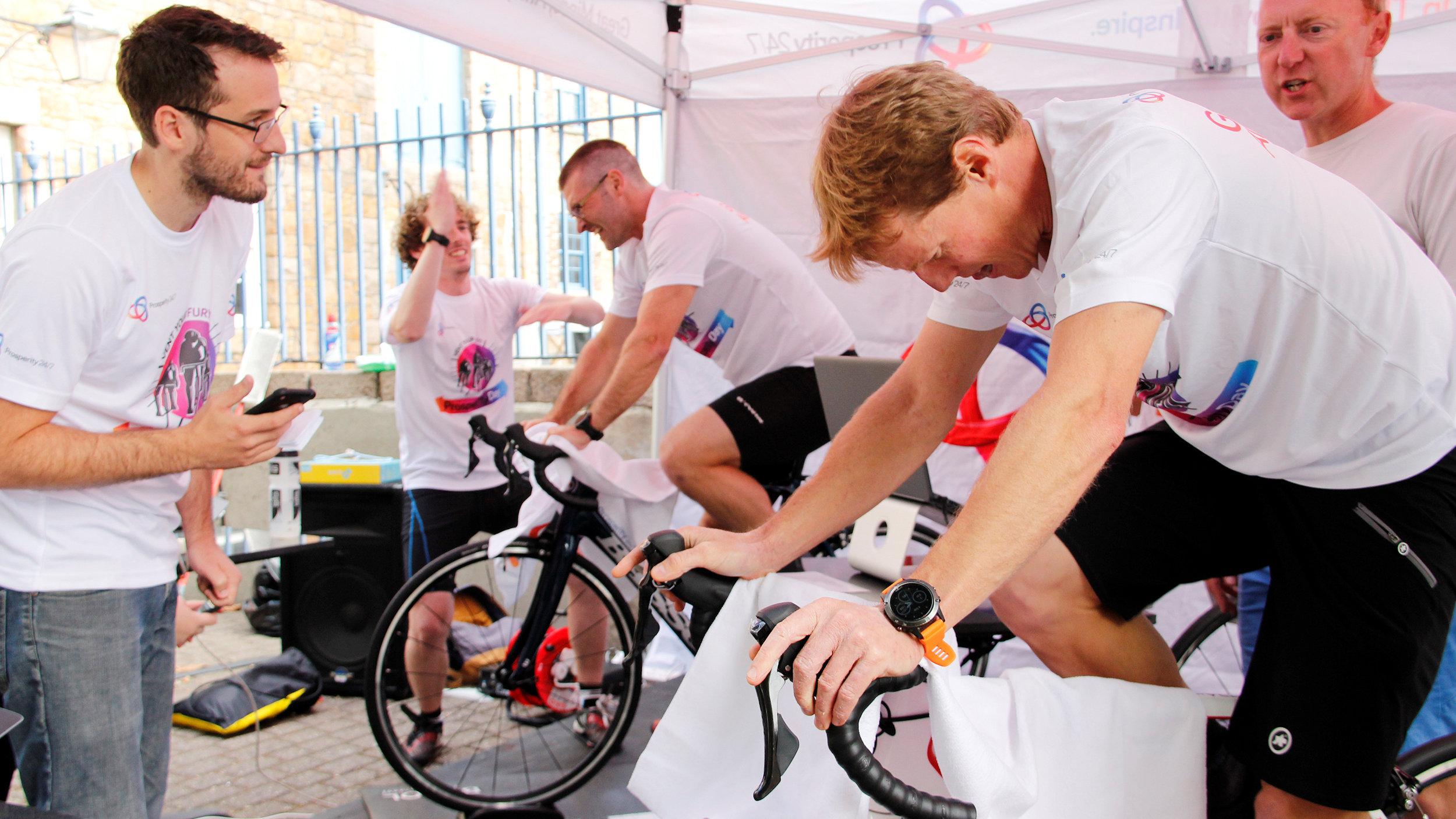 CEO Chris Clark commented: "We're delighted so many teams have signed up once again to take part in Prosperity Day to help us to raise money for our chosen charities for 2022. It's all about combining Prosperity 24/7's expertise in technology with sportsmanship, corporate rivalry and, most importantly, giving back to our community.
"The fundraising element is a really important part of the day, so we want to make sure that the businesses behind each of the teams taking part are also doing what they can to support them.  We won't be making it easy for the teams and they'll earn their sponsorship money.
"The races use BKOOL turbo trainers, taking cyclists up 2115m of virtual mountain, transforming Broad Street into the Col du Tourmalet; the highest paved mountain pass in the French Pyrenees and a ruthless stage of the Tour de France."
---