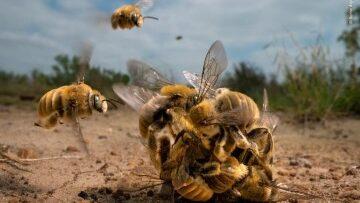 Wildlife Photographer of the Year exhibition
Guernsey Museum at Candie presents the Wildlife Photographer of the Year on loan from the Natural History Museum in London.
The world-renowned exhibition opens on Friday 3 March from 10-4 daily, closing on Sunday 23 April. It is opening slightly later this year after work to upgrade the exhibition gallery was completed.
Discover the natural world in all its wonder and diversity at the newly redesigned exhibition, where remarkable photographs illustrate the precious beauty of our planet. The exhibition space positions the photographs among short videos, quotes from jury members and photographers as well as insights from scientists which invite you to explore how human actions continue to shape the natural world.
The contemporary look of the exhibition is complimented by new films that celebrate the photographers behind the lenses. These films invite visitors to look through their perspectives, while being inspired by the natural world that fuels their passion. The judges of the fifty-eighth Wildlife Photographer of the Year competition had an extremely difficult task. Every entry was judged anonymously on its creativity, originality, and technical excellence by an international panel of industry experts.
The images will be shown in the UK and tour internationally including in Australia, Canada, Germany, the USA and Guernsey Museum is delighted to be sharing them locally.
Dr Doug Gurr, Director of the Natural History Museum said: "Captured by some of the best photography talent from around the world, the photographs encourage curiosity, connection and wonder. These inspiring images convey human impact on the natural world in a way that words cannot – from the urgency of declining biodiversity to the inspiring bounce back of a protected species."
---
Pictured: Kate Aigner (USA) The Big Buzz – Wildlife Photographer of the Year 2022