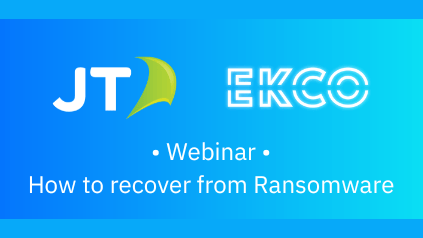 Webinar: How to Recover from Ransomware
We know that anyone involved in critical infrastructure – governments, energy companies and healthcare providers – are most at risk of a cyber attack during times of war and unrest. We also know that while the risk of cyber attacks on other types of businesses may be lower, now is as good a time as any to evaluate your security infrastructure and where vulnerabilities may lie.
JT Global have partnered with Ekco for an educational webinar. Ekco's Technical Director, Conor Scolard, looks at the profile of ransomware attack, design flaws in legacy backup architecture and the steps you can take to not only prevent an attack, but to minimise the business impact if you are targeted.
You'll also learn first hand how Ekco's most recent innovation, the Ekco Box, our dual immutable backup solution, powered by Veeam technology is specifically designed to protect against even the most sophisticated ransomware attack.