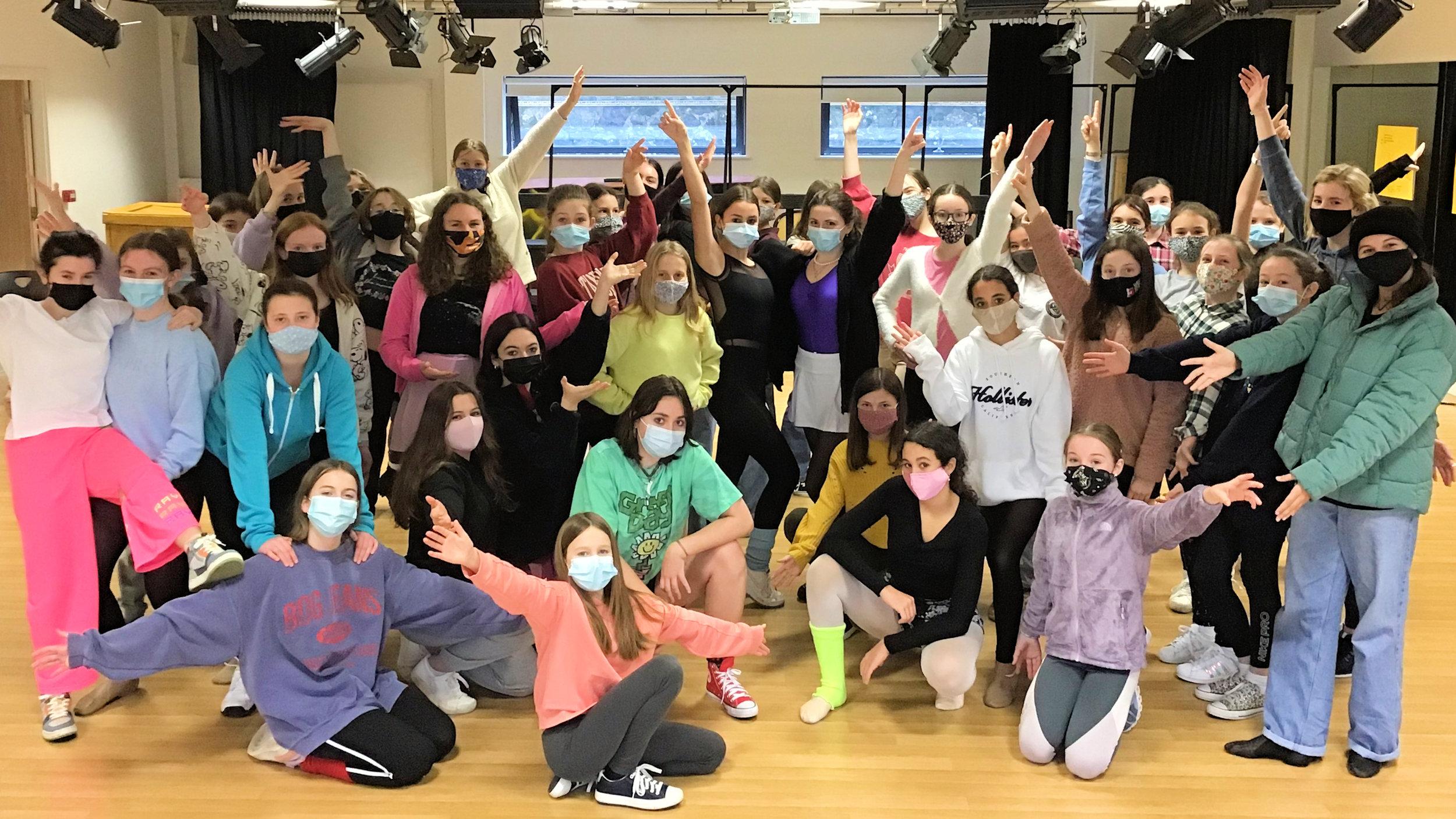 The Ladies' College whole school production of 'Fame'
This year, The Ladies' College whole school production of 'Fame' will be housed in a working theatre for the first time – the Princess Royal Centre for the Performing Arts.
"This is a very exciting opportunity for our students to work in a more professional environment and a much more 'authentic' experience of working in this creative industry," says director Maggie King, Head of Drama at The Ladies' College.  "We are, of course, having to put in special measures to be able to continue with rehearsals and follow very closely the advice of both the Education Department and Public Health, with a view to putting on the live performances in late January."
Set in New York city in the 1980s, 'Fame' follows the lives of the students of PA, the school for Performing Arts in the Big Apple.  While the musical focuses on light-hearted aspects for the main part – romance, friendships, lessons and laughter – there are also some more mature themes running through it, with one character in particular falling foul of what is a famously tough industry.
Amy P, who plays Carmen Diaz (along with Tilly C on alternate performances), will have audiences tapping their toes to her well-known number from the title of the show.  On being part of the cast, Amy says: "Being in the cast of Fame this year has been amazing. I love that it is an 80s themed musical, what a great era for dance and music!  The drama teachers and students have faced many challenges over the past few weeks due to covid, but we are thrilled to have the opportunity to finally perform.  The performance industry really interests me but playing the role of Carmen Diaz has shown me that it can be pretty tough and something you have to work hard at."
There is more dancing in this musical than you can shake a leg-warmer at and, while Maggie King has done much of the choreography, she is also delighted to have two student 'Dance Captains' onboard: Lexi B and Rosie DC, both in Year 11 (Upper Five).  As well as supporting the rest of the cast with the moves, holding extra rehearsals when necessary and helping those who may have been away to catch up, Lexi and Rosie have also choreographed some of the numbers themselves: notably 'Dancin' On the Sidewalk', a huge, feel-good show-stopper, as well as more lyrical numbers such as 'I Wanna Make Magic' and 'Let's Play a Love Scene'.
The Ladies' College are incredibly proud of the leadership these two students have shown and it is a rare, but valuable opportunity for the students to take a greater ownership of the show. Lexi comments: "Choreographing and teaching the cast dances throughout the rehearsal process has really been fun and exciting as well as playing Ty the hip-hop dancer.  I really love being involved with the energetic dances in this musical and everyone puts in so much effort and it is all round amazing environment to be in."
This year, the array of talent from the students is truly fabulous and 'Fame' gives a rare opportunity to see them all at their finest – be they a student of acting singing or dancing in the show.  Phoebe S. who also plays Goody (alternating with Ella M) has also been a huge support with the dancing, as have Holly H and Layla F – picking up dance moves quickly and helping out those in need of support.
The cast will also be supported by a live band – with some performers playing onstage in character as well.
These talented students have been well supported by the almost equally-talented staff of The Ladies' College:
Maggie King (Artistic Director of the production), who is an ex-professional director and actor, who ran a theatre in London for many years prior to becoming a teacher;
Tom Cheshire (Director), who co-runs The Cheshire Dramatic Arts Academy on-island and
Fiona Le Tissier (Musical Director), again an ex-professional who has held many roles within the industry and who, having fulfilled her role as Acting Director of Music for the College (maternity cover) has stayed on for the production to see the show through to its last note.
Principal of The Ladies' College, Ashley Clancy says: "It is a privilege to see our students work together in our whole school productions.  There is a true community feel, with students from the across the school involved on-stage and, in the band, as well as taking on leadership roles on the creative team.
"Being a member of the audience is such a treat and as long as we can continue to rehearse, we have every intention of the production raising a smile with our audiences. I will be cheering for them all each night and if we need to make adaptations to ensure that we are as Covid safe as we can be, I would like our audiences to be assured of our intent to do this."
---
Performances at the Princess Royal Centre for the Performing Arts at 7pm on the following dates: Tuesday 25th, Wednesday 26th and Thursday 27th January 2022. Tickets are £12 each.