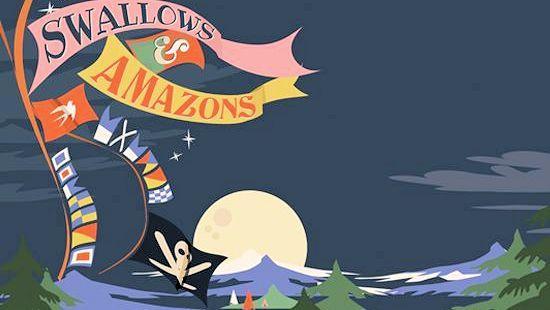 Swallows and Amazons at Jersey Arts Centre
Swallows and Amazons by Arthur Ransome, adapted by Helen Edmundson, songs by Neil Hannon.
A Jersey Arts Centre Christmas production in association with Art'Comedia
Performance Dates:
Friday 10 December – Sunday 12th December
Tuesday 14 – Wednesday 22nd December
7pm / 11, 12, 18, 19, 20 + 21st December: 3pm + 7pm
Wednesday 22nd December: 3pm
From the team that brought you Arabian Nights, The Lion, the Witch and the Wardrobe, The Wind in the Willows, A Christmas Carol and My Family and Other Animals comes a joyous and uplifting musical to get you into the festive spirit. Hoist the main sail and get ready to embark – Swallows and Amazons is coming to Jersey Arts Centre!
In this adaptation of Arthur Ransome's much-loved children's classic, the Walker children – John, Susan, Titty and Roger – are excited to spend their summer holidays at the Lake District. Setting sail on their faithful boat Swallow, the siblings are looking forward to camping without any "barbarians" (adults!) around and spending their days playing, swimming, and enjoying themselves. However, little do they know that there are others that lay claim to their campground…
Full of adventure, childhood nostalgia and evocative music penned by The Divine Comedy's Neil Hannon, Swallows and Amazons is the sixth community Christmas production produced by Jersey Arts Centre, and the fourth to feature vocal coaching and musical direction from Art'Comedia.
Daniel Austin, Director of Jersey Arts Centre and director of Swallows and Amazons says that "it has been superb working with Art'Comedia again after a two-year break, and to see their work realised with members of our company in singing phenomenal three and four-part harmonies. We have had a wonderful time navigating the story, rehearsing the physical action and creating the adventurous, swash-buckling world of Swallows and Amazons."
Complimenting the performance schedule, Jersey Arts Centre's Education and Outreach team have been visiting Island primary schools since Monday 8 November delivering an educational workshop with creative activities relating directly to Ransome's original novel. This workshop has included design activities, learning performance skills and, of course, lots of fun! Jersey Arts Centre is also excited to be once again offering a BSL Interpreted/Signed performance on Friday 17 December at 7pm, interpreted by Andy Higgins.
Join us this Christmas for a wonderfully whimsical family adventure!