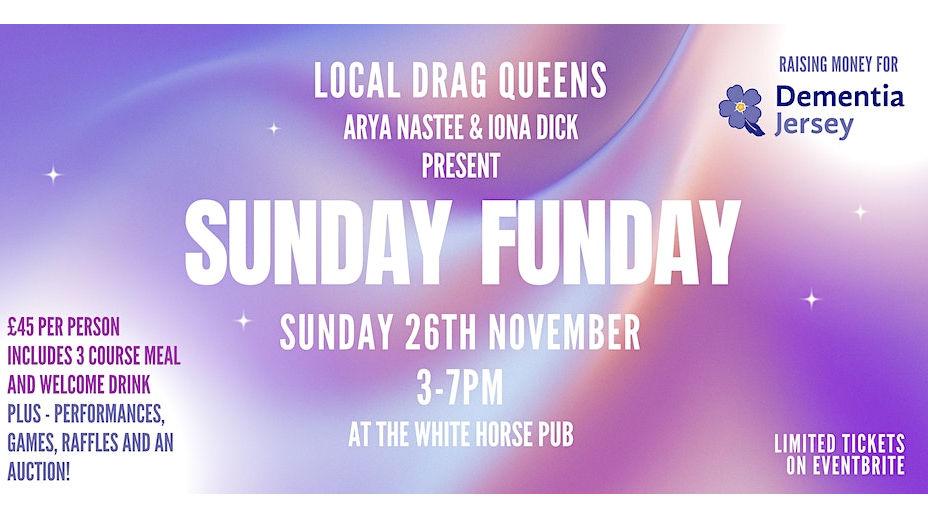 Sunday Funday
Two islanders, Nima Rad and Conor Quinn are hosting a drag show on Sunday 26th November 2023, at the White Horse, to raise funds and awareness for Dementia Jersey, the island's leading charity for supporting people affected by dementia.
The event, which will run from 3pm to 7pm, will feature a 3 course meal with homemade dishes, drink on arrival, jaw dropping performances and games with amazing prizes. Guests will also have the opportunity to join in on some Musical Bingo later in the evening, as well as to participate in a raffle. All proceeds from the event will go towards Dementia Jersey's vital services and activities, which include expert dementia advice, carers' support groups, dementia friendly activities and dementia education sessions.
Nima Rad, comments: "We're both passionate about supporting Dementia Jersey and their cause. Dementia is a condition that affects many people in our community, not just the people with the diagnosis but their family and friends around them. We both work in healthcare and have seen the effects first hand.
"Connor and I are looking forward to hosting this event and welcome anyone who wants to join us for some Sunday fun, all for a good cause. I'll be preparing some tasty dishes alongside my friend who is a chef from the UK, and we've also received some amazing prizes for the raffle. Everyone will be fed, watered and most importantly, entertained!"