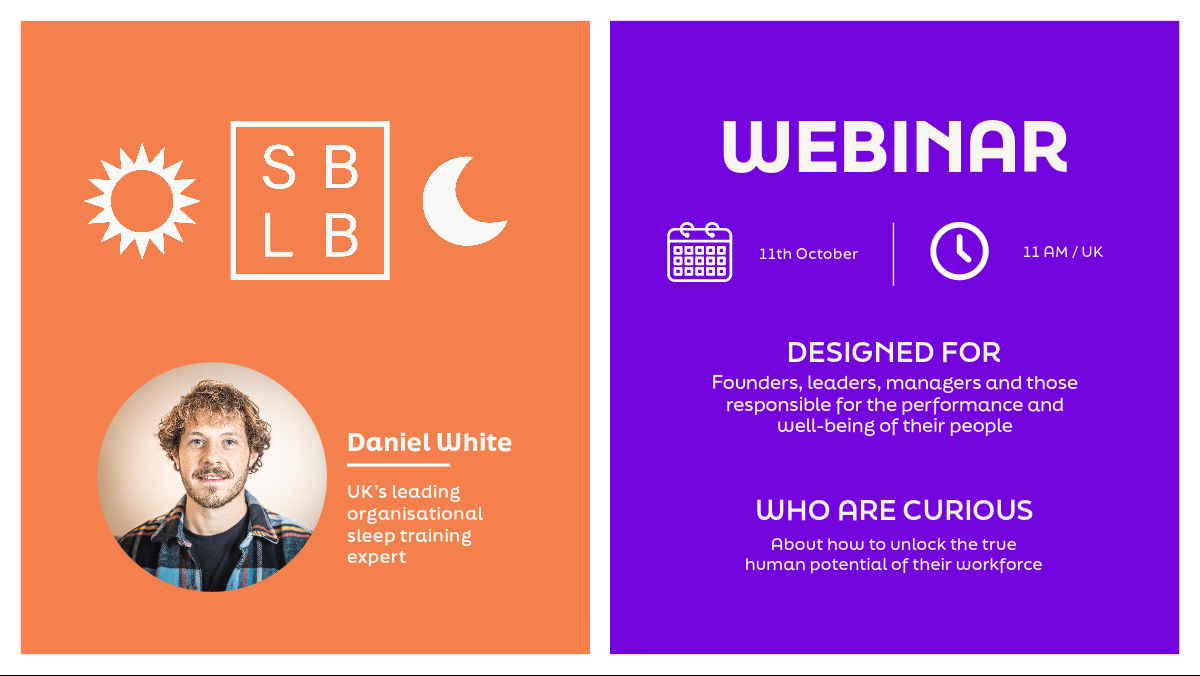 Sleeping for Success: Skyrocket organisational performance and wellbeing
Who is this for?
This webinar is intended for founders, leaders, managers and those who feel a responsibility for improving the performance and well-being of the people within their organisation. It's also highly beneficial to any person who wishes to learn more about the essentiality of sleep in their lives.
It contains deep knowledge on how to supercharge human performance, productivity, engagement, health & happiness by enabling deeper rest and recovery
The strategies and knowledge shared can be applied by companies of all sizes to enhance the lives of their workforce. The case studies and examples provided are based on SMBs. These strategies have helped more than 50+ SMB companies to unlock their true human potential in the last 12 months alone.
Why should you attend?
Why should you prioritise having a well-rested workforce?
The science is clear – sleep is a critical component of employees' lives and an integral part of every company's bottom line.
In our 21st century, globalised fast-paced, high-stakes "always on" culture, demands on the workforce increasingly stretch employees' boundaries. Something has to give, and usually, that something is the quality and quantity of employees' sleep.
How an employee sleeps directly impacts on their performance, productivity and engagement in the workplace, as well as their health, happiness and overall well-being.
Despite the fact that a lot of time, attention and financial resources are spent on up-skilling the workforce, almost all organisations are overlooking one of the most powerful ways to gain a competitive advantage – by providing the necessary education and skills training that allow their people to rest and recover well.
What will be covered?
This webinar will show you how to create an environment that supports your people with the skills, knowledge and experience to master the behavioural, environmental and psychological aspects of successful sleep and recovery.
You'll be taught science-based tools shared through an end-to-end real-life case study from one UK-based SME.
Together we'll explore:
Why successful sleep is your organisation's hidden superpower – how critical KPIs can be improved through this fundamental facet of health
The hidden-costs of sleep deprivation within your organisation – you'll be surprised at how this elephant in the room is impacting your people
 How and why you should help your employees optimise their sleep – including simple takeaways that you can begin to action now
 A clear learning path to achieving this – you'll learn the ideal learning path and support system enabling your people to walk the journey to better sleep
 What a fully-rested organisation is capable of – how running on full cylinders due to deep and restorative sleep will enhance all aspects of business
Q&A session with Daniel
The evidence is clear that happy, healthy and successful organisations are built on a good night's sleep.
By participating in this webinar and learning how to upgrade the way your people are sleeping, you're providing your organisation with a competitive edge and the ability to disrupt and lead the market.
Speaker
Daniel White (MSc, ANutr, FMCHC)
Daniel is a Registered Nutritionist and Functional Medicine Certified Health Coach with extensive educational, research and clinical experience in the fields of nutrition, psychology, stress management, sleep and circadian science, health education and behaviour change.
In 2020 he founded Sleep Better Live Better as a platform to provide education, training and tools that can support businesses to unlock their true human potential through deeper rest. He has since delivered training and consultancy for global companies including Boston Consulting Group, PWC, Healthspan, JFSC, GFSC, Deloitte, Credit Suisse and more.
Sleep Better Live Better
Sleep Better Live Better believes there's an enormous pool of untapped human potential that can arise from your workforce being well-rested, as science clearly demonstrates that sleep is the most potent inner healing, emotionally balancing and performance-enhancing force that exists.
 Their mission is to deliver truly impactful sleep solutions that can unlock the enormous pool of untapped human potential that results from being well-rested.