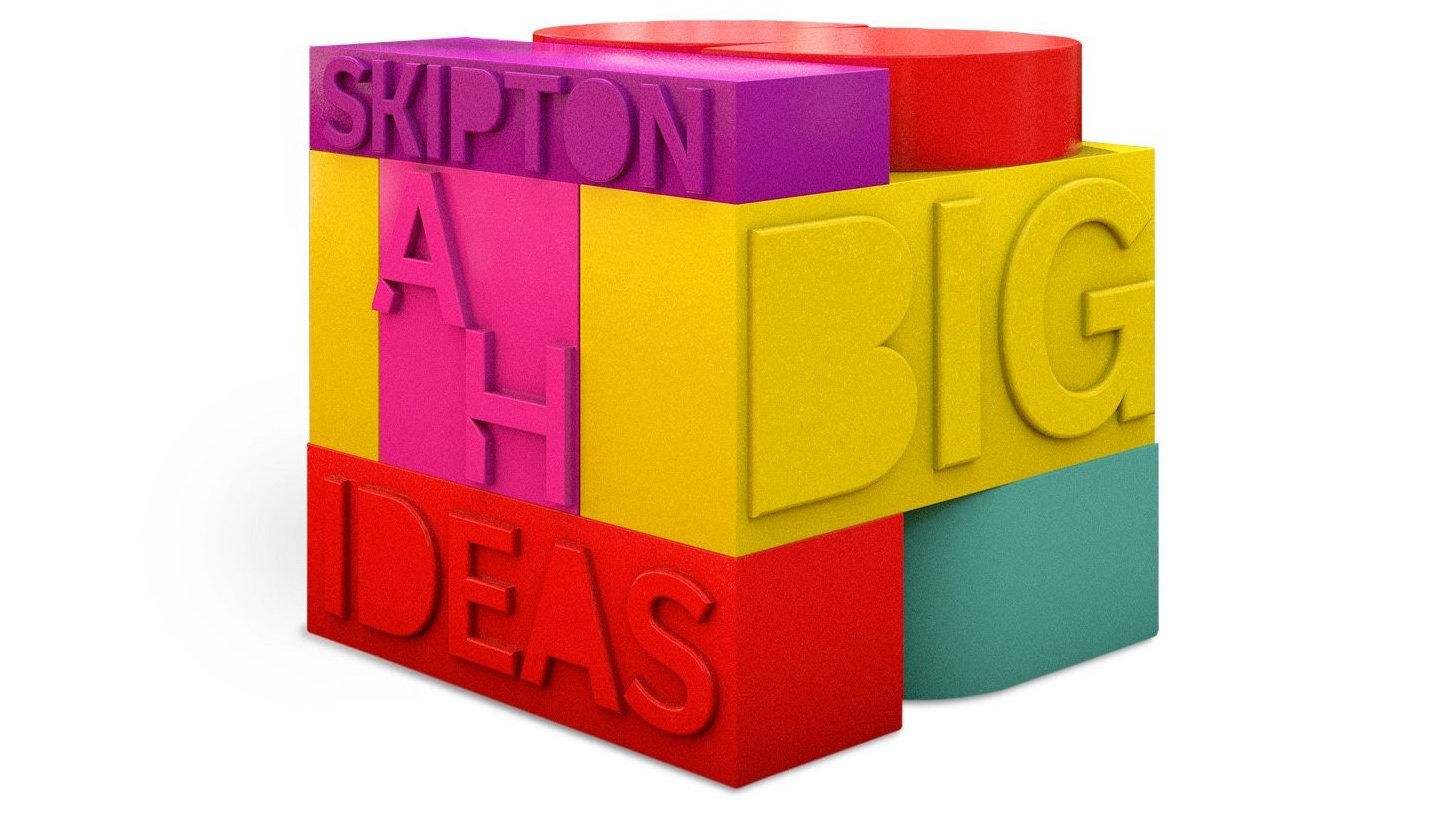 Skipton big ideas – ArtHouse free lectures, talks and workshops
With the Skipton Big Ideas exhibition exploring some of the key issues facing society – sustainability, accessibility and identity – ArtHouse Jersey is now inviting Islanders to get deep into the conversation and attend a series of lectures, speaking to those key themes.
All of these sessions are free of charge and will be held at Jersey Library.
Sustainable Exhibition Design with Pippa Nissen
Friday 15 October, 1pm to 2pm
Pippa Nissen and Jim Richards established Nissen Richards in 2010 – a multi-disciplinary practice in the UK combining architecture, exhibition design, interpretation, theatre, film and graphic design and specialising in visitor experiences.
Nissen Richards Studio has created 'A Jersey Home' for Skipton Big Ideas, an installation that rises 5m in height towards the vaulted church ceiling. Built out of humble recycled cardboard boxes (which might be found discarded by any supermarkets) the construction feels temporary and unreliable. This deliberate choice of material plays on assumptions about the home including safety – highlighting how precarious any given situation may be. The pair are interested in how mundane, throw-away materials can bring joy and delight, creating a fantastical interior that has a
dream-like quality and feeds our imaginations. As a practice, Nissen Richards is interested in how to tell stories and discover different narratives through using materials in interesting ways, placing sustainability at the centre.
Inhospitable Architecture with Poppy Whatmore
Saturday 16 October, 1pm to 2pm
Art can explore forms of activism in the public realm. Poppy's artistic practice investigates inhospitable architecture – a form of protest, questioning not so much the construction of materials and shelter but the relations and tectonics of people and ideas. Poppy's work 'Benchmark' for Skipton Big Ideas deconstructs the familiar function of a traditional park bench and presents it as an inhospitable object levitating in space.
Book here.
How to Break Up With Fast Fashion with journalist Lauren Bravo (online streamed Q&A)
Saturday 16 October 2.30pm – 3.30pm
Fast fashion is the ultimate toxic relationship. It's bad news for the planet, our brains and our bank balances. We can't go on like this; our shopping habits need an overhaul.
Journalist Lauren Bravo loves clothes more than anything, but she's called time on her affair with fast fashion in search of a slower, saner way of dressing, and has written a funny, accessible guide on how to be sustainably chic – How to Break Up With Fast Fashion. Lauren will be in conversation with textile designer Bianca Padidar and will be sharing tips on how to fall back in love with your wardrobe and embrace more
sustainable ways of shopping – from the clothes swap to the charity shop.
Islanders and Climate Change with Ilan Kelman
Thursday 21 October, 1pm to 2pm
Ilan Kelman (http://www.ilankelman.org and Twitter/Instagram @ILANKELMAN) is Professor of Disasters and Health at University College London, England and a Professor II at the University of Agder, Kristiansand, Norway. His overall research interest is linking disasters and health, including the integration of climate change into both. Will climate change destroy island communities forcing islanders to flee for their lives? The answer is typically unclear: "Not necessarily, but it's complicated".
This talk examines how climate change might or might not affect islands, especially changes to the weather and the oceans. This lecture is brought to you in collaboration with Jersey International Centre of Advanced Studies.
Sustainable Cooking and Eating Kids Brunch with India Hamilton
Friday 22 October 10am and Monday 8 November 11.30am
Join us in the Eagle Lab, Jersey Library for a special culinary event for younger audiences. India Hamilton is foremost a cook with an innate desire to ensure good food for all. She is dedicated to exploring all avenues to improve the food system, from production to wellbeing and waste. She is the co-founder of SCOOP. Celebrating the launch of her book, Ottie Marigold – Time For Breakfast, India aims to engage children in her passion for sustainable eating and cooking using local produce. In this session India will be teaching the children how to prepare 'Rainbow Pancakes' and 'Staghorn Lemonade'.
The book is illustrated by Suzzanne Kuldielka. *Please note that this event's capacity is very limited, and that tickets only need to be booked for the child in attendance, not their accompanying adult. We ask that if you are unable to attend the event, that you return your ticket at your earliest convenience so it can be made available to someone else.
Queen B: Artist Mari Keto on her on own work (online Q&A)
Thursday 28 October, 1pm to 2pm
Mari Keto is an established contemporary artist, who originates from Finland and is represented by Zetterberg Gallery in Helsinki. This lecture focuses on Mari's work and her processes. For the Skipton Big Ideas exhibition Mari has created two works 'Everyday Alchemist' and 'Queen B1 and B2'.
Everyday Alchemist: 'Everyday Alchemist' uses a combination of a solar-powered casting (the creation of an object by pouring molten metal into a mould) and urban mining (the reclamation of raw materials from redundant buildings and products). Using various materials including alloy (used in the production of British cars), Mari solar cast them to produce new semi-precious jewellery. In doing so she has reassigned the purpose and value of the material. Queen B1 and B2: For the past two years, Mari has worked with industrial beekeepers and transformed a wasteland into a honeybee paradise with wild flowers and a beehive, consciously entering into a relationship with the bees. In return for her dedication, the bees create unique re-shaped honeycomb forms which Mari works into wearable art and jewellery.
Identity in Art with Cloe Freeman
Friday 29 October, 1pm to 2pm
Cloe Freeman studied critical art history and theory at the University of Brighton and since returning to Jersey four years ago, she has been active in the community supporting equality and diversity. She is currently Head of Communications within the Government of Jersey's Strategic Policy, Population and Planning department and has recently joined the board of trustees with the Jersey Community Relations Trust.
Cloe's lecture 'Identity in Art' offers a whistle-stop-tour of how artists express, explore and question ideas about identity and how the politics of identity is changing the artworld. Cloe challenges you to question what you think you know about yourself and the meaning you hold with the characteristics you identify with.