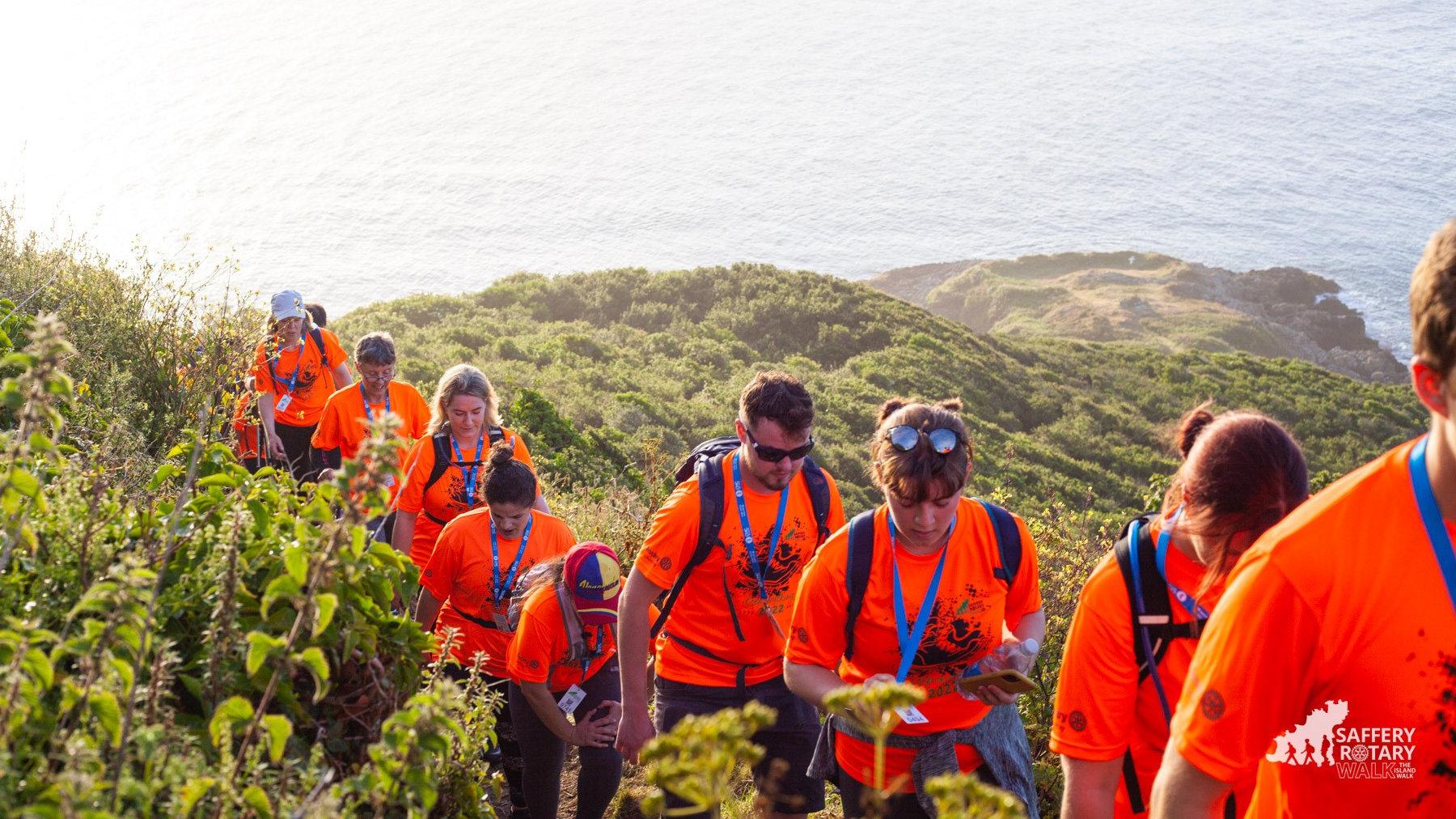 Saffery Rotary Walk
Registration is open for Guernsey's 25th Round Island Walk.
It will take place on Saturday 10th June 2023 and provide people the option to enter as solo walkers or as part of a relay team. Families wishing to walk together for a much shorter distance will be invited to join the Guernsey Family Walk , registration details available from March of next year.
Individual walkers who register before the end of January 2023 will get an early bird discount on the entrance fee – £30 reduced to £25.
Next year's walk is particularly special. Not only does it celebrate the 25th appearance of this Guernsey annual event, it also coincides with the 100th anniversary of Rotary in Guernsey. Given this double celebration, both Rotary and walk sponsors Saffery Champness are hoping for a record-breaking number of entries, as well as record sponsorship raised in support of the participants to maximise the benefit the local charities will receive.
Over the past 24 years, more than £920,000 has been raised by walkers and their supporters. Thanks to the financial contribution of the main event sponsor, Saffery Champness, and many other corporate supporters, every penny of walkers' sponsorship goes to the selected charities and not for profit organisations across the Bailiwick. Local firms foot the bill for everything needed to make the walk happen. Charities set to benefit from the 2023 walk will be announced over the coming weeks.
Lisa Vizia, Director at Saffery Champness said: "The walk is embedded in our culture and many of our staff give their time to make sure it runs smoothly. It's our way of giving back to the community of Guernsey.
"I would encourage anyone who's up for a challenge to sign up and start training for our 25th walk. You've got plenty of time to build up to the 39 miles challenge. It's a stunning route, with beautiful scenery that takes in the whole of Guernsey's coastline. The camaraderie between the walkers and the atmosphere on the day is really something very special. We would like to see a big increase in overseas entrants, now that travel is becoming more accessible, so please spread the word among friends and on social media. The more people we get means there's potential for more money to be raised to support some great causes across Guernsey."
President of the Rotary Club of Guernsey, Brian Acton, explains the significance of the Walk to the two Rotary Clubs on the island: "We are particularly proud to be able to share in the celebration of the 25th anniversary of the walk as we commemorate 100 years of service in Guernsey by Rotary. Many Rotarians become actively involved in the walk each year in supporting roles. We are particularly proud to host this event annually that raises tens of thousands of pounds for the selected charities each year.
"The 2023 walk will be a huge milestone for us all to celebrate, in the knowledge that due to the determination of so many walkers taking part, many others in our community will be able to benefit from the funds raised at such a difficult time.
"Rotary held its first meeting here on 30 October 1922 and its first club was chartered by Rotary International on 3rd March 1923. So we are very proud to be able to celebrate and commemorate our Centenary.
"The guiding principle for Rotarians is 'Service above Self'. Indeed, in addition to our volunteering role behind the scenes, in this special year a group of past Rotary Club presidents will be entering the walk as relay team, attracting sponsorship personally to add to the funds raised."