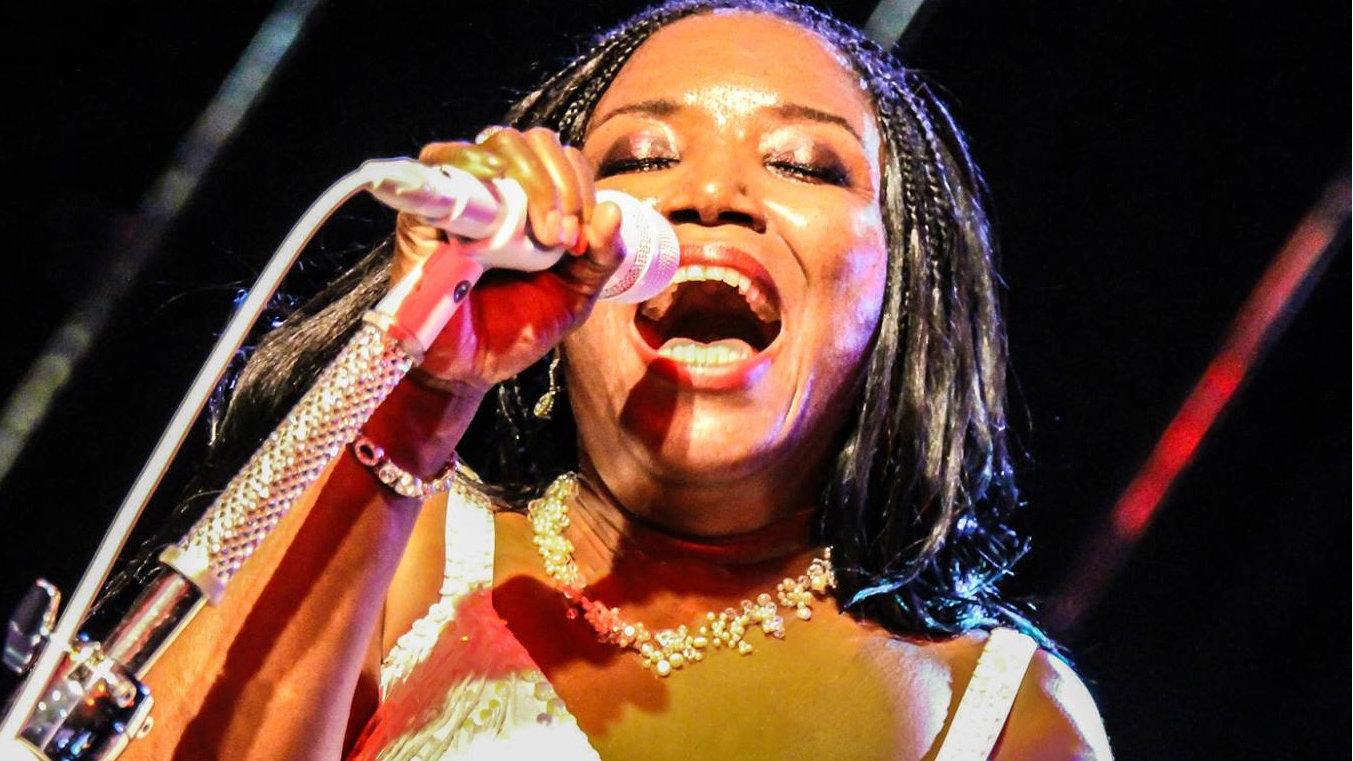 Robbin 'the soul shaker' Kapsalis @ Giles Robson's Rock, Roots & Blues Nights
Robbin Kapsalis was born on the Southside of Chicago and soaked up the sounds of the legendary blues city before moving to be raised in Atlanta, Georgia. Featuring a powerful and commanding voice that is steeped in the greasy and dirty but still emotionally effecting side of blues, Robbin has all the understanding of the classic phrasing, textures, rhythm and attitude of the music. She adds something fresh and sassy to the mix too – so is very much rooted in our time. And as a charismatic front woman, she is second to none with an energy level that is unrivalled in the blues scene today.
Think Sharon Jones of the Dap Kings meets Koko Taylor and you might have an idea of the talent level on display here. Her first appearance in Europe at the Banana Peel – once Euro blues fans witness her talent we are sure of long and successful European visits ahead!
"A great vocalist" Blues Blast Magazine (USA)
"Robin Kapsalis needs to be your new favourite vocalist" Rock & Blues Muse (USA)
"Kapsalis's rich sultry alto voice is clearly the star attraction… her vocals seem to effortlessly flow… her voice is filled with the passion and grit of a self made woman. She needs to be experienced live." Living Blues Magazine (USA)
"Excellent vocals. I really like Kapsalis' voice with a deep richness that you don't find often" Bmansbluesreport (USA)
"One of the hottest live acts on the circuit today" Chicago Blues Guide
"Throws everything in the fire for her fans" rootstime.be (Belgium)
More about Giles Robson:
Multi award winning, internationally recognised Blues harmonica virtuoso, singer and masterful showman Giles Robson has had a dream musical career. The only UK or European artist to appear on Chicago's legendary Alligator Records who described him as "A blues giant, absolute master of the form". He is only one of THREE UK blues artists alongside Eric Clapton and Peter Green to win a coveted Blues Music Award in Memphis (The Grammys of the Blues). His albums are in the top of the world's most prestigious music magazines critics polls – Mojo Magazine, Living Blues and Downbeat and he yearly tours over 15 countries across the world a year.
He plays and sings beautiful, powerful, emotional and timeless blues with a deep groove and laden with intense feeling. He is widely considered one of the world's greatest blues harmonica virtuosos. He plays in his own accomplished and distinct style that captures stunned audience's hearts and imaginations with his mixture of superb technique, rhythmic power, tonal control and sensitive emotional expressiveness. Witnessing Giles Robson live is a dazzling, and unforgettable experience as audiences from around the world constantly discover.
---
Reviews of Giles Robson live:
"This was a headline act to be proud of, full on entertainment leaving the audience satisfied and ready for more, a flawless upbeat performance" Blues Matters Magazine – Carlisle Blues Rock Festival
"one of the world leaders in the blues harp: I call singer and songwriter Giles Robson. The man has become a real blues giant and actually a bit "unavoidable". Powerful vocals, a virtuoso on the harmonica and hard to match live beautiful harmonica work…It goes without saying that the man belongs to the top of the world"Rootsville Banana Peel Club Review, Belgium
"Giles Robson delighted the Madrid public with his virtuosity on the harmonica, his voice and his good work in the ancient arts of the most classic blues. The sounds that came out of the cells of Mr. Robson 's harmonica made a respectable devotee travel from Memphis to Chicago and back and feel the waters of the Mississippi in the depths of his being. And it is that our guide that night, despite being born on this side of the ocean, he knows the language and mysticism of blues like no one else and transmits them song by song". Ballesterock Reviews, Madrid Spain
"A brilliant Giles Robson gig. He was the headliner and lived up to that in every respect. Giles Robson inspired with his wealth of ideas on the harmonica and was able to involve the audience in the stage action again and again". Zyfflich Rocktimes Germany
"Thursday night we jumped to Milwaukee Puerto Santa Maria to witness the live show of Giles Robson I must say it's one of the best blues concerts with no additives or preservatives I've ever seen. A winner of much deserved awards by the most distinguished institutions worldwide do him justice, he entered our insides and shook our soul from the inside out with the strength of a titan". Qconcieratos Music Magazine club review Spain
"For the last song, Giles Robson was asked to take the stage and "Sweet Home Chicago" was used. The fire on the stage is stoked with a sublime harmonica battle, in which Messrs. Bell and Robson fought a magnificent duel. Music is not a competition and I will not declare a winner on stage. The big winner was the audience". The Blues Alone, Rotterdam Evening With the blues Review
"With his rousing Mississippi saxophone and his great voice he blows everyone's socks off. Blues of the highest order, classic but with a modern twist. Everyone loves Giles Robson. Assisted by a solid band, the man was completely ready to blow us off our socks and he did. Giles showed why he is a master on the harmonica. Wow! Phenomenal what the man manages to squeeze out of that little thing. There followed some phenomenal instrumentals that knocked everyone out. Game, set and match for Mister Giles Robson!!"Rootsville.eu Stekene Blues Festival Belgium review
"The first of the highlights on Thursday was The Bruce Katz Band with Giles Robson. Bruce Katz only started the program in a trio, which made the breath taking organ and piano stand out. Katz did not brake before the plunge turns to jazz. The more traditional blues form came when the American keyboardist was joined by British harmonicist Giles Robson, one of the instrument's most respected virtuosos". Lidovky.cz Blues Alive Sumperk Review.