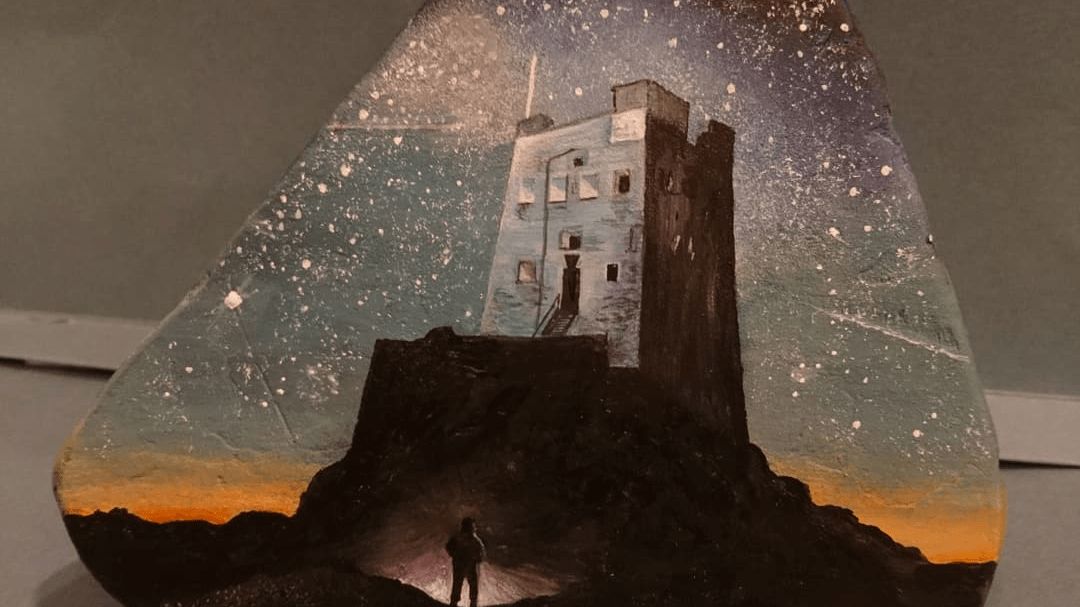 Pop up exhibition exploring the local environment
ArtHouse Jersey has announced the latest in their pop up art exhibition series, this time with Anita Rive, Deborah Brown, Emma Faull and Stephanie Rondel. You are invited to 'pop up' to Greve de Lecq Barracks on Saturday 15 & Sunday 16 July 2023, between 10am and 5pm to enjoy the art on show in our unique  exhibition space.
This exhibition will involve four artists working in different mediums, exploring the local environment. Anita Rive paints local scenes and historical sites on Jersey granite.
Deborah Brown (Homebytheseaarts) creates pictures using seaglass and shells combined with watercolours or acrylics. Emma Faull is an ornithological artist specialising in endangered species and she will exhibit paintings of Jersey wildlife. Stephanie Rondel is an art teacher and landscape painter who has recently been exploring reflections between land and sky producing both colourful oil paintings and detailed drypoint prints.
Anita Rive said: "I have always been artistic; from a very early age it came quite naturally to me. After I was married, I stopped to bring up my two boys – I was too busy to think about painting but I loved it and wouldn't change it for the world! About six years ago, following a period of bereavement and poor mental health, I took up painting again and found it to be a very powerful way to improve my mental health. It also brought me back in touch with my creative side. I began to paint on large pieces of granite, which are basically offcuts of worktops, so a good recycling exercise too! I work for Jersey Heritage and am passionate about my Island and its amazing varied history. I am looking forward to the exhibition as it is my first one and I am hoping that people will be inspired by my artwork."
Deborah Brown said: "I have always enjoyed walking along our Jersey beaches and finding treasure in the form of sea glass, sea pottery and shells. This led me to creating pictures using the pieces and I have grown to enhance the quality and variation of each picture by including watercolour and acrylic painting in order to set a scene. Because of the elements used in making the pictures they come alive with a tactile appeal. All of my pictures in this exhibition will be Jersey and Ecrehous views. This is my first exhibition so I am really looking forward to collaborating with other Jersey artists and sharing this fabulous gallery space with them."
Emma Faull said: "I have always loved watercolour, particularly painting birds in their habitats. Being part of this show allows me to highlight the wonderful variety of coastal birds in Jersey- Puffin, Chough, Terns, Shearwater and wintering Kingfisher and many others. Different watercolour techniques have been used and I will bring materials to the Barracks for anyone that wants to have a go."
Stephanie Rondel said: "Sharing an enjoyment and passion for art is at the heart of my practice. I am a Teacher of Art at Jersey College for Girls and the role of the Artist Teacher is one of great interest; exploring the way these two roles inform and enhance one another as an ever evolving process. I similarly see my painting practice as ever evolving. I am drawn to our connections with places. My work always begins with walking and journeying through the landscape, drawing upon these experiences and feelings to encapsulate moments in time through my work. The exhibition will feature a combination of local landscapes as well as paintings inspired from a trip I had taken to Iceland exploring the elemental nature of the country; often being referred to as the land of fire and Ice."
---
Picture: By Anita Rive