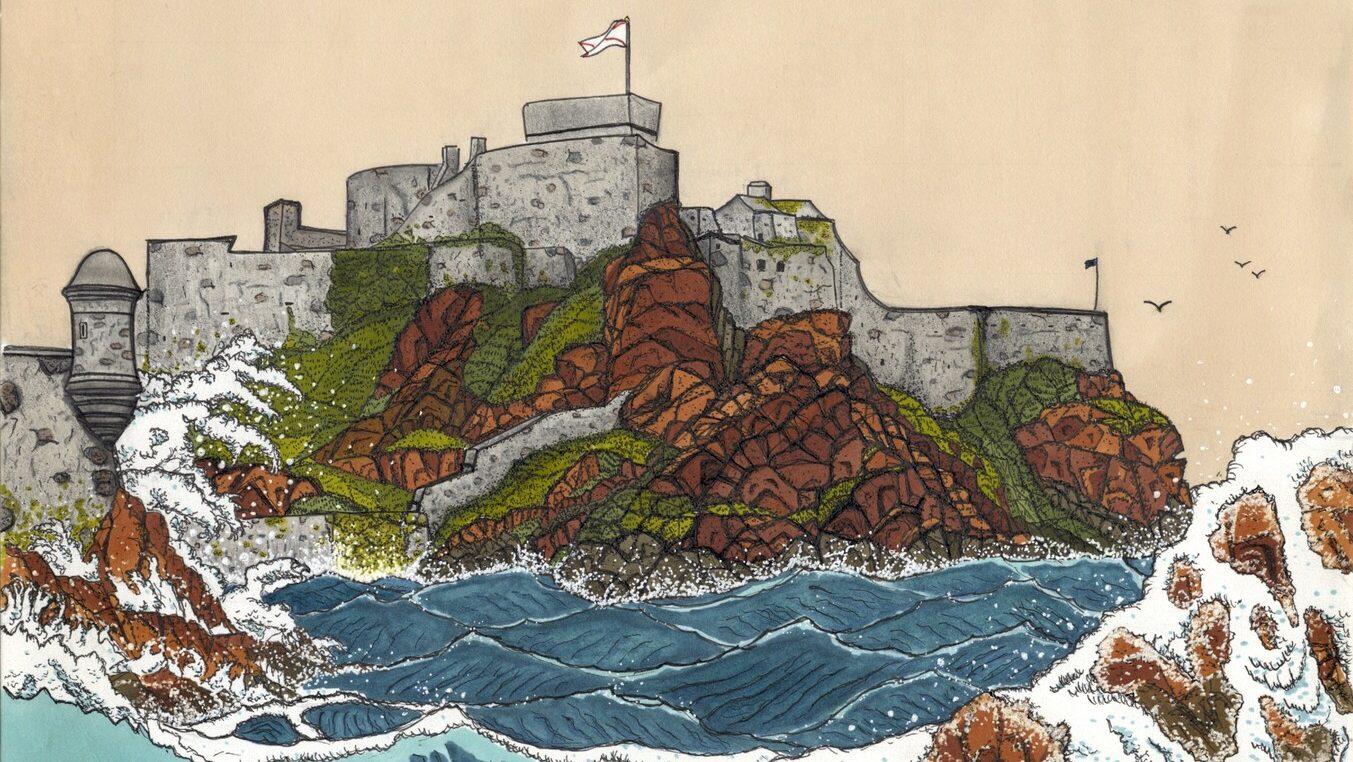 Pop up art exhibition: Antiochus Omissi and Theo Jenner.
ArtHouse Jersey welcomes the latest in their pop up art exhibition series, this time a joint show with artists Antiochus Omissi and Theo Jenner.
People are invited to Greve de Lecq Barracks on Saturday 25 and Sunday 26 November 2023 between 10am and 5pm where both artists will be present to greet visitors and talk about their work.
Theo Jenner is a former London-based lawyer and now a self-taught local illustrator. He picked up art as a hobby over lockdown and it has now become his main occupation. Recently he acted as the lead artist and marketer of Jersey's Lunar New Year Festival. Inspired by his time studying Asian Anthropology at university and briefly living and travelling in Asia, Jenner illustrates Jersey landscapes using the techniques of 17th to 19th Century 'Ukiyoe' artists from Japan.
Ukiyoe translates as the 'pictures of the floating world', perfectly describing his wish to depict the tranquil and beautiful side of Jersey using vibrant colours and simple pen strokes. Jenner's love of art began when he first saw a picture of the Great Wave off Kanagawa by Hokusai at 13. The artwork of Hokusai, Hiroshige and other ukiyoe artists inspires him to create artwork of Jersey showing the wonder and beauty of the island and the natural world.
Theo Jenner said: "I look forward to being able to showcase my art and let islanders experience it for the first time and hopefully many more times in the future. Also it has been a pleasure meeting Antiochus and working together on this exhibition."
Antiochus Omissi alias The Pengolin is a freelance illustrator and painter from Jersey, currently working in France. His interest in environmental questions led to his first solo picture book Giant In The Jungle, a bilingual story about plastic pollution published in Cambodia by Sipar Books in 2022. His other work includes story illustrations for Climate Illustrated and The Ecological Citizen, political portraits and cultural maps for the South East Asia Globe and Discover magazines, murals in Morzine, Avignon and Jersey, and a decade of collaboration with The Story Beast.
The work he will be presenting in this Pop Up exhibition is a study of eight themes related to Climate Change, in Jersey and beyond. He works in traditional media; primarily gouache, pencil, or pen and ink, and uses recycled paper whenever possible.
Antiochus Omissi said: "As an illustrator, I'll never be able to contain the enormous complexity of environmental questions in my drawings. I hope that my pictures draw out enough of the emotional heart of those questions to lead people to explore that complexity for themselves. I had just read Thich Nhat Hanh when applications opened for the Pop Up exhibitions. These paintings are the result of that coincidence. I spoke to the people working on the issues and tried to read and get informed about the climate questions that are most relevant to the Island community, although,there is so much to learn and these questions cross all the borders we trace. I'm very grateful to be participating in a Pop Up exhibition, and I look forward to welcoming everyone at Greve de Lecq Barracks!"
---
Pictured: Artwork by Theo Jenner