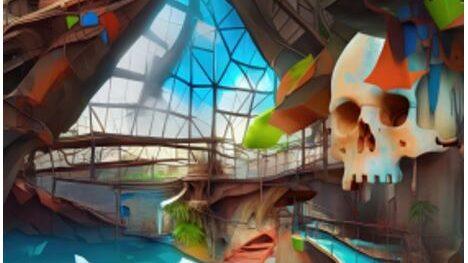 'Playtime' exhibition by Will Lakeman
ArtHouse Jersey has announced their upcoming exhibition 'Playtime' by Will Lakeman.
The work in this exciting exhibition recreates the strange hold that childhood spaces have on our adult memories, all centred around the Jersey childhood mecca of old Fort Regent.
Lakeman is a photographer who has nurtured an obsessive interest in 'the Fort', and has spent his adult life revisiting weird dreams of this iconic building and its heyday in the early 1990s. With the works accompanied by a custom soundscape, smell and touch, Playtime encourages visitors to revisit their own dreams. The exhibition opens with a special preview evening on Wednesday 24 May between 5.30pm and 7pm and runs through until Sunday 2 July 2023.
If you were ever a visitor to Pluto's Playtime, spun around the roller disco on your Bauers, felt bilious on the pirate ship or slunk around in the shadows of the Exploratorium, this exhibition is without question for you. In a broader sense though, this exhibition is about nostalgia and how it is not always reliable. You can't photograph a place that has long ceased to exist, so Will Lakeman has responded by using photo manipulation, collage and new technologies of artificial intelligence to recreate the Fort as he remembers it, not as it ever really was. The resulting images try to evoke the odd, fantastical memories we carry of childhoods everywhere.
Artist & photographer Will Lakeman said of the upcoming exhibition: "I'm really excited for people to see this show, which I now realise I've been trying to make for most of my adult life. I have a really intense interest in a specific era of Fort Regent's history – the funfair and swimming pool – but I have hardly any photos of myself there. I had to try and recreate my memories, and the more I tried the stranger the results became.
"The show involves photographs, reconstructions made with Artificial Intelligence, a soundscape, found objects and even some smells. Although it's rooted in 'the Fort' I tried to capture something universal in the experience of being a child, beyond excited to go to the leisure centre. I hope it says something to everybody.
"Completing a project that is both this personal and quite elaborate would only be possible with the support of an organisation like ArtHouse Jersey. At the start all I had was obsession, a few crude images, and a trick where I made people close their eyes and wafted the smell of a swimming pool under their noses. They somehow had faith in me and have nurtured the project since then. I'm so happy to be finally be able to share it with the public"