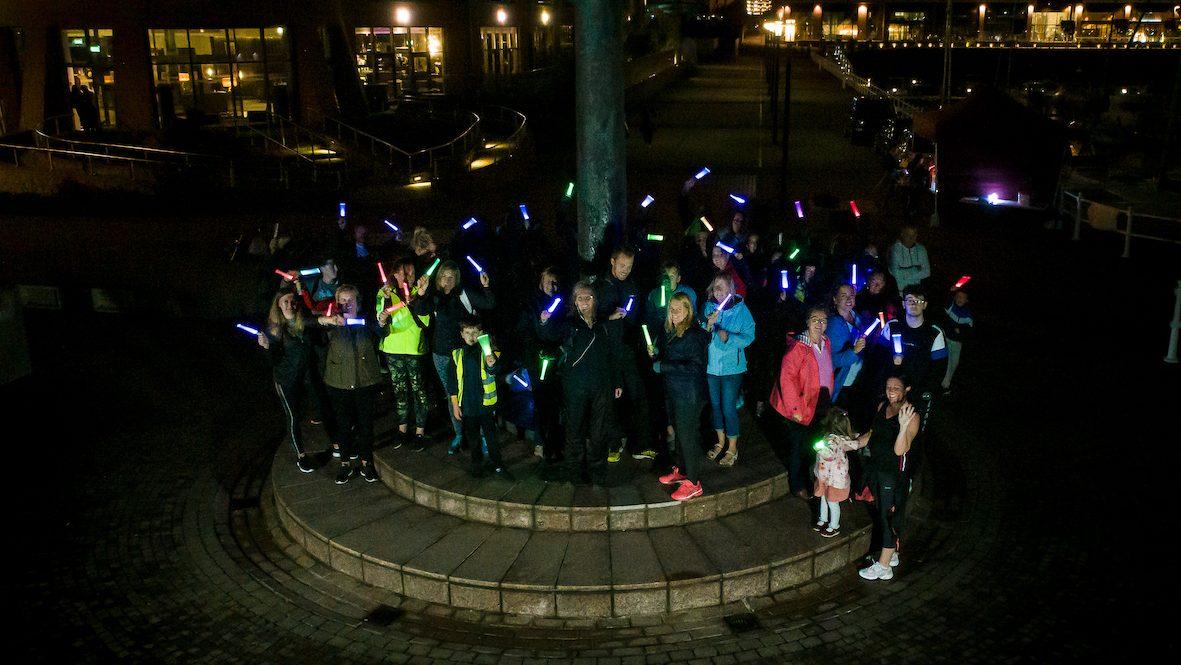 Philip's Footprints 10km Starlight Walk
As part of Baby Loss Awareness Week, the charity are holding their annual 10km Starlight Walk on Saturday 14 th October.
Walking from the Waterfront to St Aubins and back, the event helps raise awareness and funds for the charity and is open to anyone. It also gives families the opportunity to walk in memory of babies and children who have died.
All are welcome, the flashing torches provided are very popular with adults as well as children and there are medals for everyone finishing.
Starting anytime between 5pm and 7pm.
With thanks to event sponsor, Slomans Estate Agents.
Starting at the Waterfront Gardens, to St Aubin and back. If you're not up to the whole 10km – please join anyway and just walk what you can. Dogs welcome.
Online Registration (closes Saturday 14 October midday) :
Adult 19 + £10
Under 5s free –  but please book a ticket
Children 5-15 years inclusive £2 (under 16s must be accompanied)
Students 16-18 inclusive  £5
Environmentally friendly LED glow sticks are available to borrow and a medal for everyone returning to the start/finish point.
Registration on the night:
 Adult – increased fee £15
Student 16 – 18 years £5
Children 5-15 years – still £2
Under 5s still free!
T-Shirts not available to purchase on the night. As with previous years, to reduce waste these are only available by ordering in advance. We're sorry, the date to order t-shirts has now passed.
Start/Finish at Waterfront Gardens, above Waterfront Car Park (What3Words /// reach.manages.lion)
Start: Anytime between 5pm and 7pm
Finish:   9:30pm  (Please note St Aubin's marshal point closes at 9:00pm Bel Royal point at 9:15pm)