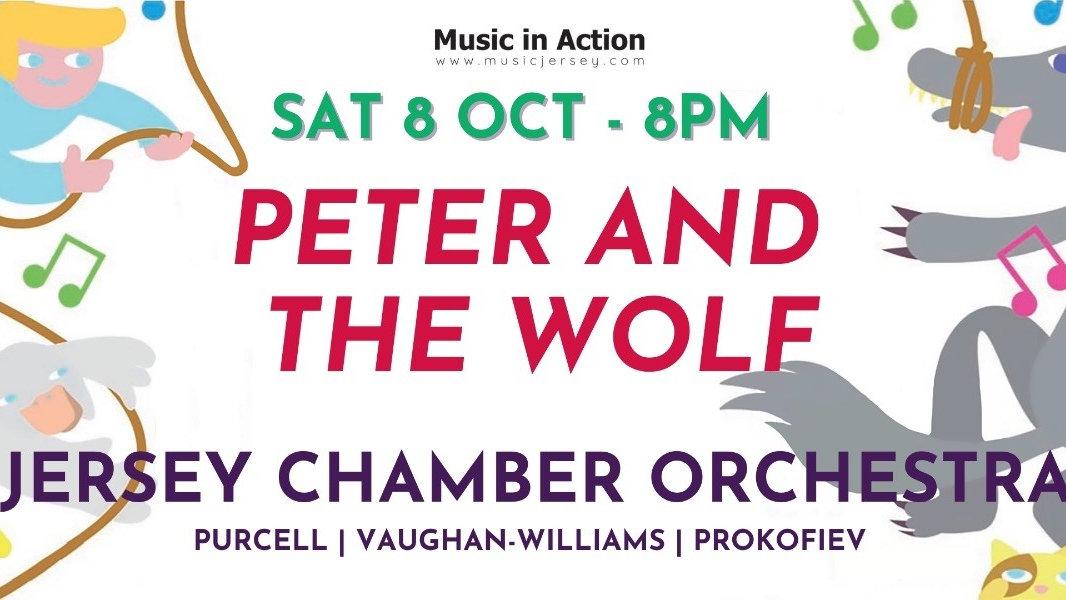 Peter and the Wolf with Jersey Chamber Orchestra
A concert of masterworks and audience favourites. Join the Jersey Chamber Orchestra to listen to music that is much loved presented alongside lesser known gems selected by Eamonn Dougann the chief conductor of the Jersey Chamber Orchestra. From the Lark Ascending to Peter and the Wolf this will be a magical evening.
Opening with Henry Purcell´s Chacony, dramatic notes pour over a powerful bass in a series of wonderful variations. Next up Shakespeare needs no introduction. After a short recitation, be inspired by English composer Gerald Finzi's 3 beautiful Soliloquies commissioned by the BBC for a TV version of Love's Labour Lost in 1946.
Our soloist and leader Anna Smith, from the BBC Symphony Orchestra and a wonderful violinist, will then perform the famous Lark Ascending by Ralph Vaughan-Williams. Often rated in the top ten classical pieces by audiences, the imagery of a lark flying in the countryside is wondrously uplifting. To end the half, soprano Lylis O'Hara, Music in Action Young Artist 2022, will transport us into Cecilia McDowall's musical worlds for Four Shakepeare Songs.
The second half contains two very special orchestral works : Pastoral d'été composed by the French-Swiss composer Arthur Honneger was inspired by the Swiss Alps. Inscribed with an epigraph by Arthur Rimbaud: "I embrace the summer dawn", it opens with a languorous theme on the horn. The final work is Peter and the Wolf – a musical story composed by Prokofiev closing our journey through music and words. Peter's bravery saves the day and we leave with the sound of the horn ringing in our ears as the Wolf is finally captured.
Don't miss your opportunity to join Music in Action at this exclusive event hosted in the beautiful St Helier Methodist Church, where you will enjoy an ensemble of famous music and poetic works, a night of classics to remember!
Discount Codes at check out are CHILD for U18s for tickets between £1 and £3.50, and OAP for £1 off all tickets for OAPs. Music in Action Members use the Code MIAMEMBER. Please note that seats in the Balcony offer a slightly restricted view of the orchestra.
Jersey Chamber Orchestra
Conductor : Eamonn Dougan
Soprano : Lylis O'Hara Solo Violin: Anna Smith:
Programme
Henry Purcell Chacony in G minor
Gerald Finzi 3 Soliloquies from Love's Labour Lost

So sweet a kiss the golden sun gives
Did not the heavenly rhetoric
On a day, alack the day

Ralph Vaughan Williams The Lark Ascending
Cecilia McDowall's 4 Shakespeare Songs
Arthur Honneger Pastoral d'été
Sergei Prokofiev Peter and the Wolf (arr. David Matthews)