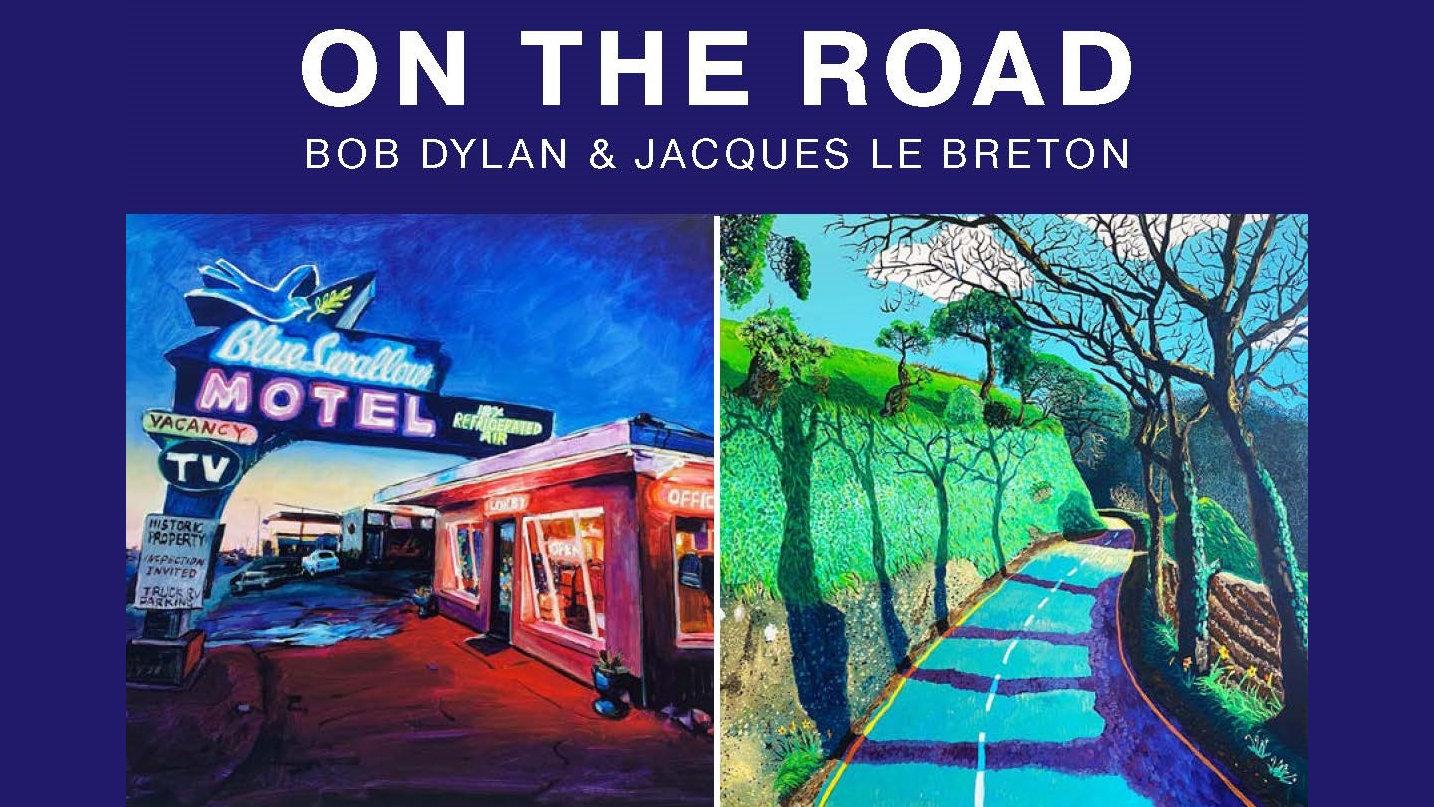 'On the Road': Recent paintings by Bob Dylan & Jacques Le Breton
Ahead of Bob Dylan's UK Tour in October Private & Public Gallery are delighted to provide an exhibition of recent artworks by the Nobel Prize winning writer, poet, musician and artist from his 2022 Retrospectrum Collection. The exhibition is titled 'On the Road' and also showcases paintings and sculpture by the Jersey based artist Jacques Le Breton.
On the Road is a 1957 novel by American writer Jack Kerouac, based on the travels of Kerouac and his friends across the United States. It is considered a defining work of the post-war Beat and Counterculture generations with its protagonists living life against a backdrop of exuberant jazz, poetry and penniless debauchery. The novel is a roman à clef, with many key figures of the Beat movement, such as William S. Burroughs (Old Bull Lee) and Allen Ginsberg (Carlo Marx) represented by characters in the book, including Kerouac himself as the narrator Sal Paradise.
The idea for On the Road was formed during the late 1940s in a series of notebooks, and then typed out on a continuous reel of paper during three weeks in April 1951. This frenetic form of free writing has many associations with the spontaneity of Jazz and to action painting which gave rise to the great abstract expressionists such as Jackson Pollock in 50's and 60's New York.
The New York Times hailed the book's appearance as "the most beautifully executed, the clearest and the most important utterance yet made by the generation Kerouac himself named years ago as 'beat,' and whose principal avatar he is."
'On the Road' proved to be one of the most influential literary publications of the 20th century and subsequent generations of artists and musicians where inspired to 'drop out' of mainstream culture and follow their own creative dreams whilst on the hippy trail.
Perhaps its most profound influence was on Bob Dylan who said at the time 'I read On the Road in maybe 1959. It changed my life like it changed everyone else's'.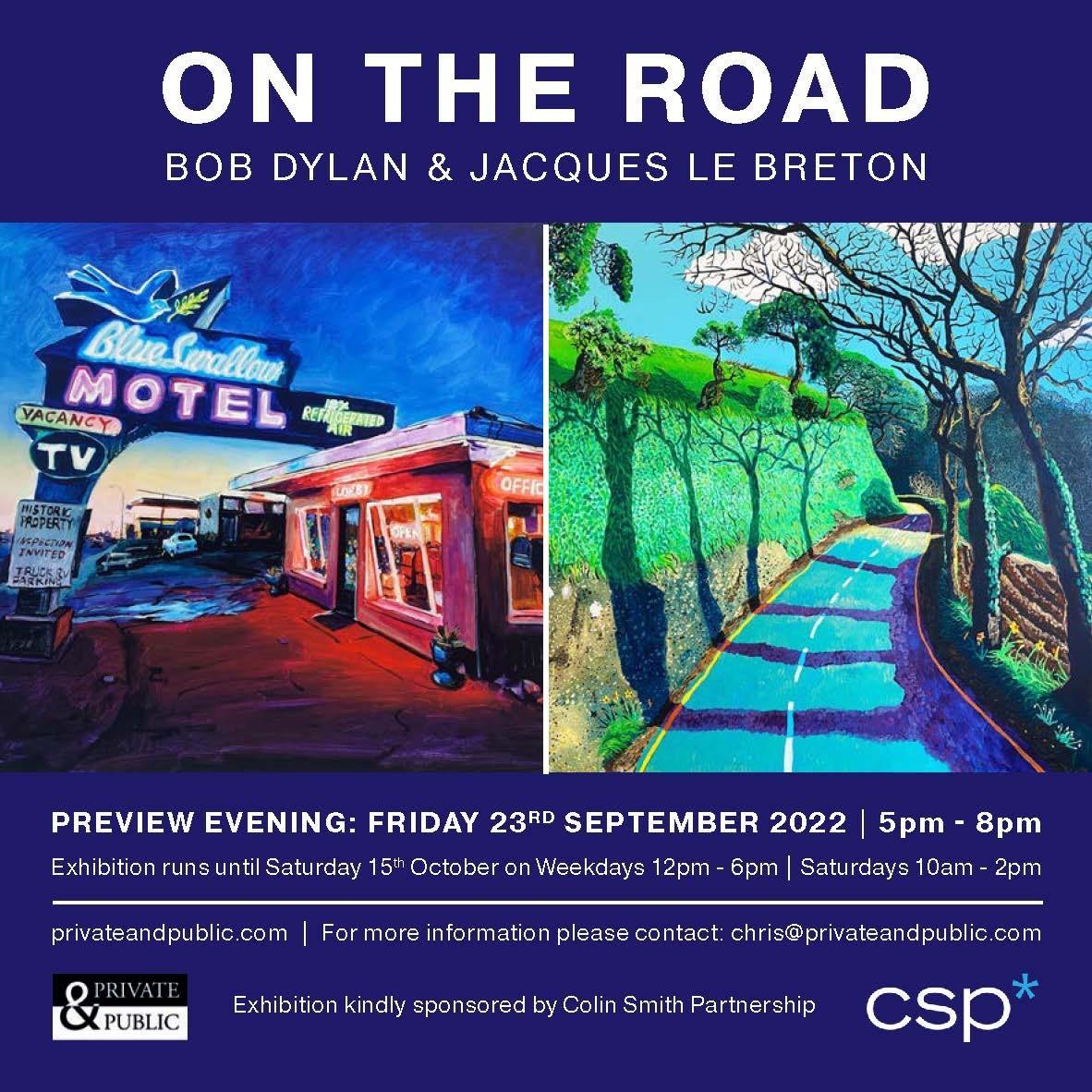 While legendary singer-songwriter Bob Dylan needs no introduction, his drawings, paintings, and silkscreen-on-canvas compositions are not as well-known as his music but he has been making art since the 1960s when he came on the scene as a young folk singer in Greenwich Village. Much of his work reflects the impressions made upon him by the people and places he has encountered while bringing songs like "Blowin' in the Wind" and "Subterranean Homesick Blues" to audiences everywhere. These expressionistic drawings and the paintings include classic American street and interior scenes, landscapes and portraits and his images are as poetic and personal as his music.
'How many roads must a man walk down before you can call him a man? . . . The answer, my friend, is blowin' in the wind, the answer is blowin' in the wind.'
Jacques Le Breton, like Jack Kerouac, can trace his family history back to Brittany but grew up in Jersey where he has been captivated by the countryside and in particular the idiosyncratic network of high banked country lanes that define our rural landscape. And similarly to Kerouac the artist has travelled  extensively across North America before settling for two years in Desolation Sound in British Colombia, Canada. Talking about his experience Jacques
explained;
"Before living in Canada it had never occurred to me to paint pictures of Jersey. I had always felt that there was so much world out there, why would I paint what was on my doorstep? This was the main reason I made the move, I wanted to paint somewhere new and inspiring to me, and that's exactly what I did for those two years. I lived in a small town called Powell River about six hours up the coast from Vancouver and that experience was hugely important to my personal and creative development."
After two years away however Jersey called the artist home and he returned with fresh perspectives and after seeing his fair share of not just Canada, but also the wider world. It was at that time that he came to realise that the more places he saw that there is no place quite like Jersey which, for him, is now a truly inspiring, beautiful and unique location.
"I think that the rural countryside of the island is often overlooked by Jersey artists as it's very easy to be drawn to Jersey's stunning natural coastlines for subject matter but when you look inland you can find idyllic scenes in every season".
And whilst Jacque Le Breton enjoys the work of Bob Dylan his biggest inspiration are David Hockney's paintings from the 1980's which are richly textured landscapes made with bold colours and confident brush marks.
"My current paintings are largely the result of my desire to look at Jersey with the same joy and love he evoked in his pictures from that period when he returned from California to paint his beloved homeland Yorkshire".
Jacques Le Breton received a First Class Honours Degree in Illustration and Visual Communication from Westminster University in 2015 and this is his first exhibition at Private & Public Gallery.
Gallery Director Chris Clifford says, "If roads are about anything then they are about a journey, a journey that has a beginning and middle and an end. Both artists, in their own way, have skilfully managed to capture the essence of their life journeys and beautifully portray the landscapes that have captivated their artistic imaginations".
Richard Stather, from the exhibition sponsors Colin Smith Partnership, says "We at Colin Smith Partnership are delighted to support the 'On the Road' exhibition, showcasing the work of the legendary Bob Dylan and local artist Jacques Le Breton. Bob Dylan is respected and revered throughout the art world and he was awarded the 2016 Nobel Prize for Literature and Rolling Stone Magazine named him the best songwriter of all time. He was unafraid to answer his artistic calling in more than one medium, achieving critical success with the pen, microphone and the paintbrush.
Jacques Le Breton is a hugely talented local artist – one to watch in the future. His bright murals can be seen around the well as on canvas. His use of colour marries the fun in each piece and really draws the eye".
---
Preview Evening & Drinks Reception on Friday 23rd September from 5pm-8pm
Exhibition runs until Saturday 15th October and is open weekdays from 12-6pm and on Saturdays from 10am-2pm
Exhibition Kindly Sponsored by Colin Smith Partnership