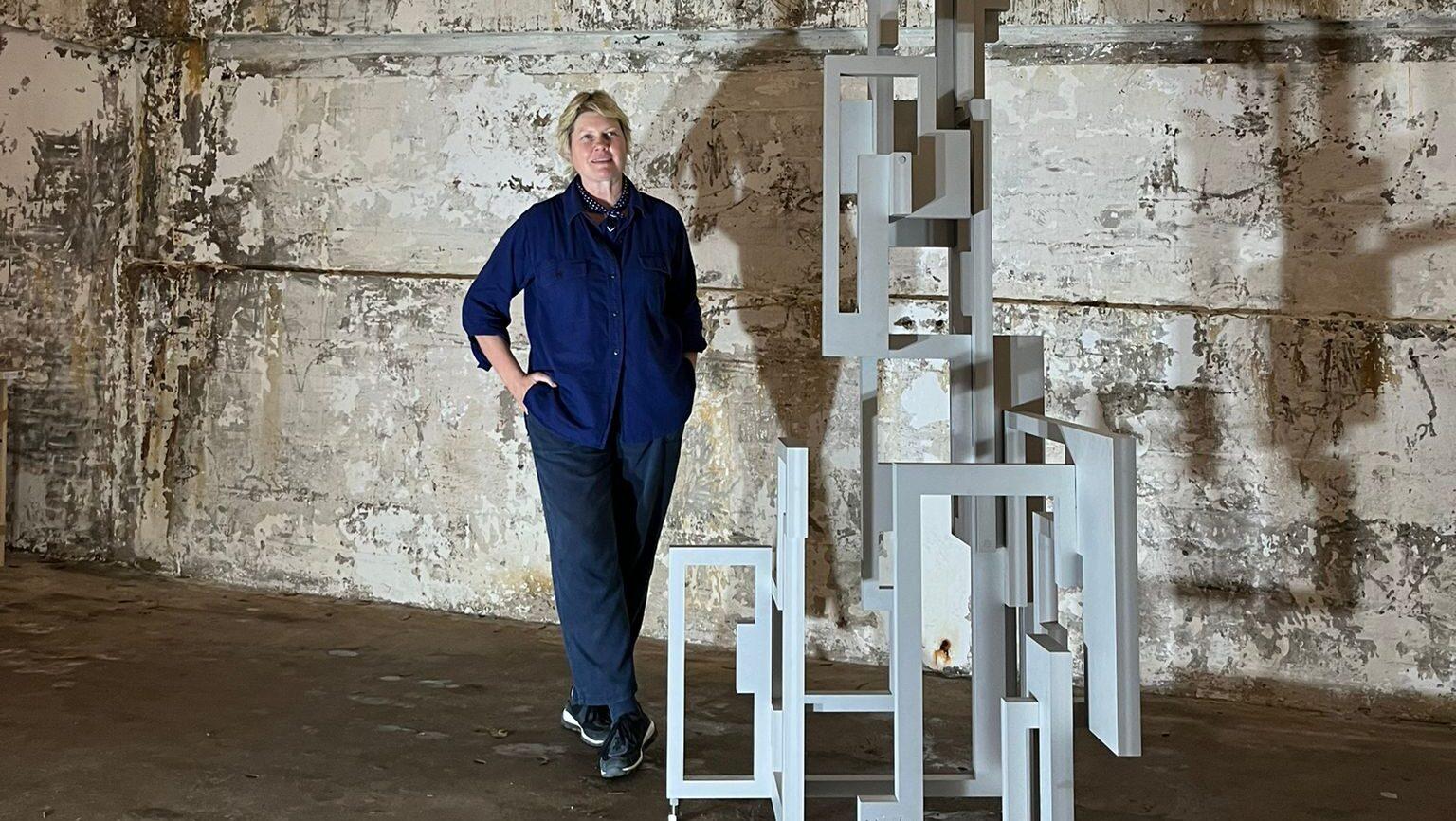 No Place Like Home Exhibition: Ghost Echo Sculpture
ArtHouse Jersey has announced another external art installation as part of their ambitious exhibition, No Place Like Home.
The specially commissioned sculpture Ghost Echo by acclaimed British artist Lisa Traxler @lisa.traxler is now on display at the entrance of the Jersey War Tunnels until 25 October 2023. The title of the piece refers to those who have gone before, the importance of narrating our history and architecture as ghosts in the landscape, with aim of prompting memory, forgiveness and hope.
A conversation through time and across locations, Ghost Echo consists of fifteen shaped pieces cut from a single sheet of aluminium which slot together to form a whole without creating any waste. At three metres tall and pale grey, Ghost Echo stands as a portal or a sentinel in the landscape. A doorway through history or a gateway to another place, Ghost Echo draws on the artist's WWII family history and the connections between the Isle of Wight and Jersey – evoking memories and connection, displacement and loss.
Lisa Traxler is an award winning artist combining painting and sculpture within her practice. An elected member of The London Group (2022), Royal Society of Sculptors (2017) and Royal Watercolour Society (2015) with work held in private and public collections, notably Southampton City Art Gallery, RWS Diploma Collection, London and Fabriano Museum, Italy. Recent Arts Council England Grant Awards enabled the solo exhibition, 'Blast Wall' The Foundry Gallery, Chelsea, 2021 and 'Dazzle + Disrupt' Quay Arts, IW 2021, enriching her practice, empowering new work with a fuller analysis of her unique slotted sculptures. Her solo exhibition 'Time Traveller' continued this spacial investigation at Southampton City Art Gallery, 2022. The artist's recent solo exhibition, 'Outer Space' at Pangolin London, 2023, created a dialogue of memory sculptures within the five gallery windows.
Ghost Echo by Lisa Traxler will be on display by the Jersey War Tunnels entrance, (no ticket required) until 25 October 2023. Open daily 10am-5pm. Jersey War Tunnels are situated 4 miles north-west of St Helier, in the country parish of St Lawrence. The War Tunnels are easily accessible by public bus, car or by bicycle. It is also a feature on a number of Island coach tours.
Artist Lisa Traxler, said: "Engaging with the history of Jersey through this commission from ArtHouse Jersey has been such a privilege. To narrate my story from my home island, the Isle of Wight, to that of the people of Jersey has been an enriching experience. I also want to thank Jersey War Tunnels for embracing the sculpture 'Ghost Echo' and agreeing to its home for the duration of the exhibition. The subject matter is many layered and the artwork is asking us to contemplate a difficult subject matter. I hope the viewer may experience a sense of hope and contemplation through engagement with this work."
Director of ArtHouse Jersey, Tom Dingle, said: "We are proud to be able to present the work of this incredible artist at such an iconic location for Jersey. The poignant connection between Traxler's familial WW2 history and the atmospheric surroundings of Jersey War Tunnels could not be a better match. No Place Like Home is an exhibition that encourages us all to consider what home really means to each of us. Ghost Echo provokes us to consider how home can live in memories and nostalgia, but also what it really means to be displaced."
Anthony Clarke, General Manager at Jersey War Tunnels said: "We're delighted to have such an evocative and thought-provoking work-of-art on display at the Tunnels. We hope visitors will take time to consider the important messages portrayed by this talented and renowned British artist."