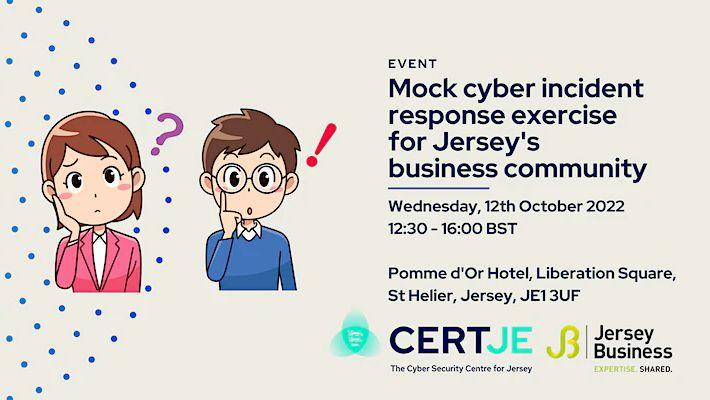 Mock cyber incident exercise for Jersey's business community
As part of Cyber Security Awareness Month CERT JE; Jersey's Cyber Emergency Response Team, in association with Jersey Business, would like to invite you to join them at the Pomme d'Or Hotel for a mock cyber incident response exercise.
This exercise will provide participants with the experience of being part of an incident response team.
This cyber emergency scenario exercise will be facilitated by Lynne Capie and CERT.JE. Whilst details of the cyber incident response exercise will not be shared in advance, please come prepared to represent your organisation in a cyber emergency with potential impact on the safety and security of Jersey citizens and the reputation of our island.
CERT will be providing a platform and forum for discussions surrounding cyber security, data protection and reg tech with a number of experts in their field sharing their expertise, views and experiences. They will also be working with groups to host mock cyber incident exercises to support participants develop a greater understanding of the potential challenges faced by businesses in the event of cyber emergencies.
Should you have any comments or suggestions prior to the event, please contact hello@cert.je
Why now
Following the incident readiness exercises CERT carried out in November 2021 and May 2022, the learnings from Russia/Ukraine, and the contributions of key partners in recent months, they continue to develop our readiness as an island.
They have been working with a number of organisations and partners across the Jersey community to develop a month-long programme of events. They want to:
develop and enhance cyber security awareness in Jersey,
support individuals and businesses to understand how best to prepare for, protect from and defend against cyber threats.
These important exercises will enhance the cyber resilience of your organisation and improve Jersey's readiness to respond to a cyber-attack.