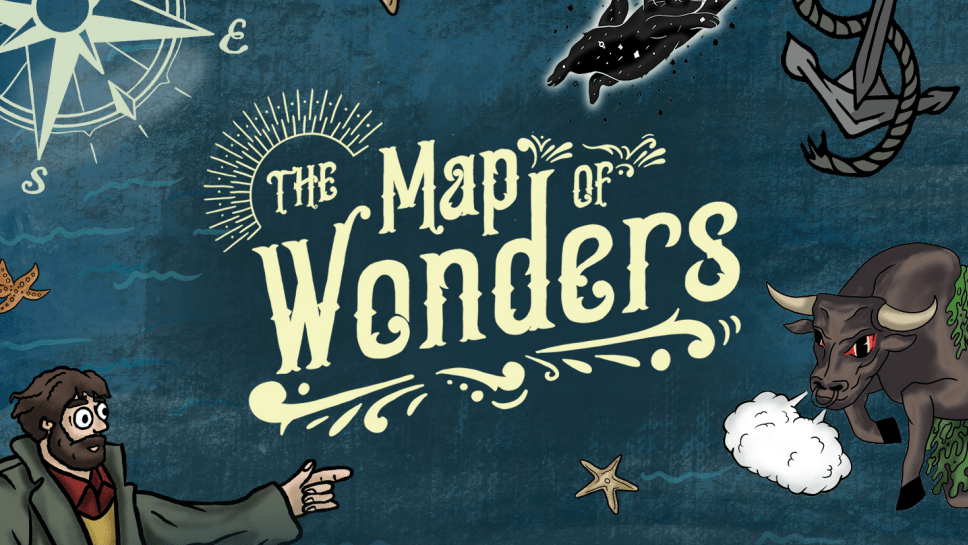 Map of Wonders exhibition
The Map of Wonders exhibition is an art show exploring Jersey's folklore, history and natural environment through creativity.
This free, family-friendly exhibition is a celebration of work undertaken by primary school children across the Island and invites the public to come and explore the awe, wonder and magic hidden in our Island's historical stories. Opening on Friday 16th September this lively and interactive show will run at Capital House until Sunday 2nd October 2022 (closed Mondays).
The Map of Wonders exhibition will take visitors on a physical and interactive journey around our Island's folklore. Following routes on our Map of Wonders, people will discover a sailing ship with colourful woven nets and a sinking golden chair, encounter a bull with a school of colourful fish and enter an observatory to explore paintings of galaxies. Watch out for the growing cat lurking in the hedgerow amongst the blue and white sun prints! There will be a treasure map to search for clues hidden in the stories and a metal detector to search for treasure. There is also a making table where visitors can create their own fantastical beast headdresses!
All the stories associated with the project and exhibition have been written by John Henry Falle AKA The Story Beast and can be read aloud as you journey around the show. There will be free family sessions including storytelling with The Story Beast that are available to book. These sessions are also being offered to primary schools alongside art workshops being run in the gallery space setting.
The Map of Wonders has been produced by Genesis Education, an arts partnership between ArtHouse Jersey and Children,Young People, Education & Skills (CYPES). Designed as a captivating educational film series with online educational resources, this programme was created to support pupils' wellbeing through the arts. Primary schools were given high quality resources including thirteen film episodes starring John Henry Falle AKA The Story Beast, lesson plans, teacher aids and art materials with a focus on cross-curricular learning.
The project has helped improve creativity across all schools and reduce barriers that stand in the way of creative learning experiences. The project began in 2020 as a way to support teachers and pupils during the challenges that arose from the pandemic. Since then it has provided art materials and learning resources to 24 schools with opportunities available to over 7,000 pupils encouraging children to engage in the telling of Jersey's folklore and history while becoming active guardians of the stories themselves.
Kate Sugden, Senior Curriculum Advisor for CYPES said: "The Map of Wonders Exhibition shares some of the art learning experiences of our primary children from the last two years. It will demonstrate how the curriculum can be taught in a creative, innovative and memorable way. This high-quality exhibition will show the immense value that we place on children's creativity and their enjoyment of art. It is exciting to have this opportunity to share the outcomes of the project with the general public at Capital House.
"I would like to take this opportunity to thank our schools, ArtHouse Jersey, Saltgate and the Government of Jersey for their support. This has been an outstanding project which has developed the skills of our children and staff. It has also contributed towards their wellbeing and recovery from the effects of the pandemic. Children will no doubt feel a deep sense of pride and excitement when they see the results."
Map of Wonders – Family Sessions
Storytelling with The Story Beast:
Friday 16 & 30 September: 3.45pm-4.30pm
Saturday 17 September: 10.45am-11.30am & 2.30pm-3.15pm
Corn Riot tales with The Story Beast
Saturday 1 October: 10.45am-11.30am & 2.30pm-3.15pm
Art Workshops:
Fantastical Beasts: Wednesday 21 September: 4pm-5.30pm
Ocean Explore: Sunday 25 September: 10.45am-12.15pm
Weaving a Seascape: Sunday 2 October: 10.45am-12.15pm