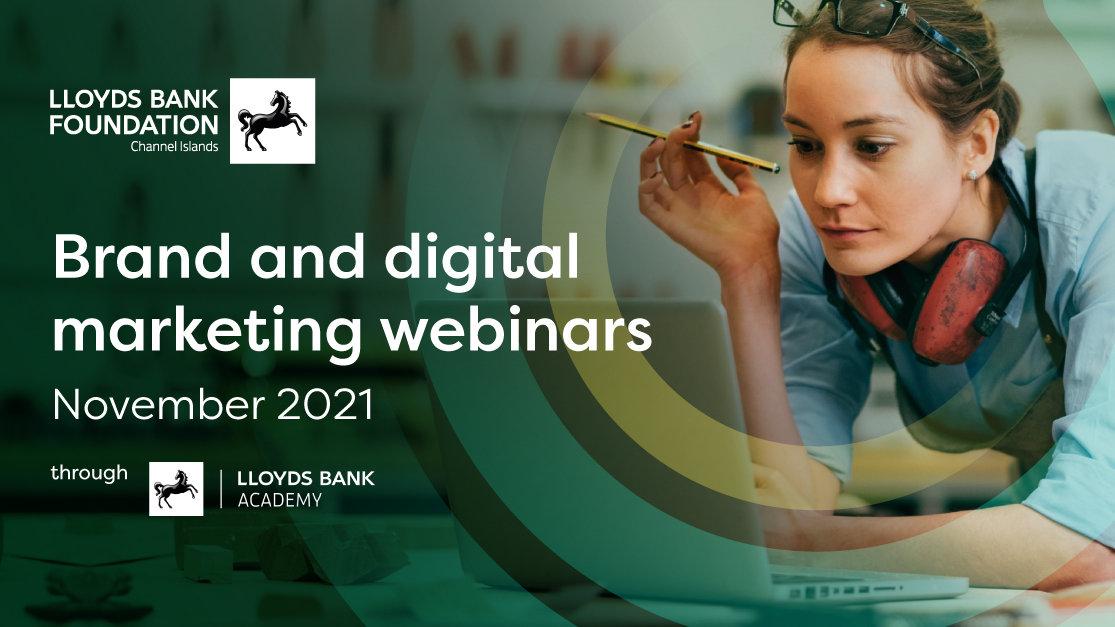 Lloyds Bank Foundation – Free series of brand and digital marketing webinars
Lloyds Bank Foundation for the Channel Islands in partnership with Lloyds Bank Academy is launching a free series of brand and digital marketing webinars.
Taking place every Tuesday in November, 12.00-13.00, the webinar topics include 'how to create a digital strategy' and 'how to communicate your charity's story in an online world'.
Lloyds Bank Foundation for the Channel Islands Executive Director, Johanna Le Poidevin, says: "With many of us spending more and more time online, digital marketing is essential for charities. From updating supporters to urgent appeals, virtual fundraising events to sharing positive news, having a clear brand and marketing strategy that really engages your audiences is critical. Developed by Lloyds Bank Academy, we've timed the series to help charities shape their 2022 plans."
The set of five webinars includes:
Tuesday 2nd November – Creating a digital strategy
Understand how a digital strategy can add value to your organisation and learn how to prepare a digital strategy for your charity. This could be organisation wide or for a specific project. You will identify your goals and identify digital tools available to help you achieve them. If you're thinking of changing how you do things in your organisation or you want to provide new ways to engage with your target audience online, this webinar is for you.
Tuesday 9th November – Leading and collaborating using digital tools
Whether your team works across different jurisdictions, from home or flexibly, it has never been more important to be up to date in the latest online tools. You'll learn what online tools are available to create an effective team culture and how you could successfully lead your team remotely.
Tuesday 16th November – Creating your online brand
Your online brand encompasses absolutely everything that you and your organisation does online. From social media to your website, to all the content you put out. Learn the steps you need to take to create a consistent brand across all channels.
Tuesday 23rd November – Telling your story in an online world
Through the power of storytelling, you can bring your charity to life. You will learn the different ways you can tell your story online, how to convey your brand and its purpose, and how to improve your communications to better engage your audience.
Tuesday 30th November – Becoming an effective influencer
Understand how to influence others to read, retain and recommend your content. You will learn how to really embed your brand's story and strategy and include clear 'calls to actions'.