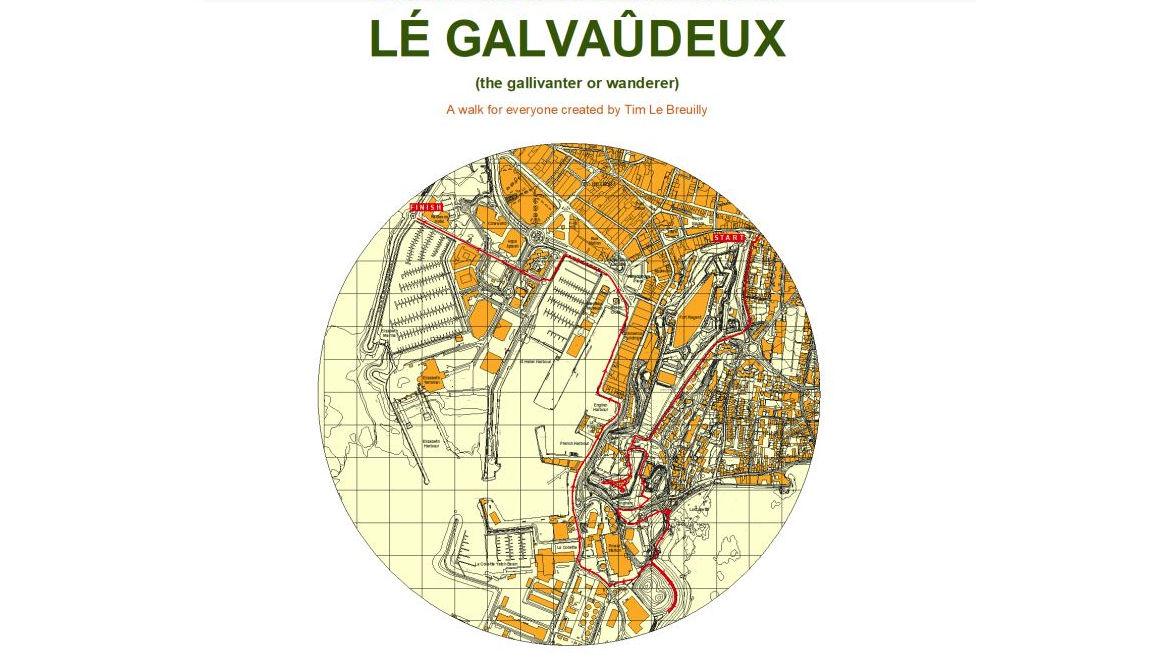 Lé Galvaûdeux: a walk with Tim le Breuilly
Lé Galvaudeûx is a walk created by Jersey artist and print maker Tim le Breuilly.
On Thurs, 28 September, 5.30pm Tim le Breuilly will be inviting islanders and budding artists to join him on a group walk of lé Galvaûdeux. The free guided walk will start at the Pop-up Park, Weighbridge Pl at 5.30pm and end at the Horizon Building around 7.00pm. Wanderers are advised to dress for walking and to come prepared to see St Helier through new eyes. Suitable for all ages.
The walk takes us on a ramble through parts of St Helier that many locals admit to not having known existed. Many who have taken the walk already have been documenting their discoveries and sharing them online.
The walk developed from an understanding of the importance of active public space and walking for wellbeing. Tim has been developing the concept with photographer Will Lakeman and film maker and artist Marc Medand who created the map.
All are also inspired by the ideas of the 1960's French philosopher and filmmaker Guy Debord, The Situationists and the KLF: "The Situationists were interested in reclaiming public space and finding new ways for people to experience the streets. KLF's 'Gimpo' still organises an annual 'M25 Spin' – a 25hr drive around the M25 circular in London joined by KLF fans. In 2002 Iain Sinclair published the book and documentary film of 'London Orbital' that trace his journey around the M25 on foot.
"Favoured techniques by the Situationists were to place a symbol over a map and then attempt to walk the symbol, or to attempt to navigate a city using a map of another city. Thinking about walking in this way can make it more ritualised. Robert Macfarlane refers to 'the thinking footfall – encouraging us to savour the moment, finding pleasure and purpose in the act of walking more slowly."
Public Voice: Common Ground have been working with Tim le Breuilly to bring back the joy of discovery and walking in St Helier. The map can be found online here or in the window at the new Horizon Building (opposite Cineworld). The walk is 3 miles and takes around an hour.
All wanderers are encouraged to sketch, write, film or record their experiences and post to Instagram mentioning @publicvoicecommonground and @ludditepressci with the hashtag #legalvaudeux. These might includeshopping lists, weeds breaking through the concrete or the things that only they notice.