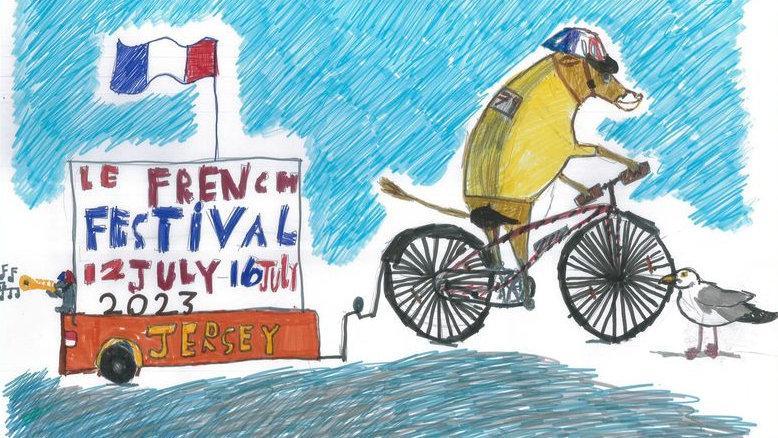 Le French Festival 2023
In July, Jersey celebrates its French connections as Le French Festival – five days of all things French – returns to the Island from 12th to 16th July 2023.
There's something to appeal to every taste from live music, hula hoop performances, open air cinema, live and screened opera, an escape game, a pétanque competition – to say nothing of food and drink, a Norman market and the arrival of the 90 yachts taking part in the Tour des Ports de la Manche. And, of course, a very French evening with the celebration for Bastille Day on 14 July!
Le French Festival returns for a fourth time, after the first festival took place in July 2017, but it revives a tradition which has a much longer history, dating back to the 1980s when Jersey first launched a cultural celebration of its links with its French neighbours.
This year, le French Festival organised several events to include local schools and children in the event: a Poster Competition was launched to choose the official poster for 2023 with 5 local schools taking part and a total of 47 posters collected. The choice was extremely difficult for Le French Festival committee who selected 8 runners-up. After much deliberation, the winning drawing was selected. Very well done to Michal (9) from Ecole FLAM (Français LAngue Maternelle) Jersey, whose design became the official poster of the 2023 French Festival Jersey! All the 47 posters are exhibited at the Alliance Française Jersey until 21st July.
A rich programme of events is planned for this 2023 edition of Le French Festival. Among the highlights this year:
"Dis-moi tes amours!", Royal Square, 14 July, 7pm – a one-hour show from opera to musical by the Lyrisme de Rue compagnie. The artists will take the audience on a light-hearted, sensitive and humorous journey to discover the many facets of the operatic voice. Arias and ensembles from operas, musicals and melodies respond to each other and collide. All in a warm and relaxed spirit.
Tapagwen, a joyful trio of musicians from Bretagne will offer wonderful performances mixing traditional Breton music with Irish, Acadian or ragtime influences. They will stroll around town, host 2 Breton Dance workshops and will finish with a concert on Royal Square on Sunday 16th July.
Angèle, hula hoop act. Angèle is a peculiar artist which balances hula hoop and singing. Come and see her unique performances, on Saturday 15th July in the Royal Square (free).
La Panthère des Neiges – Film screening (French with English subtitles). A magnificent film, suitable for the entire family, screened on Saturday 15th July in the Royal Square (free).
And of course, the Bastille Day celebrations!
Join us, from 5.30pm, Friday 14th July, in the Royal Square, for a very French evening where we will celebrate the French National day with a series of events. First, we'll kick off Le French Festival by officially thanking the children who took part in our poster competition and invite the runners-up and the overall winner to come on stage! Then, we'll welcome some of the winners of the French Section of the Eisteddfod who will perform texts, songs and poems in French! We will have the immense pleasure to have a short performance by le Ballet d'Jèrri just before the official Bastille Day ceremony and the unmissable "vin d'honneur".
Everyone, French, francophones, Francophiles, Jersey beans, newcomers or visitors are invited to raise a glass. As a French style 'vin d'honneur', complimentary drinks will be served (with some French nibbles) while you'll enjoy some background French music. The Lyrisme de Rue company will then perform their one-hour show "Dis-moi tes amours!" where professional musicians and opera singers will sing tunes from opera to musicals. And to conclude "en beauté" the evening, you're invited to a dance party, until 10pm, with our very own French DJ based in Jersey, DJ Stefunk.
All the events are free, including the chance to see the screening of "L'Elixir d'Amour" or Elixir of Love. The open-air screening is organised thanks to a partnership with the Opéra de Rennes, as part of "Opera on screen(s)", a project started in Brittany aiming at making Opera accessible to a wider audience. The Opera will be in Italian with French surtitles.
Le French Festival in Jersey is a collaboration between Maison de la Normandie et de la Manche, the Alliance Française de Jersey, the Honorary French Consul and Government of Jersey and is overseen by the volunteer members of Le French Festival Committee.