Kay Le Seelleur Ara exhibition: Mrs Magnitude's Emporium
ArtHouse Jersey has announced the upcoming launch of their next significant exhibition at ArtHouse Jersey at Capital House, this time with one of Jersey's leading contemporary artists, Kay Le Seelleur Ara – 'Mrs Magnitude's Emporium'.
Opening on Wednesday 19 July 2023, the show will run until 20 August 2023. It will feature hundreds of original works of art, paintings and drawings made over the last couple of years in a unique and inviting setting styled in the theme of one of the Royal Academy of Arts rooms for Academicians.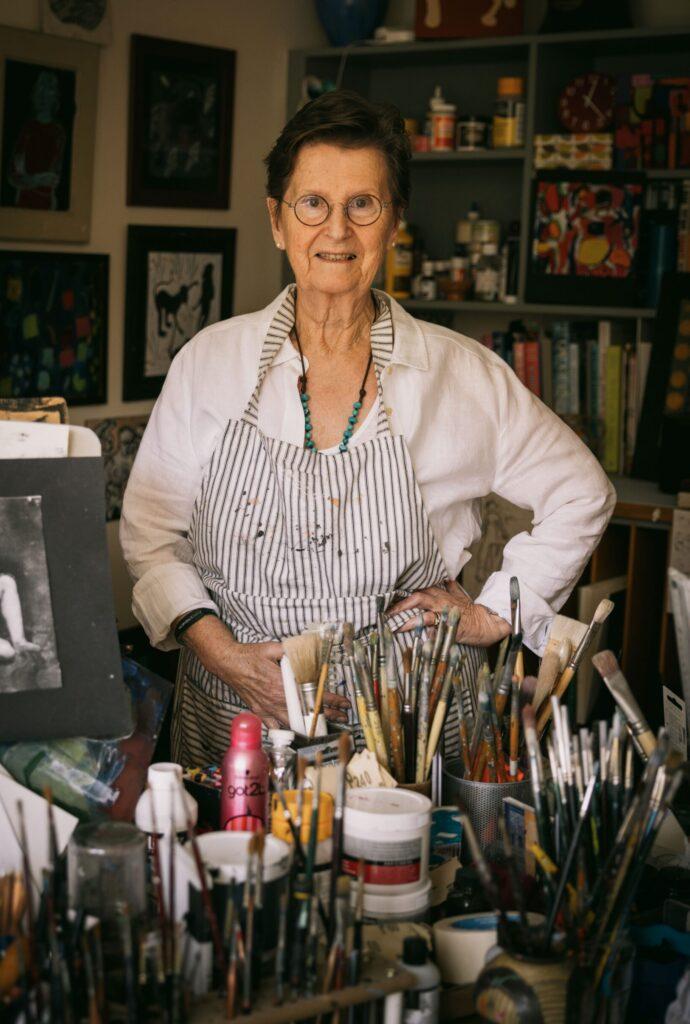 The exhibition contains a selection of the artist's prolific output with paintings and drawings she has made since a life changing moment in 2019. Kay Le Seelleur Ara regularly posts her work on Instagram and through social media has gained a diverse and growing audience of followers from around the world, ranging from fans in the Australian outback to world-class New York painters and critics. Her work can be explored via her three Instagram handles; @kay_leseelleur @kays_telly_doodles & @mrs_magnitude
Kay Le Seelleur Ara's Mrs Magnitude's Emporium should inspire a sense of awe and immersion for the viewer entering the space, with the surrealist nature of the work making it a playful and welcoming experience. It promises to be a fun and wild journey into the brilliantly inventive, sharp humour and gender politics of this significant artist and her extraordinary body of work.
This exhibition contains some adult themes and the artist draws and paints people in their natural state, without any clothes.
Artist, curator & Kay's daughter, Rachel Ara, said: "Kay paints and draws non-stop. Every time I visit, there are more paintings piled up. I think it's time to share this prolific creativity with the world. Sometimes I worry she spends too much time alone, but she's having a ball posting her work to Instagram which now has an international following and is having many like minded conversations with people from Australia to Japan.
"Whilst I was going through her sketchbooks for the exhibitions I found a saying by Rumi, the 13th-century poet, 'You have no need to travel anywhere – journey within yourself'. She worries that people won't like her work as she often says she paints for herself, but I think her work is truly groundbreaking, unique and inspirational. She paints in the moment with such insight and humour, making her work very relevant for today's audience. She's an inspiration for many artists I know who have taken adversity and disability and turned it on its head."
Director of ArtHouse Jersey, Tom Dingle, said: "It's always incredibly exciting to come across a talent as significant as Kay Le Seelleur Ara's right on your doorstep. Her output in the studio and online has been nothing short of prolific in recent years and it's an absolute pleasure to be able to host its array through the expert lens of curator Rachel Ara. Kay's work is insightful, playful, naughty, surprising and fun."
---
Main picture: Kay Le Seelleur Ara, The Little Winged Men Playing with their Shoebills, 2022