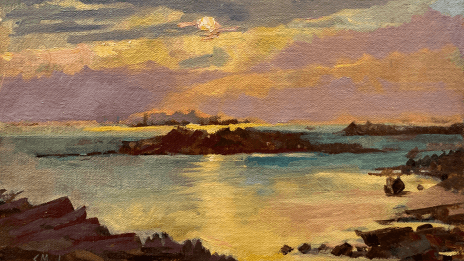 JJ Fox Art Competition exhibition
The JJ Fox Art Competition has been an established part of the Channel Islands artistic calendar for  the past 41 years and has helped launch the careers of many household names including Ian Rolls  and Jason Butler in Jersey and Molly Harris and Rob Sweeney in Guernsey
For many years the competition exhibition was held at St James in Guernsey but for 2023, in  association with Arts Guernsey, it will be held at the George Crossan Gallery in Market Street from  Monday 20th to Saturday 25th November.
The 28 pieces of work on exhibition will include the winner 'Second Prize in a Beauty Contest' by 17 year old Edie Le Blanq and the Under 18 Jock Russell Prize winner 'The News' by 16 year old Ned  Dixon.
Guernsey winner Suzanne will also be joined in the exhibition by fellow Sarnians; Gill Harrison, Rob Sweeney, Michelle Stringer, Melissa Tostevin and Nelli Begg.